Payson High School Theatre Director Kathy Siler normally likes to stay behind the scenes.
But she was in the spotlight with other PHS staff members for a hilarious performance that kicked off the 12th Annual Thomas Walling Memorial Lip Sync Contest at Payson High auditorium on Saturday night.
The highlight of the staff performance came when Siler unzipped her black sweatshirt to transform into a purple-clad circus ringleader, complete with purple top hat. The audience of about 100 people loved seeing teachers getting into the spirit of the night.
"PHS paraprofessionals Cherri Long and Leo Harrison put together a mash up of songs and dance moves that would appeal to the teenage crowd," Siler said. "I asked if we could include a piece of 'The Greatest Showman.' I wanted to play the ringmaster, which is kind of a metaphor for my position as a theatre director.
"We choreographed it as a group and prompted each other to show lots of attitude and big moves."
The event is named in honor of the late PHS auditorium manager.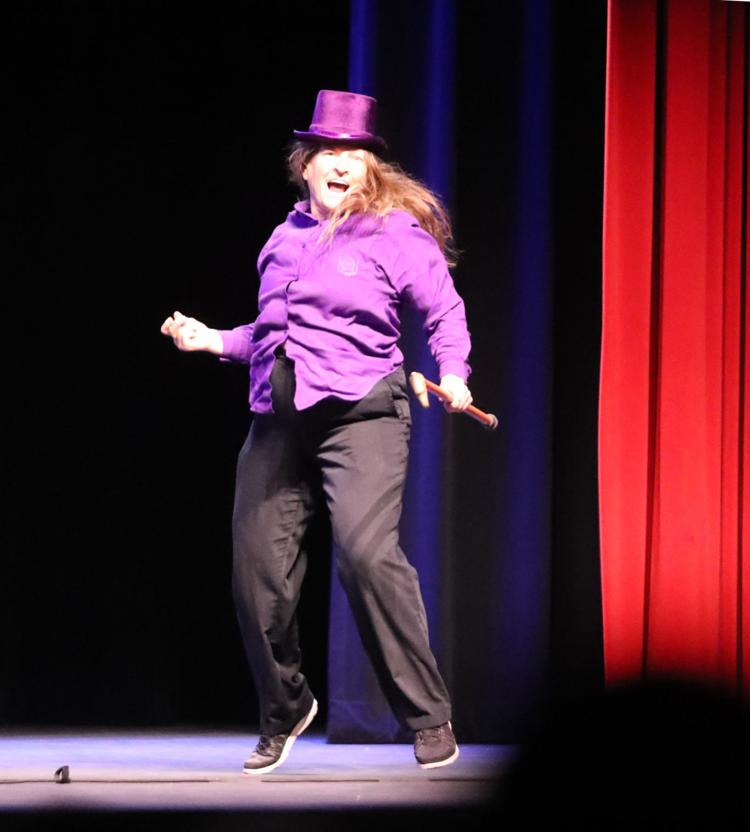 Ten individuals or groups competed in the event, which raised $846. A large chunk of that went to cover $750 in prize money.
"I love this project because many people from different age groups, in this case grade six through adults, work together for common goals: fun, collaboration, fundraising, and performance experience.
"And I cannot deny the fact that many students who do not consider themselves singers, audition so they can joyfully act out a favorite or popular song in front of an audience. This experience can be very empowering for a young person."
Payson High graduate Cody Rislund once again served as master of ceremonies and provided lots of humor between acts. He even passed the microphone around to members of the audience to tell their jokes during a 20-minute delay at the end of the show as votes were gathered and totaled.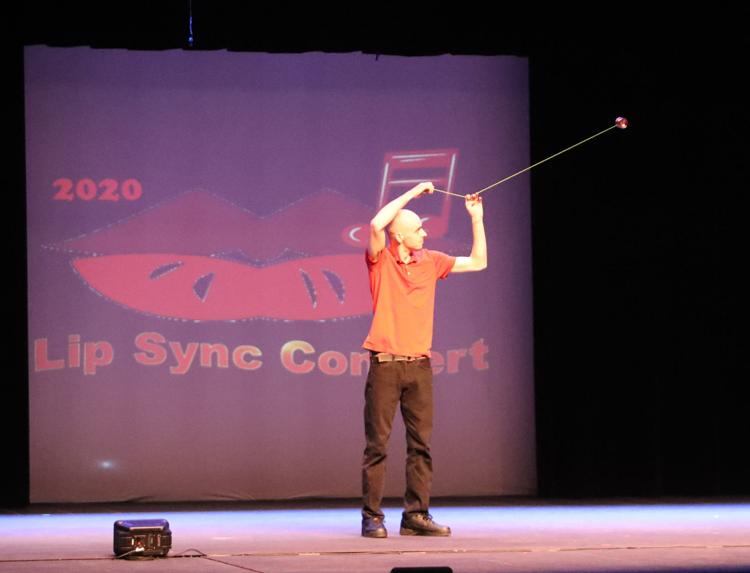 Yo-yo master Daniel Walling wowed the audience with a demonstration of his skills.
Samantha Garr took first place for her performance of Beyonce's "Single Ladies."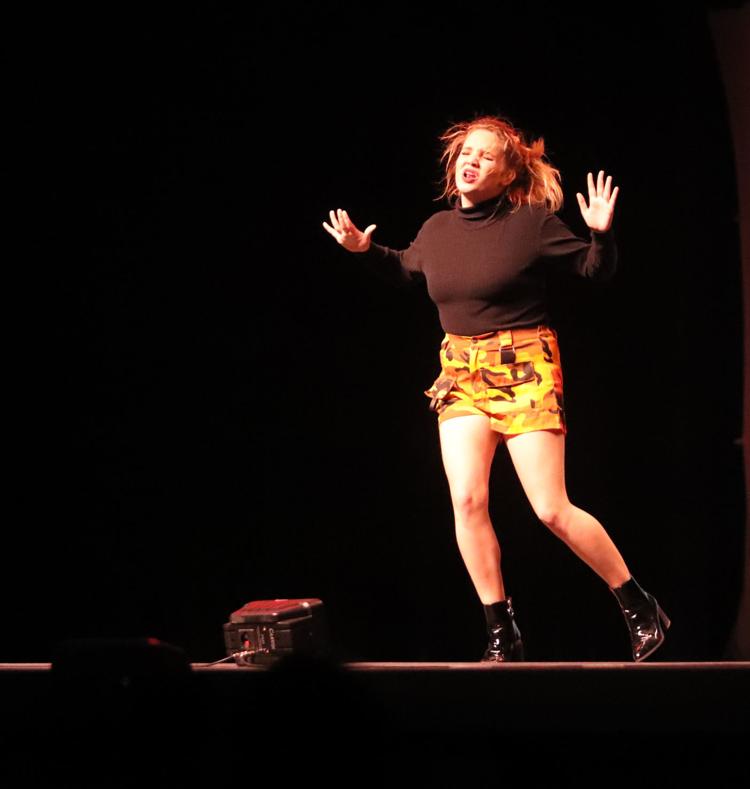 Sydni Lee finished second for her performance of "Girl Scout" from "Beetlejuice, The Musical." Liam Jones and Kaylyn Mametieff placed second for their performance of "Say My Name" from "Beetlejuice, The Musical."
Aubrey Garr took home the Audience Choice Award for her performance of Miley Cyrus' "Party in the USA."
All six of the judges were former PHS students and Longhorn Theatre graduates.
Other performances included: Taylor Jackson doing "Sit Still, Look Pretty," Sydney Dando doing "Shake It Off," Savannah Hopson, Ayden Meyn and Marissa Ormand doing "Sincerely Me" from "Dear Evan Hanson," Eduardo Tellez doing "Chattahoochee" and Darby Thompson doing "Fight Song" and PHS DECA with a hilarious version of "It's Raining Men."
Joyce Chambier performed "The Star-Spangled Banner."
The Longhorn Theater Company took over the Payson Lip Sync Contest last year after the Rim Country Optimist Club, which created the contest, stopped after a successful 10-year run. This year's show was dedicated to the Optimist Club, which "made it a fun and viable community event," Siler said.
The drama club voted to name the contest last year in memory of longtime theater department co-director Thomas Walling, who died in 2016. Many remember him as a passionate arts supporter. He managed the PUSD auditorium and served on the Tonto Community Concert Association and the Payson Choral Society boards.
Siler thanked the business community for donating items to a silent auction during the event and community members for buying tickets to attend the Lip Sync Contest.
The event has been used as a fundraiser for the Thomas Walling Memorial Scholarship For The Arts. But that's on hold until the PHS Drama Club can discuss the matter.
Siler hopes they're able to raise more money next year.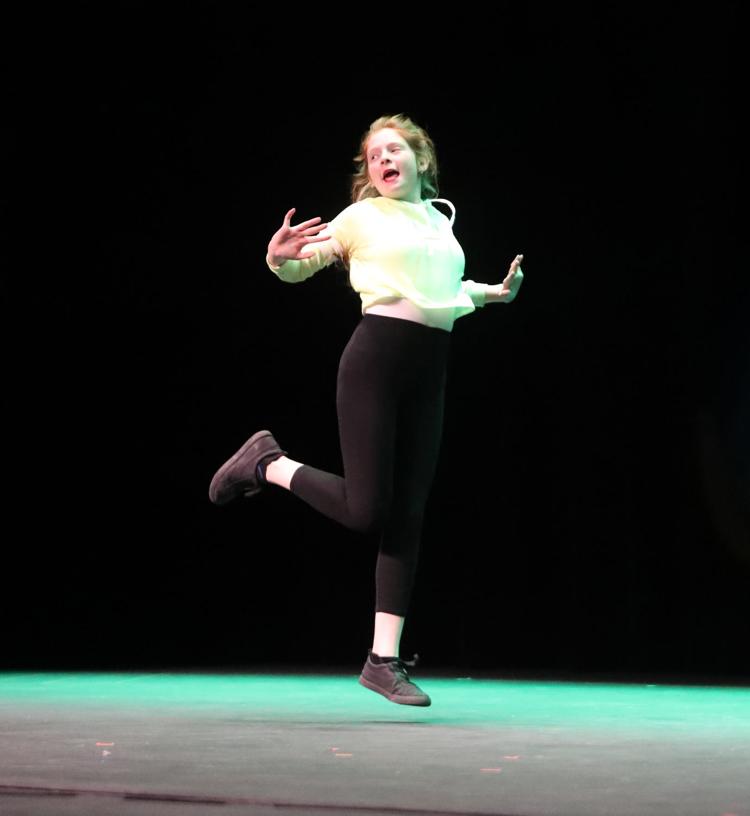 "We would like to upgrade a marketing effort so this event can grow each year," she said. "It would be wonderful to offer one or more scholarships in Tom Walling's name that are worth several hundred dollars or more."
Funds are being raised this year for PHS drama students attending The International Thespian Festival at the University of Indiana this June.
They'll present their version of "The Addams Family" at 7 p.m. on April 16 and 18 and at 4:30 p.m. on April 17 in the PHS auditorium.
Other fundraisers include a "Royal Tea Party" from 2 p.m. to 4 p.m., Sunday, March 29 at the Payson Senior Center. Tickets for that event went on sale on March 5.
Another fundraiser is the Super Sweet Bake Sale on Sunday, April 5 in front of Safeway and Walgreens. You can help by baking, setting up, manning a table, or tearing down.