They played catch in the parking lot beyond right field as the lights shined brightly on the field most of them will never play on again.
A group of six student-athletes take part in a ritual they'll repeat several times before the lights go out for good on the final high school baseball season for most of them.
Every weeknight through May 15 the lights on the football, baseball and softball fields at Payson High School go on for 20 minutes starting at 8:20 p.m. That's 2020 military time.
It's a monthlong tribute to the school's seniors, the Class of 2020, that started on April 15 when head football coach Bryan Burke suggested turning on the lights at the football field in a show of support for the seniors.
Burke got the idea when he saw that the Chandler School District was doing it.
"We are so glad to honor our seniors and we thought this was a great way to do so," Burke said in a social media post.

Colin White, a teacher, JV softball head coach, varsity assistant and varsity football offensive coordinator, figured why not add the softball and baseball fields, as well since it's those spring student-athletes, along with the track and field and golf athletes, that had their final seasons abruptly halted just as they were getting started when schools closed their doors about a month ago because of the COVID-19 pandemic.
So you'll find all three fields lit up like game night every Monday-Friday.
"We figured we'd give ourselves a break on the weekends," White chuckled as he headed to turn off the lights for the baseball and softball fields on Thursday night.
Burke and White head over to the school five nights a week to turn on the lights, then turn them off 20 minutes later.
Parents expressed their gratitude on Facebook. Some of them drove up and took photos on Thursday.
"To everyone asking to attend, we definitely would love for you to come by and see the fields," Burke wrote. "We just ask that you stay in your vehicles and continue to practice social distancing during the shutdown."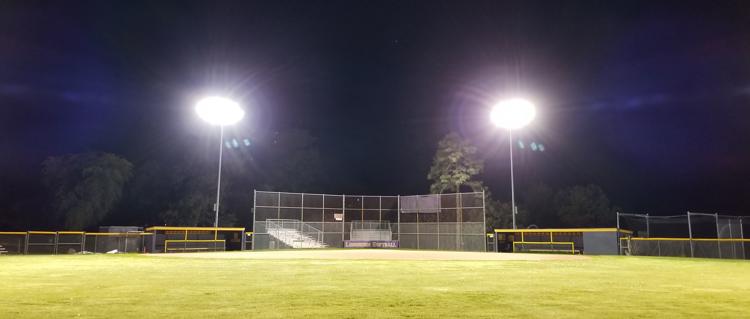 So these baseball players come back to play catch just beyond the field. More of the nine seniors may join them in the coming days as word spreads.
It's a chance to get out of the houses they've been cooped up in for a month and just be near the place where they experienced some of their most cherished memories.
It's as close as they'll get to playing baseball for the Longhorns again.
And they're not ready to put the game behind them. Not just yet.
So they play catch in the shadows before the lights go out for good.