A veteran offensive line was expected to be a strength for Payson's football team this season. But Longhorns haven't had all five of their projected starters play together yet.
That's contributed to a 1-3 start.
But the guys are getting healthy and that showed in an impressive 28-14 victory last week in Fountain Hills. It was the first game all season that the Longhorns marched up and down the field and regularly found the end zone.
They still only had three of their five projected starters starting against the Falcons. But sophomore Jimmy Johnson (5-foot-9, 200 pounds) has emerged as a starter at right guard with his strong play when thrust into a new role over the first four games.
And a fourth projected preseason starter may return this week in junior right tackle Rohan Smith.
"This will be our first week (with four projected starters) if we can get Rohan back and that's with us moving Jimmy to starting right guard," said head coach Bryan Burke. "Jimmy has shown that he can start and run with the big dogs.
"He came into the season as a fullback and moved to the line and has a great mentality about it. He loves it."
If Smith (5-10, 205) is able to return for tonight's game at Scottsdale Coronado, the starters will include seniors Connor Faust (6-2, 215) at left tackle, Soto Sellis (6-0, 235) at left guard and Zach Cancasci (5-9, 220) at center, with Johnson and Smith on the right side.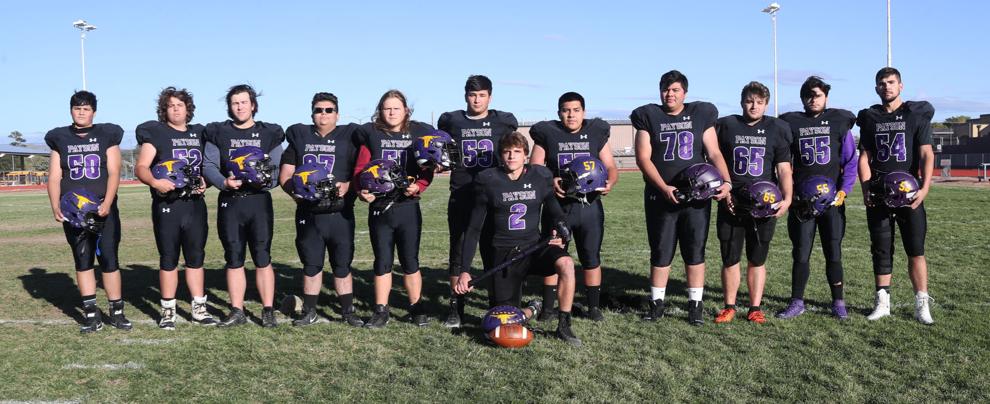 Faust missed the second and third games with knee and shoulder injuries, and Sellis missed the first two games with a knee injury. He hated sitting out against rivals Blue Ridge and Show Low.
"That was extremely tough, especially those two teams," Soto said.
But he returned to help the Longhorns turn in a much more competitive effort in a 19-14 loss against Chandler Arizona College Prep in the 3A Metro East Region opener two weeks ago. And the line played even better when Faust also returned last week.
"It was great, especially since it was Fountain Hills with the (Battle of the Beeline) Trophy on the line," Sellis said of the team's performance. "To see the team improve week to week; that was the best part. The team just showed a lot of competitiveness in the game."
Sellis likes the direction the team is heading in.
"We've gotten better every single game and we're going to continue to get better," he said. "If we just win the next two games, we're going to the playoffs."
The top two teams in each of the six regions this season earn automatic berths in the 16-team state playoffs along with four other teams based on rankings and Payson has a shot with wins tonight and next week at home against Chandler Valley Christian (4-0).
The Longhorns are a confident group after marching up and down the field all night in Fountain Hills and finding the end zone four times.
"We just put in a ton of work at practice and had all 11 playing as one," Faust said. "We want to be remembered 10 years down the road as a team that overcame so much adversity throughout the year and came back and won. This past week we all came together."
Senior Cyrus Krieger (5-9, 185) has started at right tackle all year but will shift his primary focus to playing the defensive line upon Smith's return.
"We're at a point now; we have enough guys coming back, from eligibility and injury and things like that, that we can really limit the amount of two-way starters, two-way major role players that we have," Burke said.
Faust and Sellis both start on both sides of the ball, but Burke plans to give both of them some plays off on defense with senior Dominic Visser (5-10, 250) rotating in at defensive tackle. He's a transfer student from Tempe Corona del Sol who played his first game for Payson last week.
"That's going to be major for us going forward," Burke said of getting Faust and Sellis an occasional breather.
Sophomore Devonte Johnson (6-1) is a starting tight end who moved to tackle for the Show Low game in week two.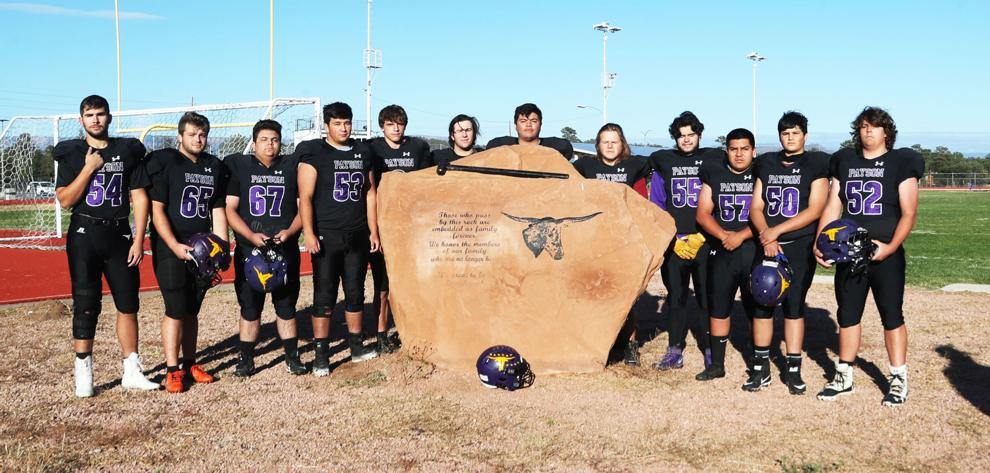 "Going into the Show Low game we had two offensive linemen out of our starting five that had a combined three weeks of offensive line experience," Burke said. "That's kind of been our next-man-up mentality. We've had guys go down, we've had guys step up and that's a key thing. Guys playing out of position, guys playing unique spots, they're coachable and they work hard."
Burke feels the line is jelling.
"Our goal this year has been to establish a strong running game," the coach said. "And we've had so many moving parts in our offensive line it's been difficult to do that consistently.
"It's that inconsistency that's really killed us. So now you're starting to see the younger guys step up and be more consistent. So that's helping us a lot. And we have guys back that have ran this offense for four years.
"Connor and Soto, they are the tempo setters. They're the guys that are going to be knocking guys over and getting pancakes consistently. So, it makes a difference to our offensive line for our energy, our momentum when you get those guys coming in there and driving the point of attack five yards deep.
"So, when Trevor Cline is running the ball like he is, that also gives our offensive line the image that 'I need to get off the ball. If I give him some space, he's gonna run somebody over' and boom, that's the physical smash-mouth type of play that we want.
"When we consistently do that, that's what builds consistent drives."