Men with hair falling into their eyes and botched self-cuts filled barber shop chairs on Monday.
Women hurry into their favorite salon for a fresh dose of color.
And restaurants dusted off tables and reopened dining rooms closed for weeks as Gov. Doug Ducey last week revised his COVID-19 restrictions and allowed eateries and hair stylists to get back to normal.
At JJ's Barber Shop, 132 E. Highway 260, customers filled the six chairs.
Owner and barber Juan Jimenez didn't even have time to eat his lunch on Monday because of the steady stream of shaggy customers. He expects to stay busier than normal for several more weeks.
"A lot of people need haircuts," Jimenez said. "There's a lot of long hair. We'll probably be busy for four or five weeks before it will slow down to normal."
Jimenez welcomes the work after weeks with the door closed.
"It's difficult because you're not making money and that's how you pay rent," he said.
He tried an appointment-only system to limit the number of customers, but he gave up on that this week.
"Too many problems with appointments," he said. "The telephone rings all day and you spend too much time making appointments and sometimes people don't show up."
He said his staff of six barbers/hair stylists wear masks, but he's not requiring customers to do the same.
"It's better when customers wear masks," he said. "I wear gloves and a mask. Young people don't care, but old people like me do. I don't want to be sick and make somebody else sick."
From Head to Toe Essentials Salon and Spa planned to open on May 8, the day the governor lifted the order on salons.
"We're super excited," said owner/operator Shannon James last week.
Being closed hasn't been easy.
"We've all gone through a hard time," James said.
She is one of 18 "teammates" at From Head to Toe.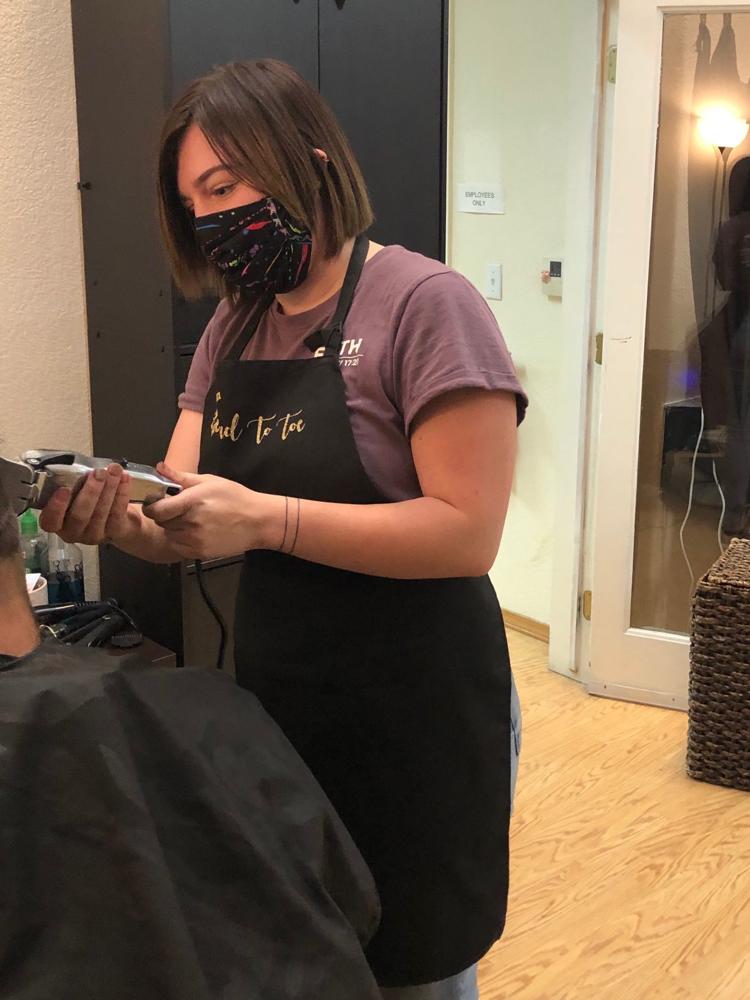 "Everybody's returning, we're just staggering start times and finishing times and not everybody's coming back on the same days," James said.
They eventually hope to get back to something resembling normal.
"We noticed a drop in business in February because people started staying home," she said. "Then we were shuttered by the governor on April 3."
She said they are taking clients by appointment only for the first couple of weeks. The calls are already coming in.
"We've been on the phone all day today," she said on May 7. "There are still people who want to stay home but we're working on it."
Fortunately, they don't have to rearrange the layout to comply with social distancing guidelines.
"Hair stations are spread out so we have good social distancing," James said.
They wear masks and are asking their clients to do the same.
Pizza Factory weathered the shutdown better than others because they've offered pickup and delivery service for decades. They recently added curbside pickup.
"Because so many of the restaurants that only have dine-in closed, we were actually very busy," said Gail Dahlman, who owns the restaurant with her husband, Rodney. "We're very grateful to the community for supporting us."
They opened their doors to dining on Monday (when the governor lifted the closure on dine-in services at restaurants), with changes that included removing half of their tables and adding more space between the tables.
They had just one table of guests on Monday night and 24 dine-in tickets (about 50 people) dine-in for lunch on Tuesday.
"People right now are just thinking about going out," Gail said. "So, I don't know how quickly it's going to come back. My husband and I were talking about that and we're saying now that (more restaurants) are back after being totally shutdown, people may be going back there because they're tired of pizza."
They removed the salad bar to avoid people hanging out in that area and now prepare the salads wearing gloves with customers' desired toppings.
They added tape on the floor to mark six-foot separation for customers picking up food inside to avoid people congregating. They added a hand sanitizing station for customers picking up food. They've also enhanced their sanitizing of surfaces and ordered a new credit card machine that allows customers to tap the screen and avoid touching it.
Complaints of people not adhering to the six-foot social distancing guidelines at restaurants and bars could rise in the coming days and weeks.
On May 9, the Gila County Sheriff's Office responded to a complaint of a large gathering outside an area bar, which was serving curbside and takeout.
"A deputy explained they needed to maintain social distancing practices," said Lt. Tim Scott. "We try to explain to them it is not the best thing in the world to stand so close."
They did not shut the business down, but issued a verbal warning.
Scott said they were informed of the governor's order about alcohol and social distancing, which they said they were following.