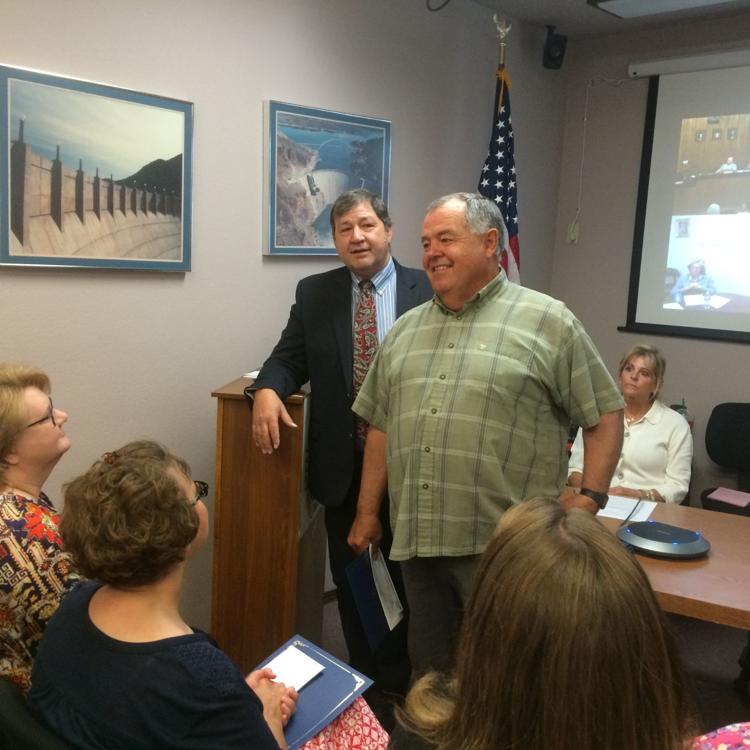 The Pine-Strawberry School teacher whose personalized license plate reads "Bonaro" has been named the Gila County Teacher of the Year.
The honor was bestowed on Dean Pederson Tuesday, June 18 at the Gila County Board of Supervisors meeting in Payson.
Following the ceremony, a reception was attended by many of those he taught and worked alongside during his 50-plus years in education.
But back to the license plate, what does it mean?
Pederson chuckles each time he is asked that question, but responds with a bit of nostalgia and fond memories of his early teaching years in Page.
As an art teacher, Pederson's second-graders were completing a drawing assignment while he roamed the room scrutinizing the work over each student's shoulder.
The assignment, Pederson told the class, was to also have a title that depicted the scene.
He recalls seeing a Navajo girl draw an American West cowboy and a Native American warrior apparently about to be locked in a confrontation.
The warrior was readying himself to fire an arrow at the cowboy.
Pederson looked befuddled at the picture as the young girl explained it. He then asked about the title — "Bonaro."
"The picture is about a bow and arrow," the girl explained.
Pederson has never forgotten the girl's spelling and phonetic reasoning so he carries it on the license plate as a fond memory of things past.
Pederson's decision to enter public education was undoubtedly influenced by his parents who were both educators. His father was a football coach and athletic director at Northern Arizona University, then Arizona State College at Flagstaff. His mom had certification as an English teacher, but remained at home to raise the children.
"She was strict about (our use of) the English language," Pederson said. "She'd correct us anytime we said something wrong."
After graduating from NAU in 1970 with a bachelor's degree, Pederson morphed into a vagabond of sorts, teaching first in Williams and later Page, the Alaska, Payson and finally Pine-Strawberry. While teaching art and working as a counselor at Payson High, he left the classroom to become the district's health specialist for tobacco, alcohol and drugs.
During his tenure, he led support groups, formed peer counselors and counseled individual students.
He later left the school district to join Southwest Behavioral Health where he was responsible for prevention services, community outreach and school-based counseling.
From those years, Pederson carries with him a myriad of memories some of which, he says, influence his life.
One in specific involved a teenage girl who visited his PHS office to say she was homeless.
"She and her father were living in a motel, but he left and hadn't been seen," recalls Pederson. "Eventually the motel evicted the girl."
With no place for the girl to live, Pederson was able to get another PHS student to agree to have her family take the teen in until other arrangements could be made.
While the girl waited for arrangements to be finalized Pederson was scheduled to make a presentation at Julia Randall School so he took the teenager along with him and asked her to take a seat in the audience.
At the conclusion of his presentation about how one teacher can positively affect students' lives, the girl raised her hand to speak.
She told of being a student at her previous school that was hosting a father-daughter dance. Because her father wasn't around, she didn't believe she was eligible to go to the dance.
However, a PE teacher learned of the situation and stepped up to ask the girl if he could take her to the dance as her father.
Pederson remembers that as the girl told the story, "there wasn't a dry eye in the audience."
As a result of the P.E. teacher's compassion, the girl set a goal to make straight As in all her class and go on to college.
"That's my way of thanking him," the girl told the audience.
Pederson remembers the girl's speech as one of the most powerful he ever heard.
Looking back, Pederson recalls his years at Southwest as rewarding, but stressful and demanding.
"I was around when babies were delivered, children overdosed, some ran away, others to the hospital ... I was a surrogate parent."
Today, Pederson is officially retired, but continues to teach K-8 physical education at the P-S School where on any given day he can be seen tying the shoelaces of first-graders who haven't yet learned to do so.
Although he's certainly paid his educational dues, he has no plans of stepping aside anytime soon.
"I guess (teaching) is in my blood," he says.