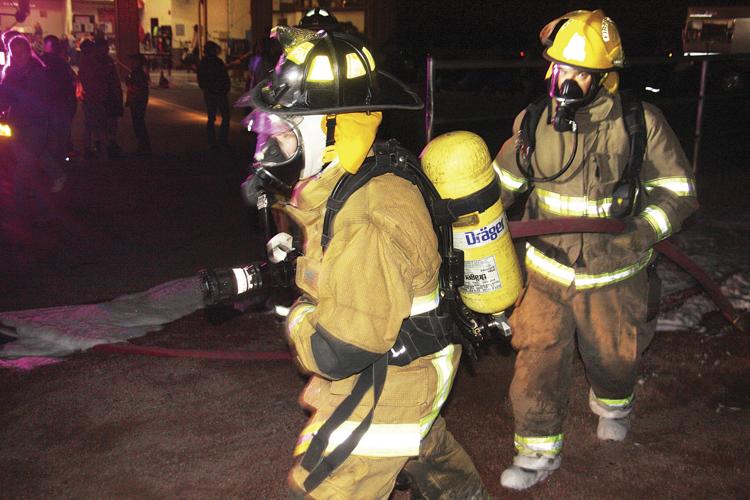 A scary turnover rate.
A growing fire danger.
A lack of understanding.
The problems besetting fire departments in Rim Country have convinced the overwhelming majority of Payson, Hellsgate and Houston Mesa firefighters to support a merger.
But can they convince the Payson Town Council?
The chiefs, fire association leaders and most rank-and-file firefighters say combining the Hellsgate and Payson fire departments under a joint power authority run by a board composed of Payson councilors and Hellsgate board members would improve staffing and service and eliminate financial waste.
"First and foremost, we see it as a benefit to the community," said Rick Heron, a captain at the Hellsgate Fire Department and president of Northern Gila County Fire Firefighters Association.
But four of the seven-member Payson Town Council have just started their tenure and now face a critical vote on the JPA on Jan. 24.
"I believe in their hearts they want to change the problem, (but) I don't think they understand the depth of the problem," said Heron. "Change is hard and scary. They hate the way things are and they hate the way they could be."
Heron and Thorry Smith, a Payson fire engineer and vice president of the firefighters association, sat down with the Roundup to talk about the problems the JPA seeks to solve.
Staffing
Currently, Payson struggles to keep firefighters.
"Payson has 40 percent of its firefighters on probationary status," said Heron, meaning, almost half of the firefighters are new.
Smith and Heron said captain positions in the Payson Fire Department have gone unfilled because either no one has the necessary experience or they don't want to tackle the demanding position.
"They rush to school for paramedics," said Smith. "I've been rushed into being a captain. Now it's on me to catch up."
That middle management serves a critical purpose.
"You have a minute to get water on that fire," said Heron. "You have to get off that truck and get them on the hoses. You have to answer, 'Where is the fire now? Where is it going?' Or on a medical case, you have to know, 'Is he breathing? What are my needs?' These are quick decisions that are life and death."
In comparison to Payson's young staff, Hellsgate's veteran staff has decades of service. For instance, Heron has served Hellsgate for 25 years.
So what makes the difference?
The two believe it stems from the relationship the firefighters have with management.
"Until real recently, I didn't know any town council. I can walk into the (Hellsgate) board meetings and get hugs," said Smith. "With the Town, we're kind of a department."
Resources
"There is an identified $5.2 million in capital improvements for the Payson Fire Department alone," said Heron. "Payson's newest fire truck is 10 years old."
Hellsgate has just about paid off one of its engines through money it receives fighting wildfires, but then must immediately turn around to purchase a new truck.
Heron said the JPA could solve this problem by moving resources around.
Mutual Aid vs. Automatic Aid
A huge gulf of responsibility lies between the word mutual and automatic, explained Heron.
"What mutual aid is, if I have the resources available I can help," he said. "Automatic aid means it's mandatory to respond."
Right now, Hellsgate and Payson have a mutual aid agreement. It works because leadership works well together.
"If we have a storm rolling in and Payson is extremely busy and we have our own things going on, under a JPA one chief would see all this," he said. "If he sees Star Valley is closed down ... he can make phone calls to get back up. It will be automatic to come in."
If leadership changes, that cooperation may diminish.
During the Jan. 8 Payson Council Work Study session, Heron told the story of listening on the radio as Payson firefighters battled a structural fire. He couldn't help because his chief wouldn't send units from Hellsgate.
"Do you know how scary that is?" he asked the council.
Streamlining finances
Smith and Heron said Hellsgate and Payson have already saved money on purchasing equipment by going in together.
"The packs we use to breathe ... we had better purchasing power together and got a better price," said Smith.
The two said the combined department would find it easier to qualify for grants.
"If you have a larger fire area to protect, the more likely it is to get grants," he said.
Insurance costs would go down.
"The insurance companies are a lot cheaper on health insurance because we are mandated to work out," said Heron. "We've already got a liability insurance quote (for the JPA) and it came in lower than we thought."
A say at the table
In a final poignant moment of the interview, Heron said the merger would empower the firefighters to make a long-term investment in their career in Rim Country.
"Once a year we sit and talk about all sorts of issues with the chief. It's called Meet and Confer," he said.
The firefighters discuss the budget and what they can do within the confines of the finances. Yet, no firefighter has ever had a seat at the budget table.
"Wouldn't it be nice to have a voice? We would have that ability to sit down and to talk about specific fire issues — at least have our voices heard. It helps morale," said Heron.
Contact the reporter at mnelson@payson.com