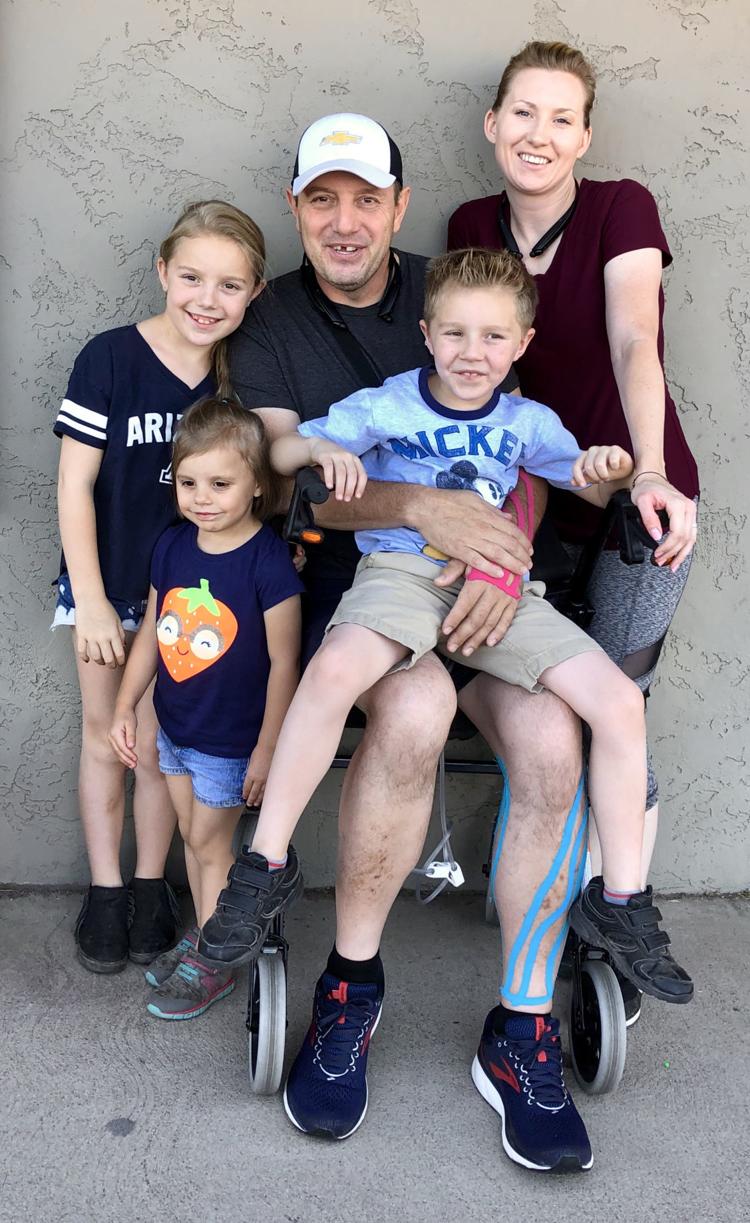 A man shot three times at a Payson gas station says the incident has "softened him" and reminded him of the importance of family.
Cody Newman, 50, says he no longer takes for granted waking up next to his wife or playing with his three young children.
Newman was shot three times May 7 at the Giant gas station on South Beeline Highway after he says he got into an argument with Samuel McDonnell over a gas pump.
Any one of the bullets could have killed him, especially one that passed through his abdomen.
"A doctor said they had never seen a bullet go through an abdomen and miss all major organs," he said. "They said somebody must have been looking out for you because it just doesn't happen."
McDonnell reportedly shot Newman as he was running away.
Newman said they got into a "trivial" argument after Newman pulled into the gas station behind McDonnell and McDonnell refused to pull his vehicle forward so Newman could use the pump.
Newman, the branch manager for Griffin's Propane, was headed to Rye at the time to check on a gas leak.
When he couldn't pull into the station to get gas, Newman said he pulled around McDonnell, stopping his white SUV on an angle at the pump in front of McDonnell.
Newman was talking to his wife at the time on a hands free headset.
The two were discussing an upcoming Spartan Race Newman was scheduled to run — it would have been his fourth such run.
"I like the challenge," he said of the extreme mud runs. "I am not out to beat anyone — just to push myself."
Newman was first introduced to the competition after joining a Star Valley CrossFit gym.
While they talked about the race, Newman said he was also giving her updates about what was happening at the gas station, telling her at first a man had rudely refused to pull forward.
When Newman got out of his SUV, he said he continued to talk to his wife and try to pump gas. He had issues getting the pump to work and all the while, Newman said he could see that McDonnell was glaring at him.
He said they exchanged words and at some point, McDonnell got into his Jeep and tried to hit Newman twice with the vehicle.
"I finally had enough," he said.
Newman said he walked over to McDonnell's vehicle, opened the driver door and punched McDonnell twice in the face. When he saw McDonnell reach for a handgun lying in the center console, Newman said he turned around and ran away.
Surveillance video from the gas station reportedly shows Newman some 15 feet away when he is first shot.
Newman said he learned this after talking to someone from the Gila County Attorney's Office who had seen the footage. Newman has not seen the video and police have not released it yet.
Newman said he could remember yelling to his wife to call 911 because "he has a gun!"
Newman said he fell to the ground. He can remember looking up and his vision in one eye was blurred. One of the bullets had hit his sunglasses, sending plastic from the lens flying, scratching his face and eye.
He saw McDonnell walk over to him.
"I was thinking, 'Am I going to die over a gas pump?'" he said. "Really, I am going to die over this?"
Newman believes a woman at the gas station may have said something to McDonnell, distracting his attention.
McDonnell got back into his vehicle and sped away. A Gila County Sheriff's Office deputy caught up with him a few blocks away and he was arrested on charges of attempted second-degree murder and nine counts of aggravated assault with a deadly weapon.
After the shooting, Newman said family, friends and perfect strangers offered their support.
"I am so thankful for all the prayers," he said.
He received many well wishes through social media and a fundraiser was held at the end of June at Bandits in Strawberry. A golf tournament is planned for August at Payson Golf Course. There is also a GoFundMe page.
"It is amazing all the people who have come out of the woodwork," he said.
Newman said he has asked his wife if she can remember something he said at the gas station that may have set McDonnell off and she said, "No."
He has lost 26 pounds since the shooting and was shuffled between two hospitals and two rehabilitation centers before his release. His left arm and leg still have numbness due to nerve damage, but doctors are optimistic he will make a full recovery, but more surgeries may be necessary.
Newman said the neuropathic pain in his leg, which he described as a stabbing pain, is extreme. Even something as simple as putting on a sock or having a sheet over him at night can make him scream out in pain.
"It feels like a dull hatchet," he said. "On the ball of my foot it is like red hot needles."
Newman is seeing a counselor to deal with the trauma of the event and his children and wife are also seeking counseling.
"I remember everything that happened that day I am just not sure what triggered him," he said. "I still don't know why he did what he did. I may never get the full truth. I don't know why he felt I was enough of a threat to try and take my life."
Still, Newman said he has forgiven McDonnell.
"I don't need that kind of hate to build up in my life," he said. "I am praying for his parents. I am sure they are just as devastated."
McDonnell remains in the Gila County Jail in Globe. He is being held on a $100,000 cash-only bond.
Judge Gary Scales has assigned him attorney Michael Bernays. The next case management conference is Aug. 26 in Globe.
Newman hopes to get back to work soon. And in November, Newman would like to compete in a Rugged Maniac 5K obstacle course.
His wife has agreed to run it with him. It will be her first such event.
"She thinks I am crazy for doing these," he said.
Newman said doing things with his wife and family mean everything to him.
"That first night being home (from the hospital) I held my wife's hand all night. That meant more to me than anything."
Contact the editor at
abechman@payson.com