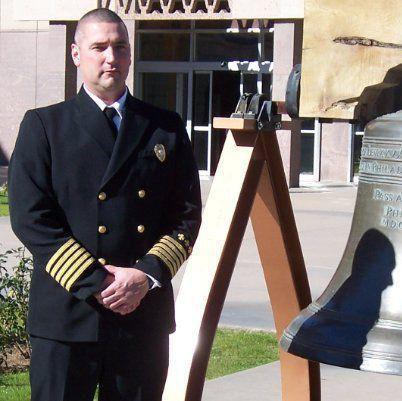 Five years ago, the struggling, fragmented, crisis-ridden fire districts around Show Low faced a big problem and a tough decision.
Should they merge? Should they sacrifice their independence in hopes of improving services?
They merged.
It turned out great, according to Bryan Savage, Timber Mesa Fire and Medical District chief.
The merged districts not only saved $2 million annually, they improved services, training and facilities, he said.
The experience of the merged districts provides potential answers to many of the questions the Payson Town Council has about the proposed merger of the Payson Fire Department with Hellsgate and Houston Mesa fire districts.
Those questions include the financial stability, potential savings and future capital needs posed if Payson forms a joint powers authority (JPA). The Hellsgate and Houston Mesa fire district boards have already approved the proposal, but the Payson council asked for more information.
The Payson Town Council will hold a work study about the JPA at 6 p.m. on Tuesday, March 26 at the Church of the Nazarene off Tyler Parkway. Local fire chiefs will attend along with Chief Robert Biscoe with Arizona Fire and Medical Authority in Maricopa County.
$10 million in savings
Savage said the savings by merging Linden, Show Low and Lakeside fire districts "spread throughout the entire budget."
The $2 million in annual savings amounts to 17 percent of the $11.5 million budget.
That budget supports:
72 full-time fire suppression personnel
15 reserve firefighters
7 administrative positions
13 support service positions
Timber Mesa provides ambulance service and fire protection for Lakeside, Linden, Show Low, White Mountain Lake, Pinedale-Clay Springs and a portion of Vernon. It also extends to tribal lands along Highway 60.
After the merger, operational costs remained the same, but administrative costs dropped "through a lack of duplication," said Savage.
No one lost their job because of the merger.
"We reassigned and then through attrition lost others," said Savage.
The district also saved money on board training.
"Instead of training three boards, we just have the one," said Savage.
In Payson's case, the fire boards for Hellsgate and Houston Mesa would remain — with two Hellsgate board members and one Houston Mesa board member serving on the JPA board along with three Payson town council members.
In Timber Mesa, insurance costs decreased.
"Property and causality insurance — we saved almost 30 percent on that line item," he said.
Bulk purchasing played a part in the savings.
"Instead of one item for one facility, we're buying for all five facilities," he said.
Consolidating scheduling allowed for more flexibility in staffing. That resulted in less overtime pay — another savings.
The consultant for the proposed Payson, Hellsgate, Houston Mesa merger predicts the JPA will save money as well.
A new outlook
New uniforms helped create a new identity.
"It's about an identity," said Savage.
He said a snafu in the purchasing protocol delayed the purchase of T-shirts for the newly formed fire district.
"They were running around in their previous shirts. If a Linden and a Lakeside guy were sitting next to each other, it would be, "Odd you think that way, maybe it's because you're from Lakeside, Linden or Show Low."
That went away as soon as we got everybody in the same shirt, said Savage. "Had I not lived through it, I would have thought, 'Man, that's petty.'"
The merger improved training then streamlined and cut response times. The more rural areas saw an increase in medical support, both from paramedics and from a new ambulance service.
Through districtwide employee meetings, Timber Mesa hammered out daily routines and priorities.
Still, Savage still sees loyalty flare-ups at times.
"Occasionally there is a, 'there's a Lakeside way or the Show Low way,' attitude ... (but) they're operating under the same procedures and the same chain of command. There is no question of who is coming from where," he said.
Ambulance service not only improved services provided by Timber Mesa, it added income — up to 15 percent.
Hellsgate also attempted to add ambulance service, but a court denied their application — ruling in favor of the existing, private ambulance company.
Hellsgate Chief John Wisner believes if the JPA forms in Rim Country, a new application to provide ambulance services might succeed.
"If the JPA forms, Rim Country Fire and Medical could possibly carry more weight in the 'fit and proper' consideration. This is because the organization would be larger with more resources," he said. "The JPA could argue the financial assets of the Town of Payson for example. The JPA could (also) argue fit and proper due to (Payson Fire) Chief Staub's experience successfully leading an organization in the past that operated an ambulance."
Services provided by Timber Mesa Fire and Medical:
Public education
Medical treatment
Ambulance transport
Fire suppression
Wildland response
Hazardous materials response
Technical rescue response
Equipment and buildings
Finding money to pay for facilities and equipment still dogs Timber Mesa.
"We are currently budgeted to add approximately $300,000 per year into financial reserves in order to fund these types of projects in the distant future, however, a number closer to $1 million per year is appropriate to fund the capital needs of the district," he said.
The state has limited Timber Mesa's ability to raise taxes to fund its capital needs.
The state imposed a property tax cap of $3.25 per $100 of assessed value. Moreover, the district may only increase its tax rate by 5 percent per year.
"Fire districts are subject to a one-size-fits-all tax rate cap that no other taxing entity is subject to," said Savage, "$3.25 may be an appropriate cap for some agencies, while being wholly insufficient for others."
Timber Mesa's capital needs include:
Upgrading firefighting facilities and gear
Maintaining older facilities
Refinancing lease-purchase agreements
Funding vehicle replacement plan
Developing a facility that is appropriate for the district's needs.
Timber Mesa has started exploring a 20-year, $17 million bond, which would add about $1 million per year to the budget.
The Rim Country JPA could also use bonds as a funding source.
"Yes, the Town of Payson can go out for bonds to meet capital needs. So can Hellsgate or Houston Mesa. Hellsgate and Houston Mesa each have their own bonding authority and the JPA does not change any of this," said Payson Chief David Staub.
Yet, because JPA revenue would come from sales taxes in Payson and property taxes in the two fire districts, issuing bonds could prove complicated.
In other words, Payson, Hellsgate and Houston Mesa voters would probably have to approve bond issues separately.
"Bonding authority remains with each parent partner," said Wisner. "The fire authority does not have bonding authority under current statutes."
However, relying on two different types of taxes could also make the district more stable in the event of a recession or drop in property values.
All in all, Savage has only good things to say about the merger.
"We're in our fifth year (and) we've outperformed projections every year," he said.
Contact mnelson@payson.com