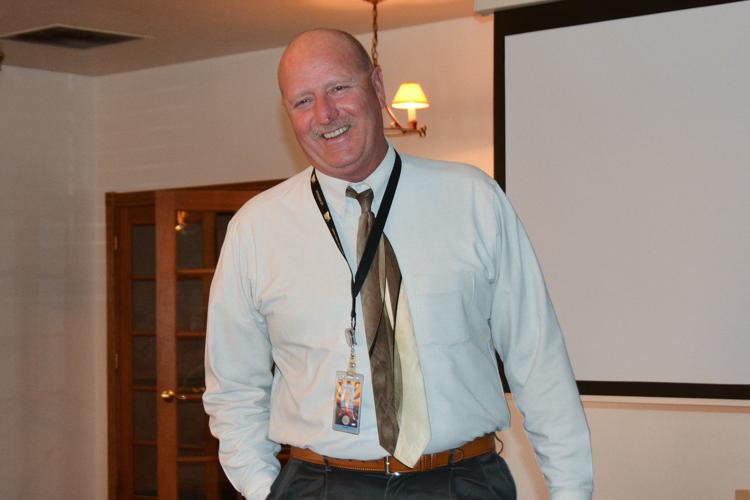 Imagine there is an active shooter in your building. You and 15 co-workers are hiding in the copy room, the copier used to barricade the door. The sound of gunfire grows closer.
Suddenly, the familiar voice of a co-worker begs to be let in. What do you do? Do you let them in?
According to Terry Staten, special agent for the Arizona Department of Gaming, the answer is no.
Why? Because opening the door could attract the shooter's attention or it could be a trap with the shooter using the employee to gain access to the room.
This was a scary scenario Staten presented during active shooter training held at the Mazatzal Hotel and Casino Jan. 28.
This training was given on the heels of an armed robbery perpetrated by two former employees at Mazatzal Hotel & Casino last year. The robbers, who fired shots during the robbery, were later arrested and charged with Hobbs Act robbery. No one was injured.
Along with Staten, Arizona Department of Gaming's special agent Ryan Winfield discussed how to survive a shooting event.
"Active shooter incidents (ASIs) are no longer isolated incidents," the agents said. "They happen just about everywhere and if a business does not have a plan in place, they need to get one."
These incidents are unpredictable and evolve quickly, with the victims often random with no connection to the suspect.
"I don't think any place is immune," said Staten.
It is unusual for people to "just snap." Attackers often spend months studying previous attacks, devising their own plan and amassing weapons.
In the first 28 days of 2019, there were 27 mass shootings, according to the website, Gun Violence Archive.
There are three time-tested emergency responses to an active shooter situation: Run, hide, fight.
If possible, identify a safe exit and encourage others to leave the building. Notify 911. They will need to know the location and number of the attacker(s), physical descriptions, type of weapon and number of victims injured or killed.
If not, find a room with a door you can lock and/or barricade. Turn off all audible cell phone alerts. Keep silent. Identify items in the room that can be used in self-defense. Avoid windows and doors.
"If the shooter breaks into the room, you'll have to fight," said Staten. "Use whatever methods possible to disarm and disable the shooter until law enforcement arrives."
Law enforcement
response time
Depending on your location, response time can vary and the 911 system can get overloaded when calls start pouring in.
"The whole Payson area shares the same 911 system," Staten said. "Imagine how easily the system could be overloaded with an attack at the casino when the rodeo is going on, for example."
Prevention
"Prevention is key," the agents said. "If you see something, say something."
Saying nothing because "I don't want to get involved" can cost lives.
It's important to become aware of the environment and those who share it. For example, how many potential exits were there in the last public building you entered?
Social media has become a breeding ground for extremism including online threats of violence, and other red flags. Users who identify patterns of violent and aggressive posts, weapons research and stated intent should report them to law enforcement.
A person's abrupt change in appearance can be a warning. Do they suddenly look disheveled, with poor hygiene? Has their affect changed from professional, social and communicative to withdrawn, monosyllabic and despondent? Have they become aggressive?
We can do a better job of reaching out to one another when we notice these or more subtle changes and intervene before things get out of hand.
Numerous ASIs have been prevented by people reporting changes in behavior.
In 81 percent of school shootings, the attacker told at least one person before the attack. In 59 percent of ASIs two other individuals had information prior to attack.
How many lives could have been saved if they had told law enforcement?
Be Prepared —
Proactive Plan
Have a designated gathering area, preplanned evacuation route and safe areas to shelter in place.
Supervisor get a headcount.
Lock and barricade doors.
Prepare employees to respond effectively and evacuate to safety (prior training exercises).
Have an emergency action plan in place including an emergency notification system.
Follow instructions of law enforcement personnel arriving on the scene.
Have a Go Bag prepared in advance for a designated person to hand to law enforcement.
"A Go Bag should contain a master key to all building doors and offices, floor plans to individual floors and crawl spaces, said Staten, "and elevator keys with locations for elevator control switches, and the power control boxes with access keys."
A seminar participant asked, "What happens if the attacker is an ex employee and knows the emergency action plan?"
Staten responded, "Then change the plan."
When law enforcement arrives:
Keep both hands visible and avoid making sudden movements.
Do not engage officers responding to the threat, there will be assistance available after evacuation.
Provide information to officers when it is safe to do so (there will be a safe location where law enforcement will debrief survivors and obtain information).
Knowing what to expect will assist law enforcement personnel as they work to eliminate the threat
Who is committing these acts of gun violence?
Based on analysis of incidents examined by the FBI and NYPD, they are 95 percent male, 5 percent female, with a median age of 35 (schools 15-19) and 98 percent are single attackers.
Profiles of attackers include the mentally ill, terrorists, students (who may feel they have been bullied or unheard), domestic violence and workplace violence (disgruntled terminated employees, or disagreements between co-workers). They may be in dire financial straits, have suicidal ideation, be victims of extreme abuse.
They may be children.
Co-presenter Ryan Winfield told of a 15-year-old's plan to blow up the classroom with himself in it. The plan was foiled by an observant teacher who saw him drawing nuclear bombs. Crisis intervention was brought in, a court order obtained for lengthy treatment.
"It was eerie," said Winfield, "15 years old. It was eye-opening for me this kid had planned the whole thing."
Attackers can be divided into five categories, according to Staten, with motives including anger, revenge, terrorism, ideology or mental illness.
They can be co-workers, classmates, family members, or have no connection with the victims. The location itself can be the target.
"Be alert to your surroundings," said Winfield. "If something doesn't look right, grab somebody and let them know. You are the eyes and ears for law enforcement."
Contact the writer at
pwyer@payson.com