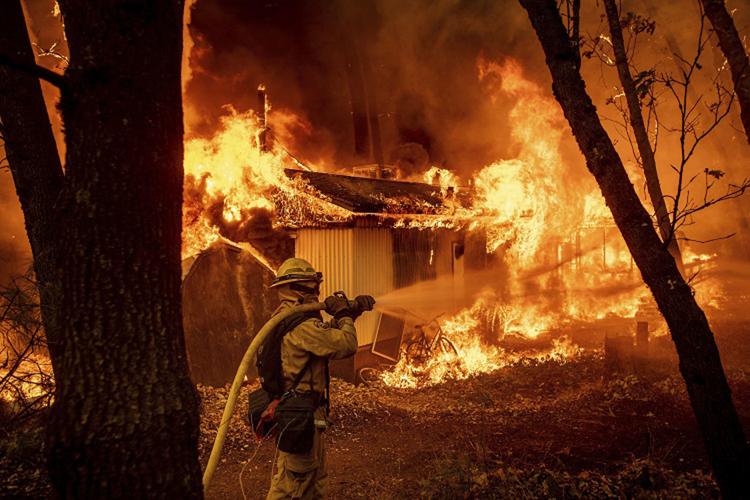 Amy Head stood in the smoldering ruins of Paradise, Calif. surrounded by the ashes of 15,000 homes and the fused and blackened remains of 86 residents.
The California fire captain and spokesperson for CalFire had never seen such awful destruction in her 22 years of battling wildfires.
"That fire affected nearly 50,000 people in four to six hours at 6:30 in the morning," she said. "Never, ever has a fire ever jumped the canyon and gone to Paradise."
The Camp Fire roared into Paradise moving faster than officials have ever seen or even have a definition to describe.
Paradise Fire Chief David Hawks saw homes and businesses burst into flames as he raced to evacuate residents.
"The fuels were so extremely dry, spot fires started from ember ignition," he said. "The fire moved 6.7 miles in an hour and a half ... critical fire behavior is defined as a fire moving at three miles per hour ... the smoke column and fire developed by the time you recognized it was in town."
Yet, looking at the lethal ruins — Head kept thinking about another house, another fire.
Back in 2017, she'd made a similar tour in the aftermath of the 400,000-acre Ranch Fire, which burned through Lake County and Mendocino, consuming 300 houses.
Except for one.
This house stood in a ruined neighborhood, barely touched by the flames.
How did that happen?
"For the past 18 years, since they built their home, the couple prepared for fire," she said. "They know how many hours exactly that they spent weed whacking, removing brush and cleaning up."
The owners cleared brush, used fire-resistant materials and maintained their property year after year. It saved their home.
The survival of their house underscored the hard lessons of Arizona fires like Yarnell Hill and Wallow fires: in the new era of megafires — your life may rely on both a wildland-urban interface building code and Firewise property maintenance. As the people of Paradise discovered, a megafire can reach the house next door before you even have time to flee.
The Camp Fire – a tale of pine needles
Hawks, said one thing caused more devastation in the Camp Fire than anything else: Pine needles.
"Basically, it wasn't the Camp Fire that burned Paradise ... it was the ember storm that started pine needles that had accumulated on the roofs," he said. "The only people that can control that are the property owners."
Three things drive fire.
"Fire is driven by three main factors, topography, of which slope is the most dominant; weather, of which wind is the most dominant; and fuels, the dryness of the fuels," he said. "We hadn't had rain in Northern California for 210 days. Those three things drove this fire."
Those conditions fueled the Camp Fire, but the failure of property owners in cleaning up and Firewising also contributed to the devastation.
Not only did property owners not clean pine needles from roofs and gutters, they used landscape bark under trees that easily caught fire.
Paradise has operated a free, grant-supported brush pickup program for the past 14 years. However, Paradise had no way to force property owners to clean up. Instead, the town relied on voluntary efforts. The town and Firewise program hoped education efforts would have inspired people to Firewise.
Clearly, that wasn't enough.
The extreme behavior of the fire also showed people cannot rely on fire fighters when the ember storm comes.
Head said the Camp Fire that decimated Paradise forced firefighters to focus on saving lives, not homes.
"Everybody wants to feel the fire department is going to save them," she said. "The reality is that when we have fires of this size and magnitude, we don't have enough fire engines to put at every home. Instead, we are driving down the mountain with five citizens trying to save their lives."
In comparison, the home Head visited after the Ranch Fire illustrated homes will survive — if their owners take responsibility.
"They completely survived that fire due to the work they did," she said. "If they hadn't done it, that house would have never made it."
That means not only will the house survive — it can also provide a place to survive the fire if evacuation efforts fail.
WUI building code saves homes, experts say
As more megafires develop, building and maintaining homes to withstand a fire can save both property and lives.
Fire officials at the Camp Fire said only a miracle saved so many of the 45,000 people who fled with minutes to spare. The fire moved faster than any previous fire. As fires become faster and burn hotter, creating safe places where people can ride out the ember storm and even the flaming front will determine the death toll when there isn't enough time to evacuate.
"We just have to change our thinking," said Head. "These fires are the new normal. I hate to say that. For the first 15 years of my fire career, you had a fire season that lasted six months. You would hear of a 10,000-acre fire and one home lost. Now you hear about 100,000 acres and hundreds of homes."
Head said she saw huge businesses burn to the ground during the Santa Rosa Fire.
"Wind and embers were just blowing from one building to another," she said. "I know that the (Santa Rosa) Safeway and most of those homes probably didn't have the latest and greatest fire building materials."
As Hawks raced through Paradise ferrying people to safety from the Camp Fire, he watched as just the ambient heat of buildings on fire started fires next door.
"The fire burned from business to business and home to home transferring fire," he said.
The embers were relentless.
Last year, Payson considered adopting a wildland-urban interface building code and Firewise brush clearing code, but the council blinked under pressure from townspeople.
Council members said they didn't want to force people to clean up their lots — and didn't want to discourage builders from coming to town. They said they didn't want to reduce the number of trees in town, which give Payson a forested feeling. So they overrode the urgent recommendation of the Payson Fire Department.
As a result, Payson has few of the programs in place that gave the residents of Paradise those precious, extra moments to flee as the fire of their nightmares bore down on their town.
The town is thick with small trees.
Most roofs have a thick layer of pine needles.
Wooden eaves overhang wood piles and brush.
Wooden siding waits to spread the flames from house to house.
From a distance, Paradise seems like the story of a community that ignored the danger of living in the midst of a forest in the era of megafires.
In truth, that's the story of Payson.
Paradise is the town that saw the danger — but didn't do enough.
Just ask Amy Head and Chief Hawks — who have spent their whole lives fighting fires, only to stand in the ruins and discover everything has changed.
Contact the reporter at
mnelson@payson.com