The Bush Fire Saturday morning is at 174,000 acres and 7% contained with 769 personnel, according to a public information officer with the fire management team. No homes have been lost.
In a video briefing Friday night, Incident Commander Alan Sinclair said crews have been setting back burns along State Routes 188 and 87. On Mt. Ord, they are working to bring the fire off the mountain slowly and at a low intensity over the coming days. To do that, they have been dropping chemical-filled balls from helicopters that ignite 15 seconds after hitting the ground.
"I can say with certainty, it's looking really good," Sinclair said of the Mt. Ord operation. "I was one of the guys that got to burn 20 years ago when we did the fire up there that looked very similar, that I recall from back then."
Sinclair said they are working to get the roads back open and residents back in their homes, but asked for patience.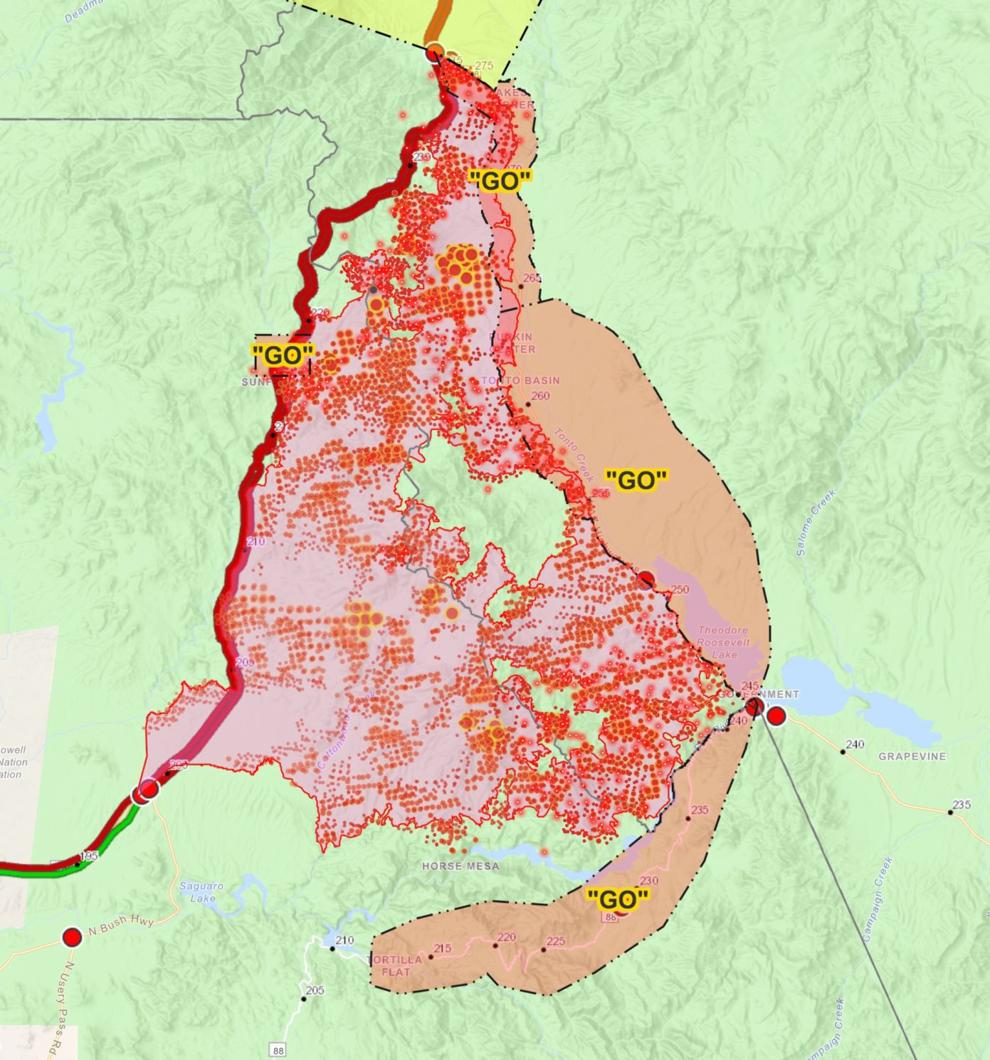 "So we understand the impacts exist when we have a big fire in an area like this. We've found a lot of people out of their homes tonight. We've got roads that are major thoroughfares to Phoenix, from Phoenix to the high country impacted and we're got recreation on the lakes impacted right now. So that is not lost on the team. We are going to work diligently to ensure that those areas are opened back up, and we've got crews out there working very hard to bring a quick end to this fire. I would ask you to be patient. We want to take the time with Mt. Ord to do what we can to bring the fire down gently without major impacts to it. A lot of the country did take a big hit with the fire, so we're going to take our time with this. We'll open up what we can when we have the ability to."
Brownsville, Jake's Corner, Slate Creek, Pioneer Pass, Tonto Basin, Punkin Center, Sunflower, and residents and visitors to Apache Lake remain under "Go" evacuation notices. Gisela, Rye, Deer Creek 76 Ranch and Bar T Bar Ranch (AKA BT Ranch) are in "Set" status. All residents in the area are encouraged to be prepared and stay alert to rapidly changing conditions. An evacuation and shelter info map is available at https://tinyurl.com/bushfirepublicinfo.
American Red Cross Evacuation Centers are located at the Payson Senior Center 514 West Main Street, Payson, AZ 85541 and the Lee Kornegay Intermediate School at 4635 Railroad Ave, Miami, AZ 85539.
State Route 87 is closed from Payson (milepost 251) to Bush Highway (milepost 199). State Route 188 is closed between SR 87 (milepost 276) and Roosevelt Lake at milepost 243. In addition, State Route 88 is closed between Apache Lake (milepost 229) to State Route 188 (milepost 242). The long-term SR 88 closure from east of Tortilla Flat to Apache Lake also remains in effect.