Dogs are good medicine. Especially, Shiloh the Beagle, along with her handler, Payson resident Michael Colombo, who are certified pet therapy providers. Banner Payson Medical Center launched their new Caring Canine Program last week.
Shiloh, complete with her official pet therapy jacket, ID badge and pink nail polish has only been on the job at Banner for a week but is already a celebrity and source of comfort and joy for staff and for patients going through difficult health situations.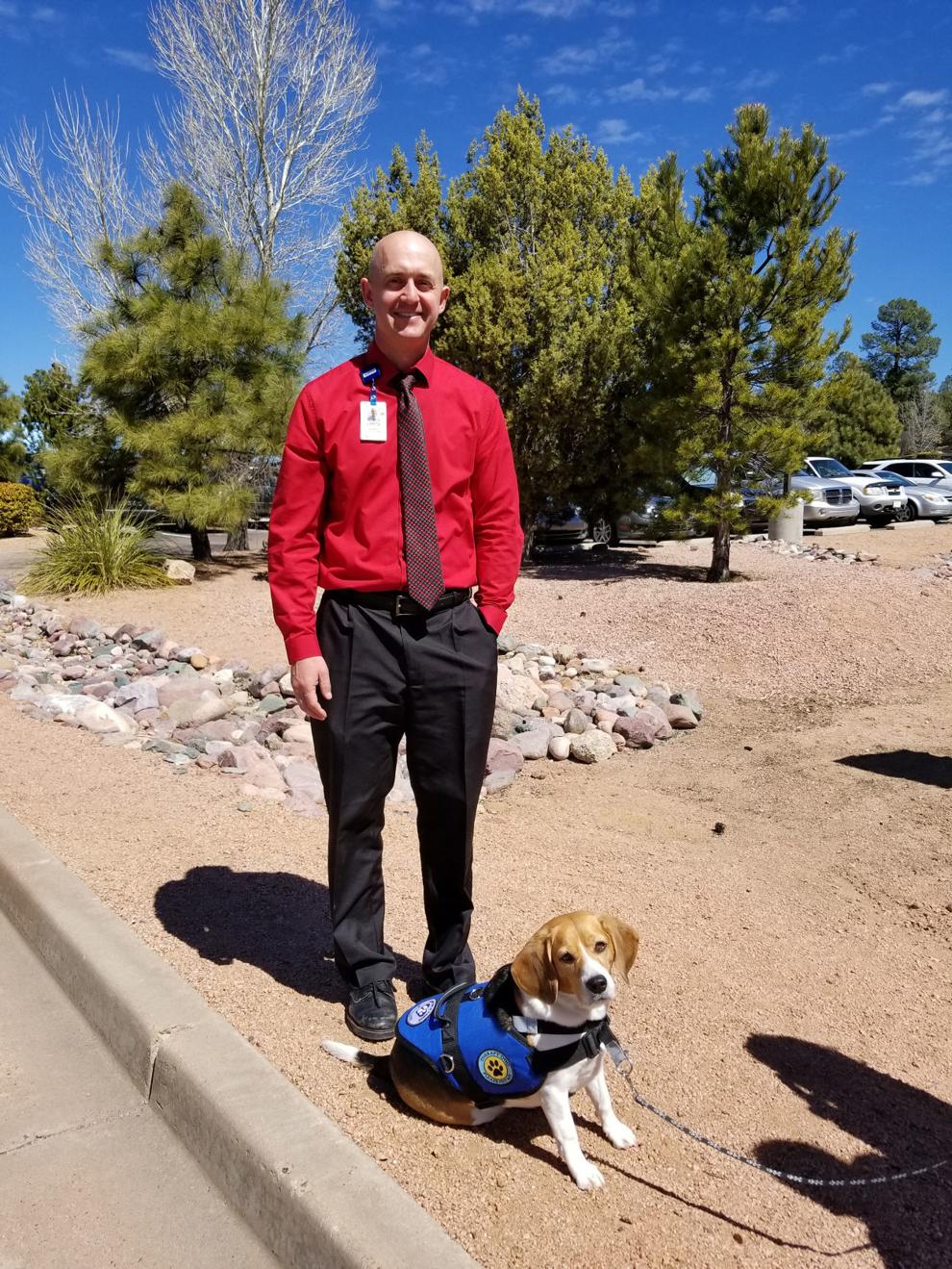 The program was initiated by hospital C.E.O. Lance Porter, and brought to fruition by newly hired Jennifer Lawless, Volunteer/Activities Coordinator, who joined the hospital last August. The program allows for certified pet therapy dogs and their handlers to participate in the life and healing of the hospital's patients and staff.
Porter said "We've wanted to do this program for a long time and it's a blessing to have Michael and Shiloh here for the program."
Human Resources Director Loren Wise said "It's amazing what Shiloh has done with the patients and the employees." Lawless added "Even on her first shift last week I got feedback from the nurses that they were talking about Shiloh's visit two days later."
Lawless, who has prior experience running a pet therapy program in the Valley, said "When I took Michael around to complete a required check list to see how the dog interacts with patients, one of the staff members asked if we would visit a little girl in an Emergency Room cubicle. Her mother and sister were with her and gave permission. The girl was so excited to see Shiloh and her mother started crying, saying that this was the best thing that's happened to them. Her kids have to receive ongoing medical care and seeing the dog made such a difference to their ER visit."
Animal-Assisted Therapy has proven results for both mental and physical health. Interacting with animals promotes the release of serotonin, prolactin and oxytocin, hormones that contribute to elevating mood. Animals can relieve anxiety, promote relaxation, comfort and companionship, and be a supportive presence particularly in a medical environment. Physical effects are also noted, for example, lowered blood pressure, improved cardiovascular health, and stabilized breathing in those experiencing anxiety.
The development of Pet Therapy is attributed to Elaine Smith who initiated a program in 1976 after observing positive outcomes in patients visited by a chaplain and his Golden Retriever.
It's important to note that the only animals permitted inside medical establishments are fully trained pet therapy animals and Americans with Disabilities Act trained and authorized service animals.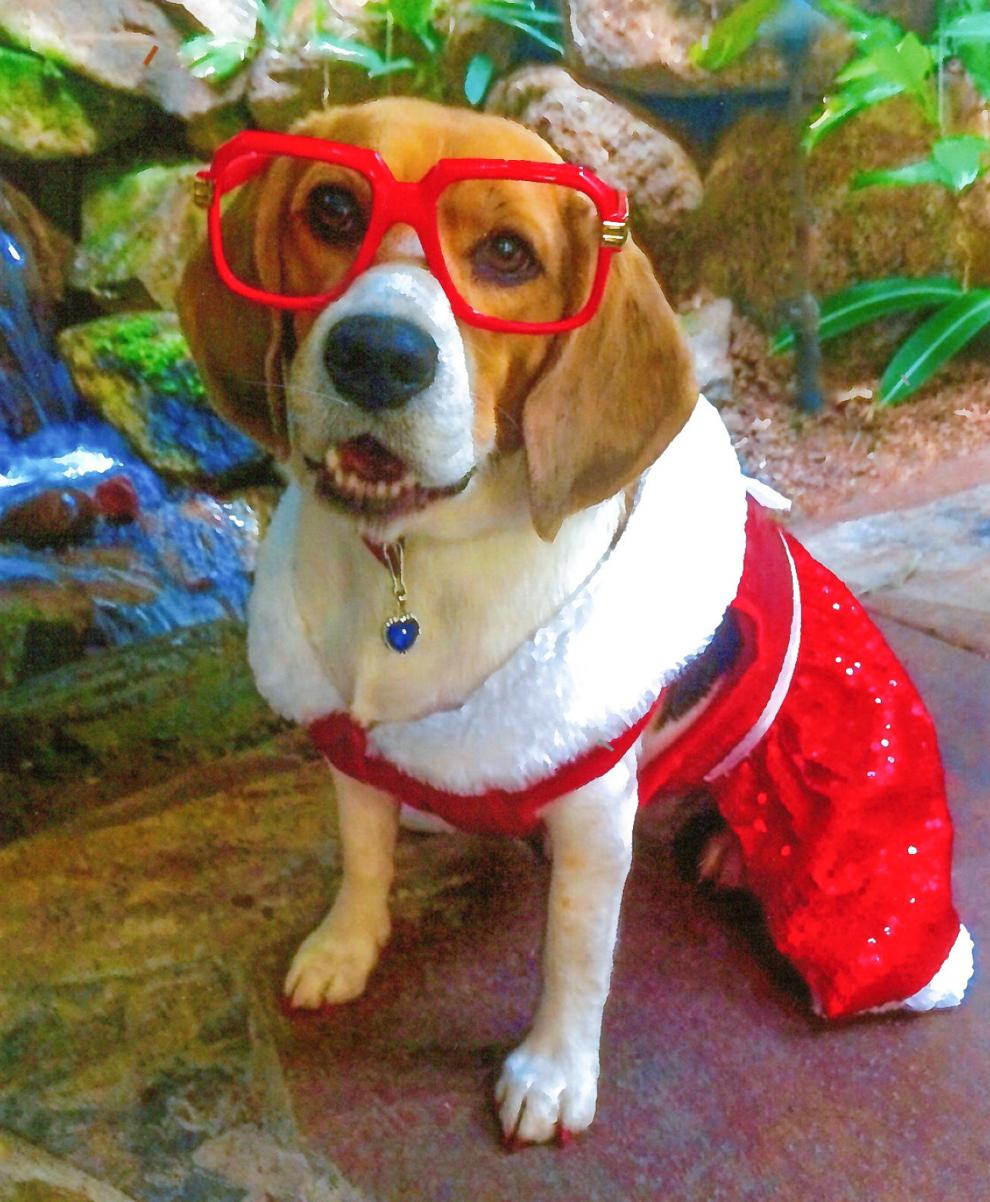 Colombo adopted Shiloh from Rancho Coastal Humane Society when she was one and a half years old. She is certified by the 'Love on a Leash' program, based in Oceanside, CA with chapters nationwide. The program trains both the animal and the person. The animal must be at least one year old to begin the certification process. All therapy teams are volunteers.
According to the Love on a Leash website, "A Therapy Pet's sole function is to provide comfort or emotional support to those we visit. While they do provide a valuable service, the do not qualify as service animals under the Americans with Disabilities Act. A therapy pet does not have the same legal rights as an assistance or service animal."
"Service Animals are defined as animals that are individually trained to do work or perform tasks for people with disabilities. The work or task an animal has been trained to provide must be directly related to the person's disability."
"The dog must undergo comprehensive behavioral training and be evaluated by a Certified Behaviorist, Certified Dog Trainer, Certified Obedience Instructor or AKC approved Canine Good Citizen Evaluator. This evaluation is to be completed before the dog goes on supervised visits. At least ten hours of supervised visits are required."
Colombo elaborated "Dogs are evaluated with people they know, strangers, and in how they react to something new. In the last part of the test, someone Shiloh didn't know came out of a room with a metal trash can she threw on the floor, then threw marbles, sounded angry, then laughed. Shiloh just sat and cocked her head back and forth."
Colombo had his own positive experience with pet therapy. Despite aspiring to be a nurse in his youth, he had a phobia of hospitals, feeling "woozy" even upon entering. One day in 2010 he was in the Emergency Room at Sharp Grossmont Hospital in San Diego, where he lived. with an acute condition. He said "I had no idea what happened but in came the therapy team with a Red Setter. The dog sat down and and laid his head on my arm. I can't tell you what the man looked like, but the dog I'll never forget."
He continued "People will always remember the way they felt - the experience they had with an animal visit. One patient said 'on the worst day of my life, being told I had pancreatic cancer, I was hugging Shiloh and she had her head back and she was looking at me'.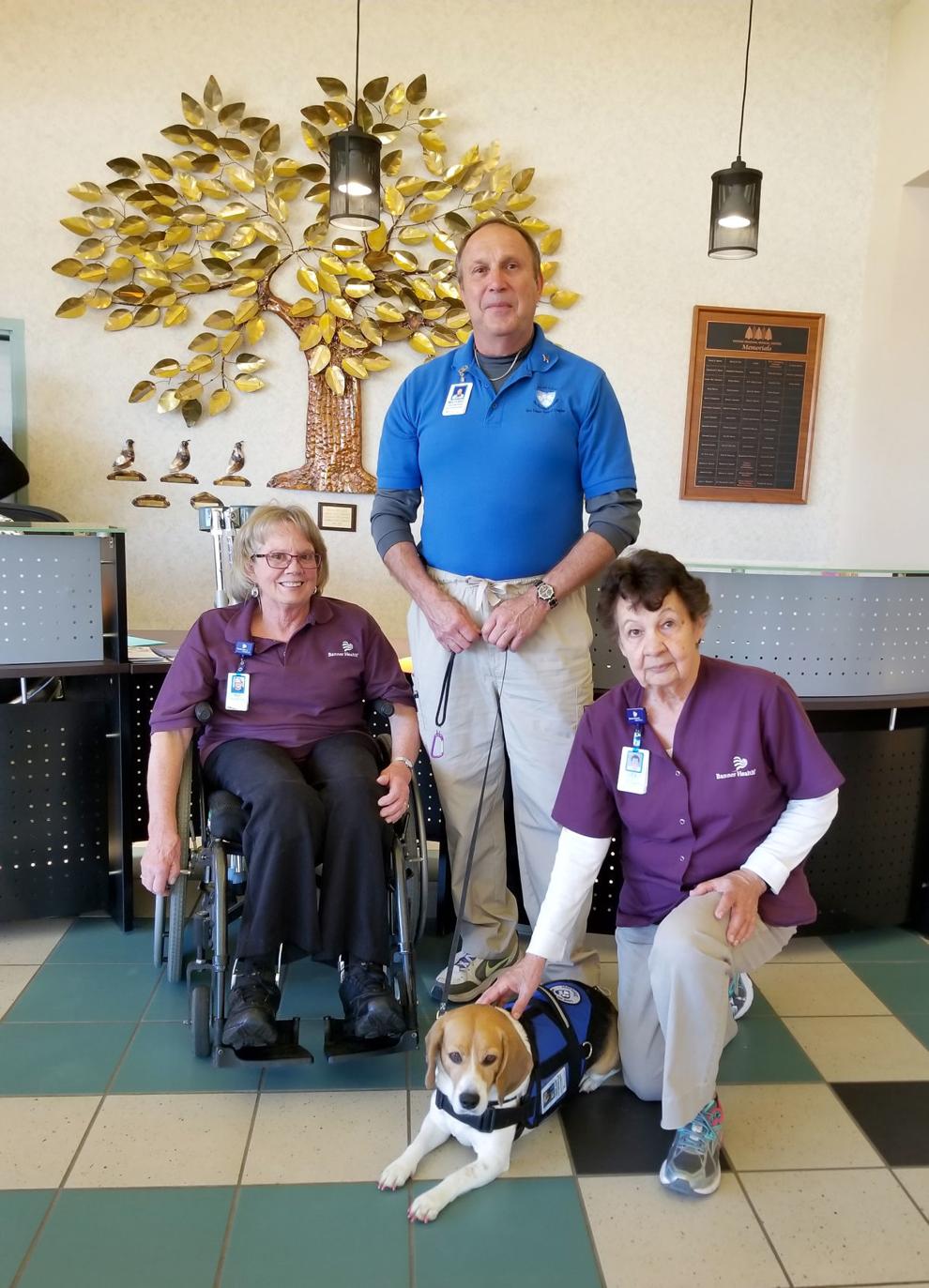 Colombo and Shiloh moved to Payson from San Diego in November 2016. "It was the Lord's leading," he said. "A friend had shared about coming to Payson and I did some research and spent a week here just driving around and talking to people. It was very refreshing. I love it here in Payson, it's a very special place."
Prior to moving, the duo volunteered at Sharp Grossmont Hospital's Pet Therapy Program, which has been serving patients for more than 30 years. They visited patients throughout the hospital including the ER and Critical Care Center, David and Donna Long Center for Cancer Treatment and the Rehabilitation Center. They logged 375 volunteer hours after certification in 2014.
In 2016 they were awarded the prestigious Grossmont Healthcare District's 'Healthcare Hero' award honoring volunteers who help advance the delivery of quality health services in the East County region of San Diego.
Colombo and Shiloh visit Banner Payson Medical Center once a week on Tuesdays. Lawless said "It's all about the patient experience but staff is actively involved as well. After Shiloh visits the patients, the nurses come out and love on her because it is a break for them in their stressful jobs.
Colombo is mindful of Shiloh's energy level and says "I can tell when Shiloh needs some down time." They also offer volunteer pet therapy visits to several other facilities in the Payson area.
The Banner Payson Medical Center currently has around 50 approved volunteers and are always open to more. Lawless would like to grow the pet therapy program to have a team visit the hospital daily. Those interested in participating can contact her via email Jennifer.Lawless@bannerhealth.com. For more information on the Love on a Leash program, visit http://www.loveonaleash.org/