As the Bush Fire grew to 115,000 acres overnight (5% containment) Wednesday, fire officials reported computer models show the fire expanding with a high certainty to State Routes 188 and 87, but likely not expanding into the forest to the north.
Wes Hall, long-term fire analysts with the Fire Incident Management Team Five, said modeling where fires will go is complex and they take many factors into consideration including fuels, topography and weather.
Using 11 years of weather data, computer software mapped the seven-day spread of the fire. With 80% probability, they predicate a sizeable area to burn between 87 to the west and north and 188 to the east.
Hall said their modeling assumes no fire suppression, so it is a worst-case scenario.
He said they feel confidant 87 and 188 will act as fuel breaks and the fire will not spread further north or to the east once it hits those barriers.
The model shows Tonto Basin and Punkin Center in the fire's path.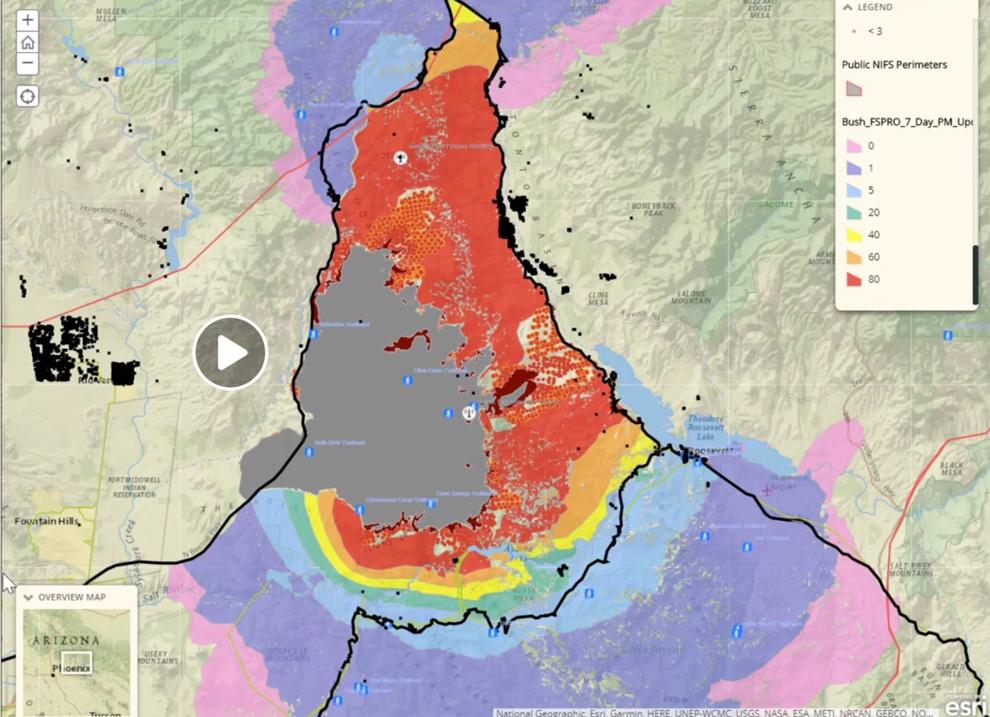 Gabrielle Holguin, operations sections chief, said the fire Wednesday night was roughly 2 miles from Tonto Basin, as the crow flies.
He said they have a plan ready to protect the community.
On Wednesday, the fire reached State Route 188 near the north end of Roosevelt Lake. Holguin said there were spot fires along 188, but they were extinguished with water and fire retardant drops.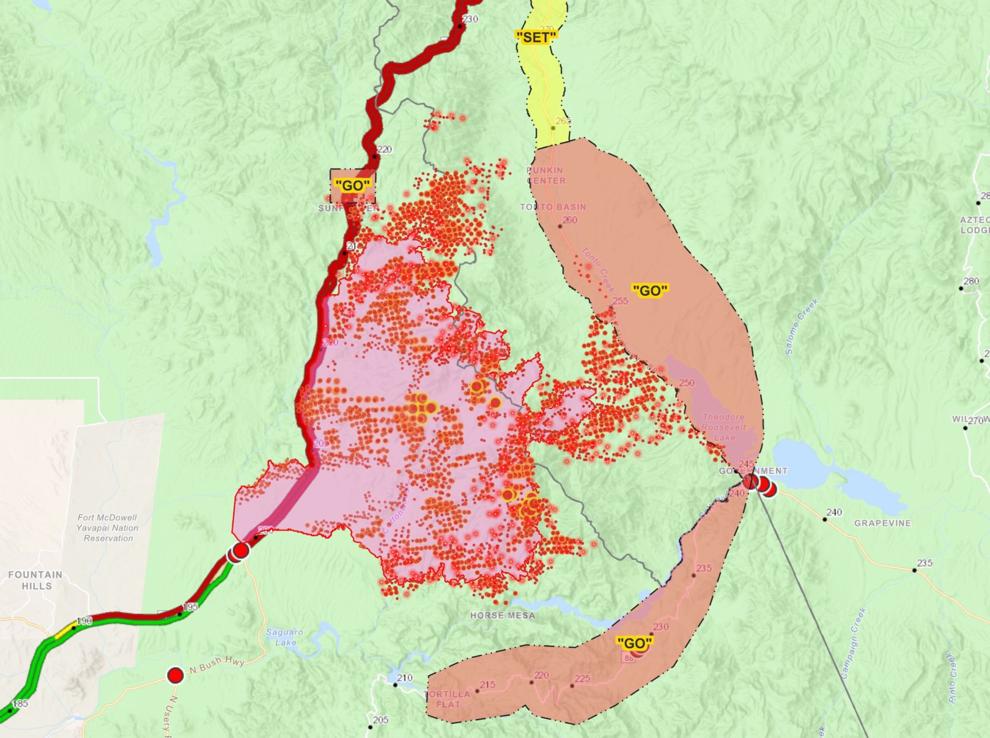 He said crews are using Forest Road 143 to slow the fire, lighting back burns on the south side of the road so as the fire goes north it will run into a burned area and slow.
So far, the fire has damaged no homes. A radio tower was damaged.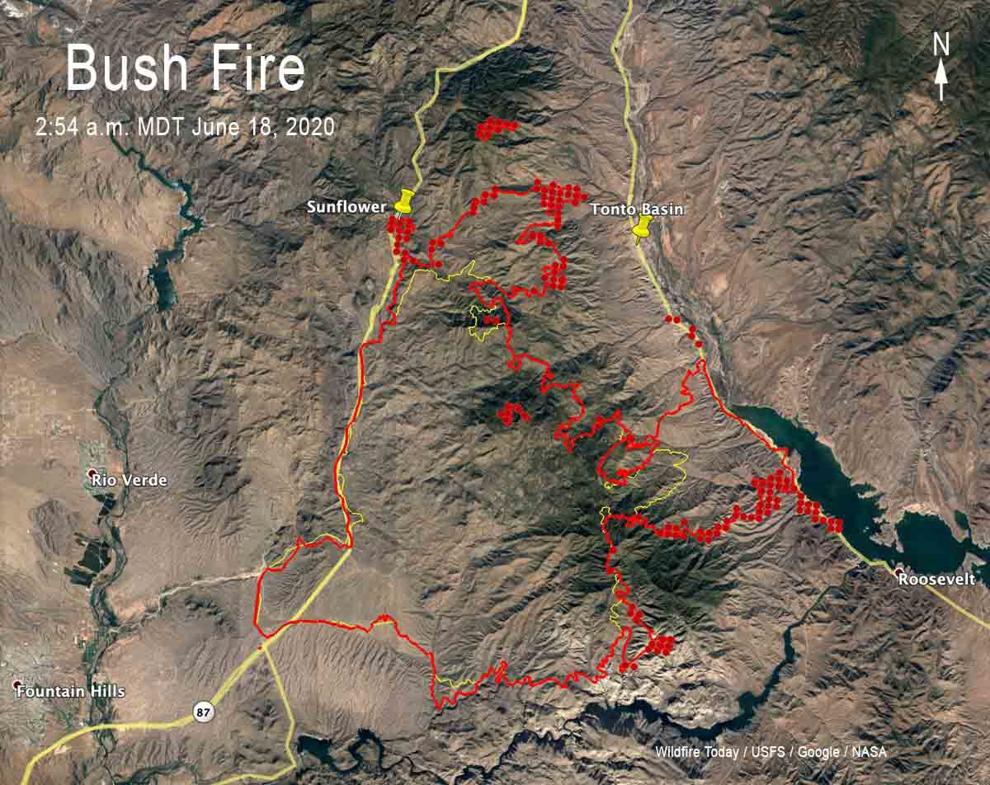 Art Gonzales, a fire behavior analyst, said he has been studying where the fire will go in the short-term. He said this is important for several reasons. First, for safety, knowing where the fire will go tomorrow helps firefighters develop a plan and keeps them out of areas that may be too dangerous to enter.
It also helps officials decide when they should evacuate communities and gives them time to do so safely.
He said the fire is spreading quickly through tall grasses and being driven by powerful winds.
"It spread so fast we could not get around it, we could not develop containment lines," he said. "Once it got over highway 87 and headed up into the Four Peaks Wilderness Area, now you mix some inaccessibility with complex topography."
The fire really kicks up every day after 2 p.m. and continues to grow well past midnight.
The fire is producing a large smoke plume visible all the way in the Four Corners area, said Aaron Wilderson, Arizona BLM air quality resource advisor.
The smoke is heaviest in Payson around mid-day and as the winds shift, it moves towards Heber-Overgaard, he said.
Officials recommend residents stay in side, especially those with health conditions.
Road closures remain in place:
SR 87 is closed from Payson to Bush Highway. SR 188 is closed between SR 87 and Roosevelt Lake (243).
SR 88 is closed between Apache Lake (milepost 229) and SR 188 (milepost 242).
The long-term SR 88 closure from east of Tortilla Flat to Apache Lake also remains in effect. This means drivers may not travel east of Tortilla Flat right now on SR 88.