Working seamlessly, the Hellsgate, Payson and Pine-Strawberry fire departments on Thursday snuffed out a small brush fire in thick brush behind Walmart.
"The final fire size was one-tenth of an acre," said Hellsgate Chief John Wisner.
"The fire was human caused."
The blaze appeared to have started in an area of a homeless encampment, said Mike Reichling, Pine-Strawberry fire marshal. Throughout the property, homeless camps full of abandoned couches, blankets and broken glass litter the forest, including several fire rings.
The fire started close to several homes near Rumsey Park.
After intense deliberations on possible evacuations and strategies for fighting the fire, Wisner ordered use of a "direct fire attack" strategy.
"They will use hand tools and smaller engines," he said.
Dressed in the bright yellow shirt and green pants of wildland firefighting, about 10 firefighters cleared brush and then doused the fire, using a hose from a Pine-Strawberry wildland fire truck.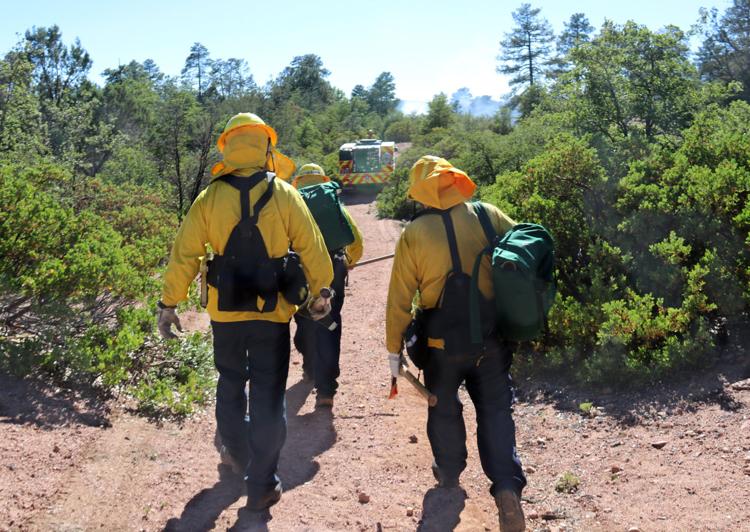 The property, to the northwest of Walmart, is currently for sale by Fieldbrook Properties for $2.5 million.
The leasing agent said it has gone in and out of escrow since 2003.
The thick, uncleared brush on the lot provides a fire with an easy spread to neighborhoods on all sides.
Payson doesn't have a tough ordinance that would allow the town to order property owners to clear overgrown lots.
The Payson Fire Department has repeatedly recommended the town adopt such an ordinance, but the council has abstained each time.
Police are investigating, but so far have made no arrests.