On a sunny Sunday in January, I joined Mike Brandt, president of Pine Strawberry Fuel Reduction, Inc. (PSFR), at the Pine Trailhead. We took a leisurely three-mile hike, made possible because Brandt, the PSFR board and volunteers are diligent in educating the community about fire protection and fuel reduction, creating partnerships and building trails.
"Maintaining trails creates a way residents and visitors can use the forest around our communities, creating an impact on the forest which also provides access to firefighters as well as a natural fire break," Brandt said.
Started in 2004, Brandt led the way while still a Pine-Strawberry firefighter. He retired after 25 years, but continues as a driving force in PSFR. At a meeting with the board, members articulated the mission.
"To reduce the risk of a catastrophic fire in and around the Rim Country community of Pine-Strawberry," said Brenda Darling, board secretary.
"We have a vested interest in this community not burning down," added Brandt.
"Everything is interconnected," said Elsa Steffanson, the technology guru for the group. "A healthy forest, a healthy watershed it all works together."
"It's a huge project," said Brandt. "We take it one little piece at a time."
Projects they have aplenty, but the board says community education is the No. 1 priority.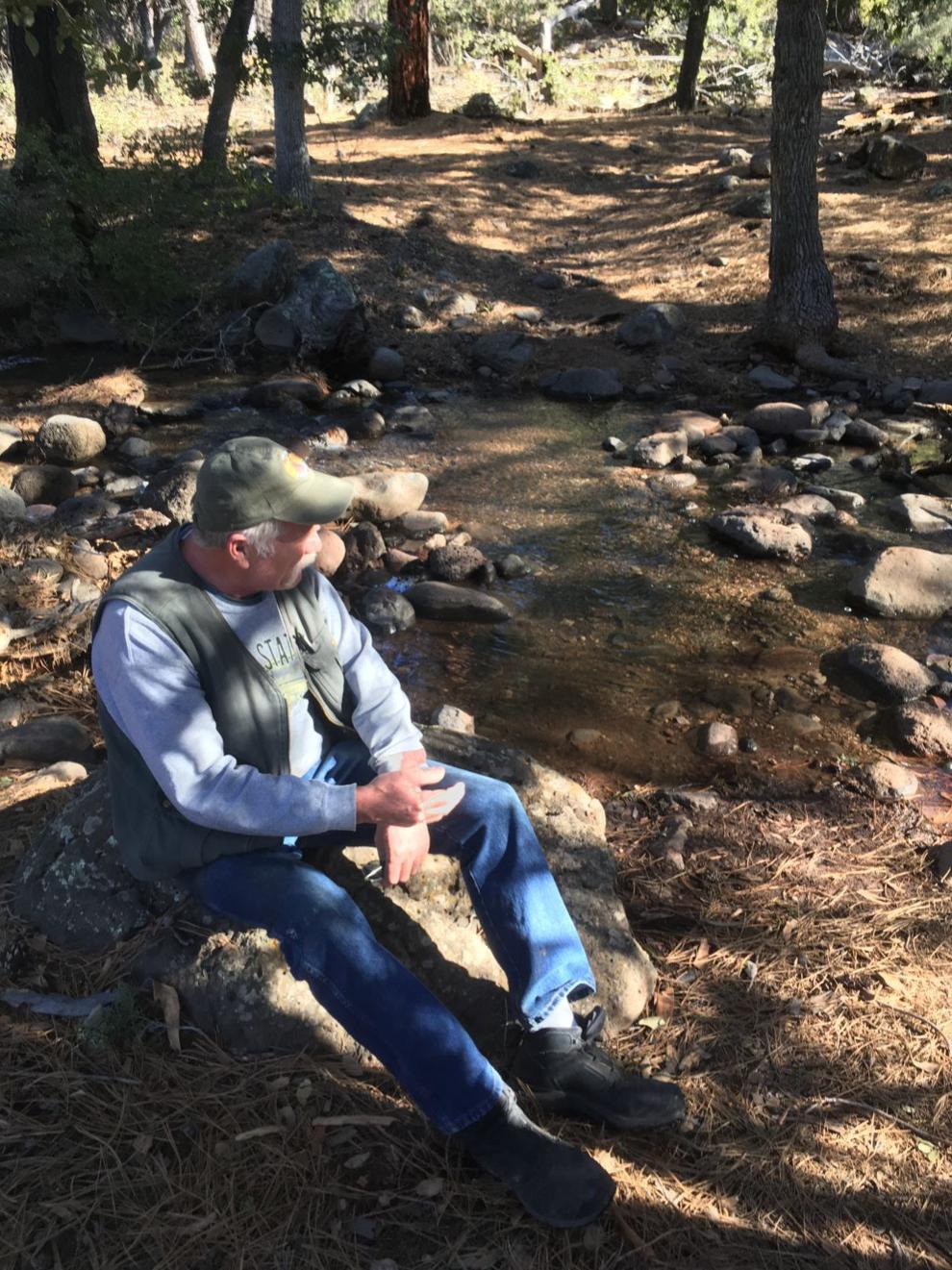 Over the last 100 years, the Forest Service has focused on stopping fires, leading to overgrown forests. These forests make it easy for a fire to spread, leading to catastrophic fires that can destroy communities and resources. PSFR is seeking a way out of the woods.
"Somewhere, someone will solve this (forest fire threat), I don't see why it can't be right here," said Brandt. "We want to give ownership of the forest to the people of the community."
"We are a participant, rather than a squeaky wheel," he said.
And volunteers are getting things done.
PSFR has cleared 500 acres of land inside Pine-Strawberry through grants including near Camp Lo Mia in Pine Creek Canyon and the south side of Pine. They have helped create and maintain fuel breaks around the community and maintain and operate the brush pit, a free site for yard waste off of the Control Road. The nonprofit group has also seeded native grasses in open and cleared areas.
PSFR works with the Forest Service, Arizona Trail Association, Arizona Game & Fish Department, Bureau of Land Management, Rocky Mountain Elk Foundation, APS and others.
"It's very important to have community buy in for long-term forest health," said William Dudley, fuels specialist for the Payson Ranger District. Dudley is working with PSFR and other partners to clear more than 3,000 acres west of Strawberry.
When completed, low burning grass fires can be used to maintain the area, said Brandt.
PSFR is a rarity in the forests of Arizona. While many communities have groups that get together to work on a single project, PSFR is in it for the long haul.
The volunteer group started in 2004 and immediately took on funding clearing work and maintaining fuel breaks. Educating the community was paramount to securing volunteers and donations. They mailed a CD, "Simple Ways to Protect Your Property from Wildfires," to every homeowner. Steffanson says the video will be on the PSFR website by May's Firewise Day.
Education has grown to include a dozen street signs that are rotated in the community every three months. A kiosk at the Ponderosa Market outlines Firewise practices. The children's program features Billy Brushwacker, a video game, safety workbooks and a teacher's guide.
"I've seen a huge change in perception since we started," said board member Janet Brandt, Mike's wife.
Currently, they are building an interpretive trail and a Firewise garden at the Pine Trailhead to continue to educate visitors and residents about the surrounding forest, said Brandt.
PSFR has a Firewise trailer that is hauled around Gila County to educate. The trailer will be one feature at Firewise Day, Saturday, May 16 at the Community Center.
"We want to stimulate the public in understanding, accepting and capacity to reduce fuel sources," said Darling.
Donations, grants and Fire on the Rim fund everything, said Brandt.
In 2011, PSFR started the Fire on the Rim mountain bike race in the fall using trails that volunteers had cleared. The funds from this event go directly into trail creation and maintenance.
In 2018, they added a foot race, the "Pine Trail Run" in May. The event takes place on Saturday, May 2 this year. Participants can run a 5K, nine miles or, new this year, a 50K.
"So far we have one international runner and about 200 registered," said Nancy Hubbs, board treasurer.
PSFR's goal is to create a network of trails that circle Pine-Strawberry. Not only will this be a great resource for residents, it will give firefighters access to the woods from just about any location in P-S in the event of a wildfire.
There are about 150 volunteers, which the seven-member fire board oversees. They are always looking for more help.
"We have a mature workforce, I know, I am one of them," chuckled Joan Backman, board vice president.
"Skip the gym membership and join us on the trail," Steffanson said. "Then you can walk it with friends and family and say, 'I built this.'"