The Camp Fire that decimated Paradise, Calif. and killed 85 people in a town much like Payson loomed over Gila County Supervisor Tommie Martin's annual fire season preparation meeting on April 10.
"I have a project I have been working on by studying the town of Paradise — they had a very good evacuation plan," said Hellsgate Fire Chief John Wisner.
His project dovetailed with a discussion on water bladders, mowing Arizona Department of Transportation roads and emergency preparations.
Each spring to prepare for the fire season, Martin gathers first responders, officers and staff from town, state, county, and federal agencies. The meetings include representatives from the Forest Service, sheriff's office, Payson police and fire and Hellsgate, Pine-Strawberry, Tonto Basin, Whispering Pines and Houston-Mesa fire districts. The meeting also draws county roads and water, ADOT, brush pits, Banner hospital, Community Emergency Response Team, Gila County Posse, and Gila County Emergency Management staff.
The group exchanged information on everything from where water is stored, evacuation plans, personnel and communication.
Acting Payson District Ranger Jeremy Plain opened the meeting to report on conditions.
Despite the winter rain and snow, "we always have a fire season," said Plain. "We will always prepare for that fire season."
Payson Ranger District Fire Management Officer Clint Remington reported on the status of fuels and staffing.
"We're starting to track the fuels and the weather ... the potential (for fire) is there, especially in the lower desert," said Remington.
In fact, a brush fire started near Globe at the end of the day.
The Payson Ranger District fire staff will finish up their training and report for duty in the next two weeks. Air support in the form of a helicopter and air tanker will be available to serve the region in the same time frame, said Remington.
So far, the weather service predicts El Niño conditions will continue through May, compressing the dangerous fire season into June and July, before the monsoon arrives.
"But we know the weather people — they are wrong every day," he said.
To get a jump on the grass growing by the side of the road, ADOT has already mowed.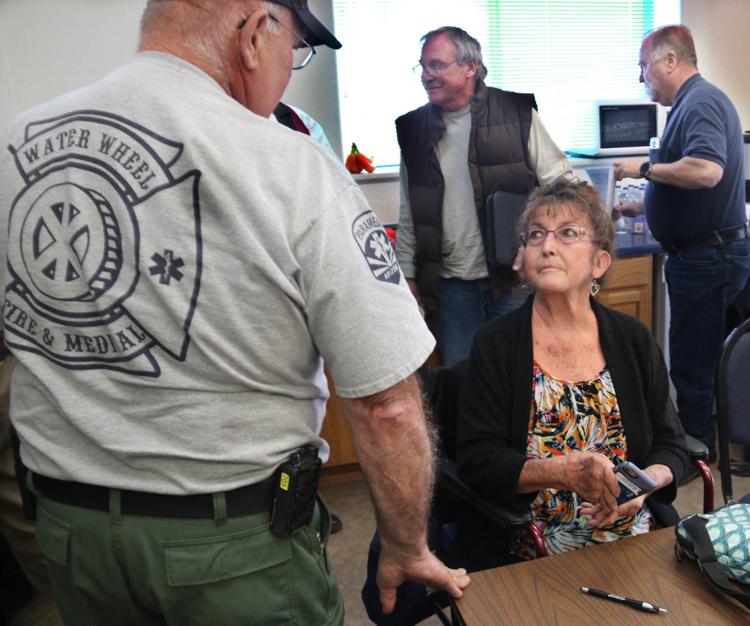 "Two weeks ago we started mowing down at Sunflower — pretty flowers or not, they are gone," said Brett Rupp from ADOT. "I think we are in Rye right now and we've doubled our width on the shoulders. This year we are going to try to get from Payson to Pine."
Danny Savage, the Gila County Roads manager, has worked on all of the water bladders, dip tanks and water sources scattered near communities tucked into the woods.
The bladders let helicopters and fire trucks hit fires quickly when they're small, even in areas without easy access to water.
"We lost a lot of bladders this winter," said Savage. "All our 50s (50,000-gallon) are gone ... we might have to do something different. You can run two 20s. We have all our pumps out."
Years ago, Martin saw a need to supply water to remote areas far from a water source. As a temporary solution, the county purchased surplus water bladders that could hold 50,000, 20,000 and 10,000 gallons of water. They placed them in rural areas lacking access to water sources.
To aid Firewise efforts, staff and volunteers at the two local brush pits spent the winter upgrading gates and fencing as well as cleaning up and expanding space to dump brush to encourage Firewise clearing of neighborhoods. Pine has a comprehensive Firewise program, but Payson's remains fragmentary.
The specter of a mass evacuation dominated the meeting this year, thanks to the tragedy of Paradise.
Wisner's initiative is to create an evacuation plan complete with maps.
"As a fire chief, I got very concerned about our communities up here," he said. "In a perfect world, we will have a couple of days or so to go door-to-door."
The Camp Fire showed fire may not offer much time. The extreme behavior of the fire as it engulfed Paradise gave authorities a few hours to evacuate 45,000 people. Most of the 85 people who died opted to stay behind.
Paradise Fire Chief David Hawks said if authorities had not practiced their multi-agency evacuation plan just a couple of months before the Camp Fire, things could have been worse.
"We were absolutely ready as any public safety entity ... we met routinely to go over our community evacuation plan," said Hawks. "We had practiced the evacuation drill ... just a couple of months ago, so we kinda knew what to do. It was muscle memory and it paid off."
Rim Country lacks a comprehensive multi-agency evacuation plan like Paradise. There's also no plan with ADOT to move traffic away from a fire — a fact Rupp brought up during the meeting.
"What about roads?" he asked. "Once you have evacuated, we have stop lights that are not timed for an evacuation."
Payson Lt. Jason Hazelo said the Payson Police Department does not have the ability to change the traffic lights.
"There's a box that is not open to us. We couldn't control those lights," he said.
GCSO Sgt. Dennis Newman said after the Highline Fire, the GCSO regularly goes out to communities to explain the GCSO's evacuation procedures — as well as Ready, Set, Go.
"We use every opportunity to educate," he said.
During the first week of May, Newman will speak to Beaver Valley about evacuations.
Still, Wisner suggested building a regional evacuation plan.
"Building a regional map takes time," he said. "The more people jumping on board, the better."