A broadband line from Show Low is coming.
Not sure what it will look like.
Not sure it will solve the outages that have plagued Rim Country .
Officials say it will bring faster and more reliable internet service, which will support telecommuting, telemedicine, and high-tech businesses.
Some wonder why it took five years and multiple outages?
Just ask the bevy of economists, elected officials and private business leaders who met in Payson five years ago at the Arizona Association for Economic Development (AAED) roundtable in Payson.
The group spurred the development of a broadband consortium that played a key role in finally convincing Cable One to string a new, high-speed cable from Show Low to Phoenix.
Last week, the AAED group again assembled in Payson for another roundtable discussion.
They celebrated the announcement the region could have better internet service in as early as 18 months. But they also talked about what comes next in developing the region's foundation for economic growth.
"I feel very very confident that we are going to achieve a lot," said Payson's Mayor Tom Morrissey.
He said his connections with the Department of Interior and Department of Veterans Affairs are "resources available to us that were not available before."
Gila County Supervisor Tim Humphrey looked forward to working together to solve the region's economic challenges.
Linda Oddonetto, Globe's economic development director, said Globe has lots of ideas for tourism.
And Bobby Davis, Payson's economic development specialist, said Payson's ready to grow.
But given how long it took to improve broadband access to Rim Country illustrates the challenges economic developers face.
Mac Feezor can tell you what it took, since he's spent the last five years as a member of the broadband consortium formed after the last AAED meeting.
Consortium members spent hundreds of hours, local organizations pledged millions of dollars and backers went through one alternative after another to push through a solution for the internet and cell phone outages that have plagued Rim Country.
On top of all that, "it took a lot of negotiating," said Feezor.
But that's what it takes to develop the infrastructure necessary to lure job-producing businesses to the area.
The AAED underscored that message in the May 16 roundtable of elected officials, economic development staff and business leaders from Gila, Apache, Navajo, Pinal and Coconino counties at the Mazatzal Casino.
"If you don't plan ahead you are caught off guard," said economist Jim Rounds, a former Joint Legislative Budget Committee staffer turned consultant. "Arizona is outperforming the rest of the country, but the rural areas are not enjoying the same success.
He said rural areas can't compete without robust broadband, adequate roads, exemplary education and solid health care. He said until local governments spend the money to make a positive economic impact, businesses will look elsewhere.
But "how do you get through to people when it's so complicated?" he said. "You have to come up with a story that asks, 'Why does this matter?'"
Payson faces these questions as it seeks to invest the additional $3 million it collected after raising the sales tax.
Should the town invest in roads?
What will provide the biggest bang for the buck?
Payson will have to do something if it wants to evolve from a pit stop into a community that provides careers for its youth.
Rim Country's quest for broadband offers one step.
But as with any quest, the characters in the story face pitfalls and challenges. To give up, they fail. If they continue they could find success — but it's a risk.
The consortium faced such a challenge when CenturyLink refused to negotiate an affordable solution to broadband redundancy for Rim Country.
Feezor said it made sense for CenturyLink to partner with the consortium because the company owns the line from Camp Verde to Phoenix.
"We offered money, our connections and expertise," said Feezor.
Members of the consortium provided expertise — Feezor spent his career as an engineer and is part of the Citizens Emergency Response Team.
So did Greg Friestad, a longtime Rim Country resident and former cable company engineer and designer.
Local groups offered funding and connections with government officials and businesses to help find a solution.
Bobby Davis, economic development for the Town of Payson, provided town connections.
And APS joined the consortium.
Even with all that economic and political power, CenturyLink rejected an offer to partner with the consortium.
That seemed to slam the door shut.
So the consortium turned to Cable One, which has now pledged to bring a high-speed cable to Payson within 18 months.
Still, the whole struggle took more than five years and it's still not over.
This year, broadband was one of the topics discussed, but other topics included workforce training, affordable housing and business infrastructure development.
AAED broke the meeting up into roundtables. Once AAED collects the responses, it will put together suggestions for legislation.
"The mission of AAED is to provide a voice advocating for economic development through training, public policy and collaboration," said Joyce Grossman, executive director. "It's a group of people that want to improve the Arizona economy."
That means improving all of Arizona's economy, not just the metro areas.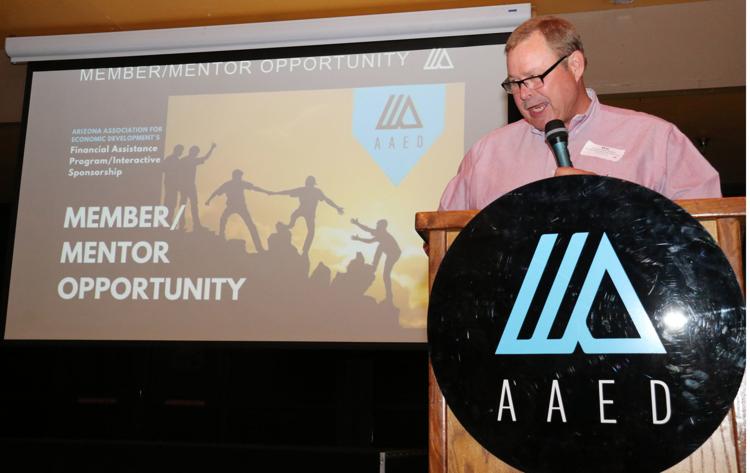 "I think the underlying message is to invest in our future," said AAED Rural Committee chair Skip Becker.