We're pretty good at talking about going.
But this weekend, we finally got the get up and go to actually get up and go camping, after packing ourselves and our mutts into our elderly 4-wheel drive van and heading to the Rim.
We picked Knoll Lake as our destination, figuring we'd outdrive the crowds at Willow Springs and Woods Canyon.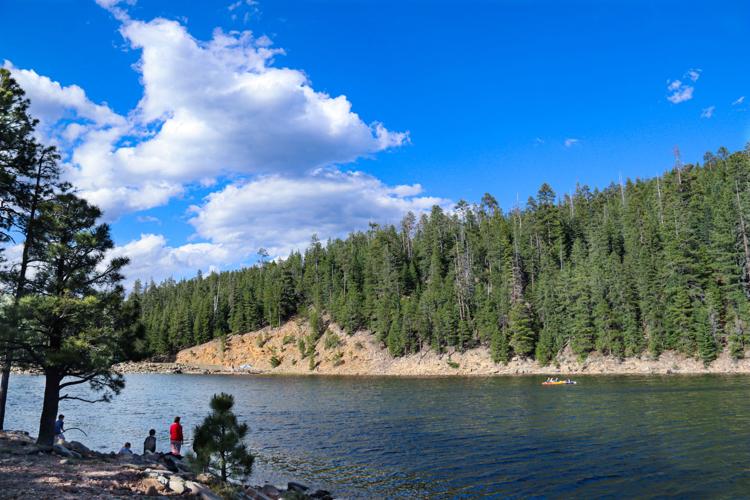 The Rim has always fascinated me. Forest Road 300 follows the tracks of General George Crook, the Union general who ultimately crushed the elusive Apache. It served as the crucial supply link between Camp Verde and Fort Apache in the White Mountains. When pursued, those native residents of the Rim could disappear right over the edge — leaping from outcrop to outcrop as they descended 1,000 feet, according to one account left by Captain John Bourke.
I can barely handle cautiously scooching to the edge to carefully dangle my feet, but Pete had a plan — find a campsite with a 200-mile view. I had a bit of anxiety about the height, but I thought I'd give it a go. If the Apache could scamper down it, I could camp on the edge.
Still, we didn't actually get up and gone until 2 p.m. on Saturday.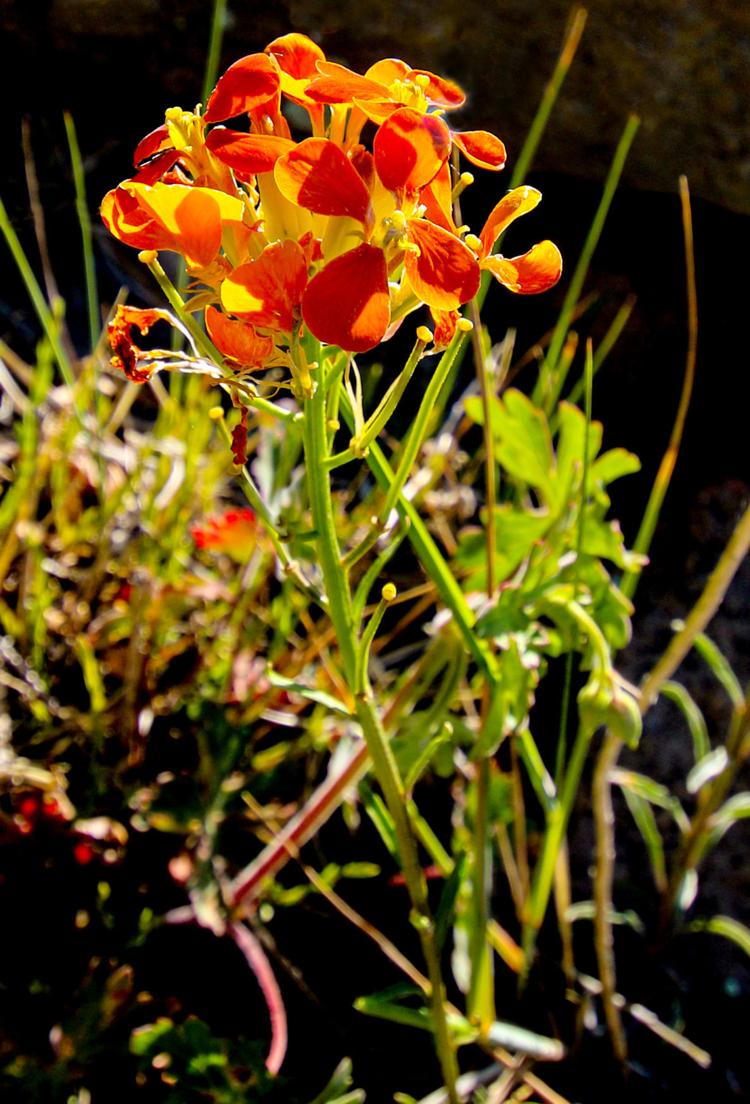 I fretted we wouldn't find anywhere to camp. Sure enough, by the time we hit FR 300, the place roared like a freeway. The gaggles of ATVs, Jeeps, pickups, mini-vans and motorcycles stunned me.
"So this is where they're all going," I thought. Every Friday, I wonder where all the traffic heads. Now I know.
After 15 miles in a dust cloud, we rolled into Knoll Lake. We'd passed lots of places to camp, but they were filling up fast on a Saturday afternoon. I was torn between wanting to stake out our claim and getting to the lake — which doesn't have campsites on the shoreline.
It's a pretty lake with an island, enough parking spaces and a ramp for boats with electric motors. Mostly, the boaters are afloat in canoes, kayaks or paddleboards. The shore has spaces for others to sit in camp chairs reading books, enjoying a picnic or fishing.
One father caught at least three trout in 20 minutes, with a neon gob of power bait floating off the bottom. Don't ask me the technical name of this fishing setup, that's more a Pete question.
Inspired by the good luck around him, Pete decided to fish, as the dogs looked on anxiously — zip-lined between a pair of trees. I grabbed my camera and headed down a trail, seeking solitude. The path soon cut into a steep hillside. Beaches disappeared replaced by rocks. Perched on different boulders, fishermen quietly cast and reeled. Cast and reeled.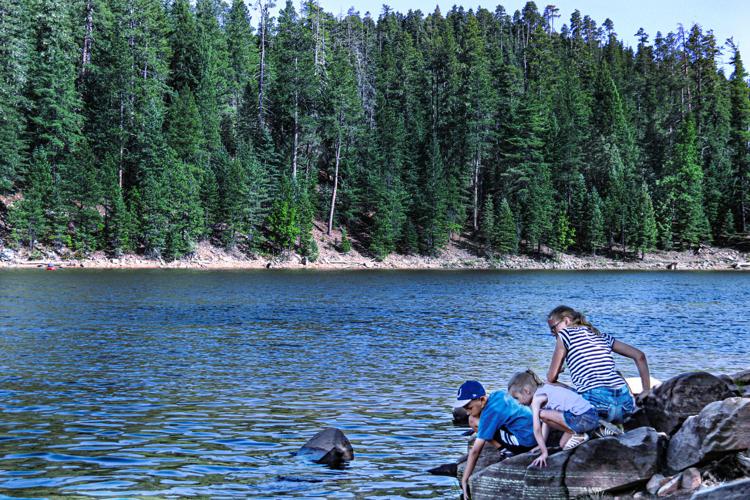 Families in boats bobbed in the distance.
The wind whistled through the thin needles of the pines.
I found peace watching the clouds scuttle across the sky.
Then I remembered we had no camping spot.
By the time I saw Pete, I'd whipped myself into a wee bit of a panic.
"The sun will set soon!" I announced.
"No worries. Look! We'll have trout for dinner!" he added.
I was sure all the spots would be gone. Pete's a "What, me worry?" Mad Magazine type character. Sometimes, it's a bit much, but then again he balances my Chicken Little tendencies.
After half an hour of bouncing about and driving past one occupied spot after another, we found a little side track off FR 300. Right on the edge of the 1,500-foot-tall Mogollon Rim, we found a spot with a fire pit and a view of forever.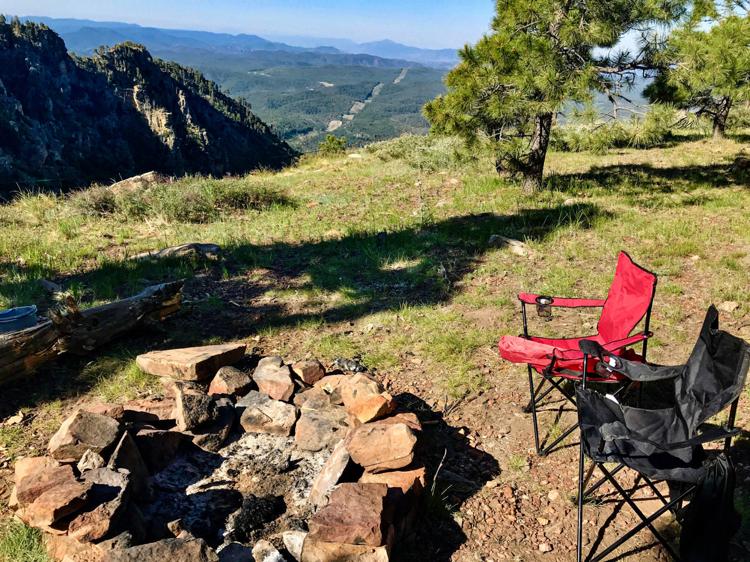 The Apache would have been proud of me, living on the edge.
As the sun set, we grilled our trout then ate as the sky flared red, orange and violet.
"Now this is the life," said Pete.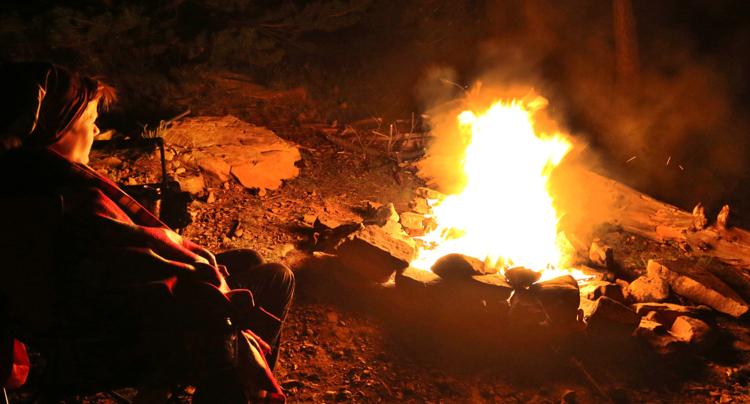 I felt a surge of pity for the poor flatlanders, fleeing the heat, stuck in traffic, searching for a spot. But we've got paradise out the back door — even if we don't get organized until 2 p.m. on a Saturday.
All we've got to do is get up and go.