On its surface, the Pine Tellabration — in its 19th year — looks like a great party.
Proceeds from the Pine Tellabration dinner and event, feed the hungry, educate the children, and keep roofs and hearths dry and warm — just as the stories of childhood and family remembrance told by the storytellers warm the hearts and souls of the audience.
Take the story of the mincemeat pie stealing holiday tradition told by emcee Liz Warren — because, who doesn't have a holiday tradition story to tell?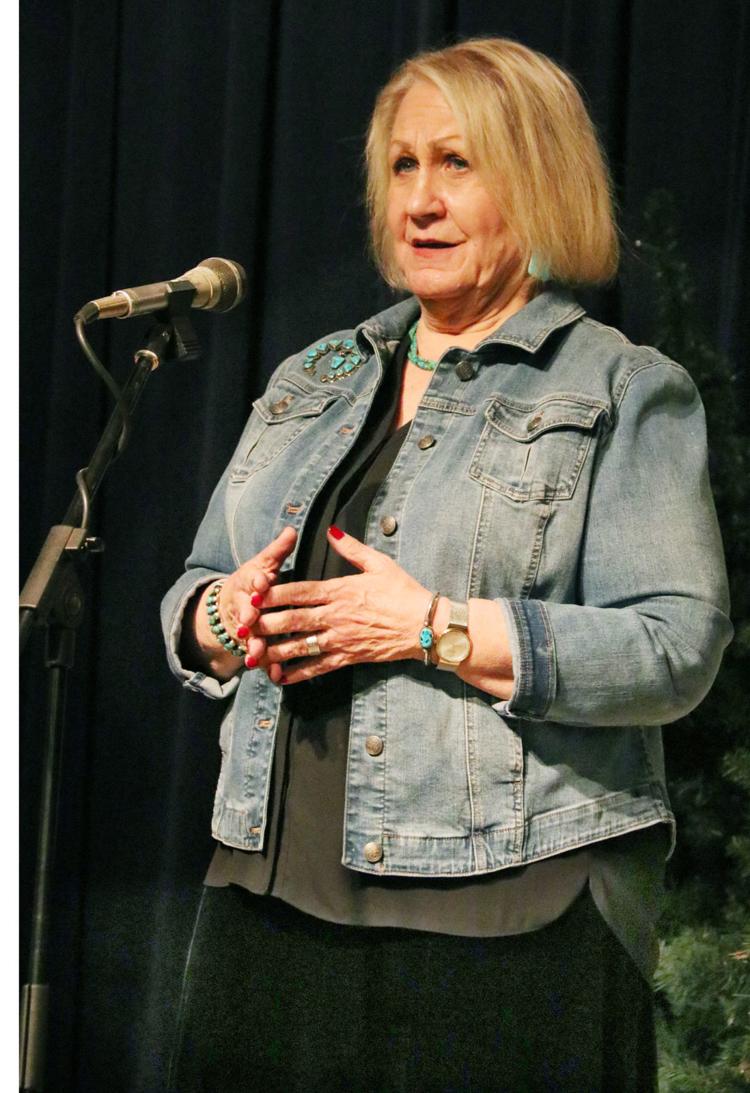 Warren's story had members of her family stealing the mincemeat pies her grandmother conscripted them into making from scratch.
"She insisted on creating holiday traditions," said Warren. "She would gather us together to prepare mincemeat for the pie."
The pie stealing started one Thanksgiving between her father and his cousin, quickly morphing into a family legend.
One year Warren decided to get into the pie stealing game. She hid it in her oven, but forgot about it for 23 days.
Worried the pie might have spoiled, she called her father for advice — never admitting to actually stealing the pie.
Her dad wasn't fooled. He figured it out and showed up shortly thereafter bringing along some hard sauce made of brandy "for that hypothetical pie."
Many in the audience nodded as they recalled their own holiday family traditions.
For Carol and Roger Fornoff, Tellabration is its own tradition.
The two not only make sure the call goes out for the dozens and dozens of cookies baked for intermission at the event, they also deliver meals to Pine and Strawberry residents and work for the Pine Food Bank the rest of the year.
"We just gave out 109 bags of food," said Carol. "Next Tuesday we provide turkeys and fixings for Thanksgiving."
Part of the ticket sales from Tellabration goes toward funding both programs in the hamlets.
A blessing not all who attend know about, but so often we only understand our blessing much later.
Take Don Doyle's story of contracting rheumatic fever his junior year of high school and it changed his life.
"I had to stay in bed for one year of my life," said Doyle. "I was very lonely."
So his family purchased a Victor radio-phonograph for Christmas.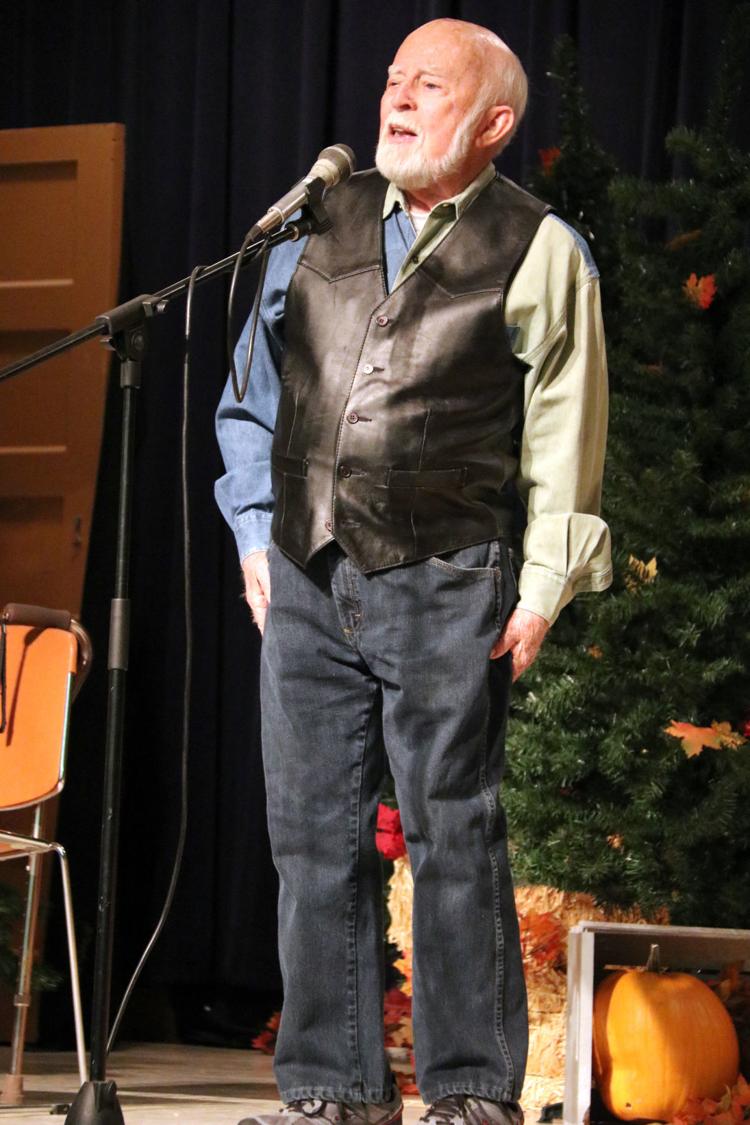 Suddenly the world came into his room.
Radio shows such as "Amos and Andy" and "The Lone Ranger" and songs by Bing Crosby not only kept Doyle entertained, they inspired him.
"I began to write their next episode," he said. "Imagination is the key to creativity. It led to my life in the arts."
Doyle said he has directed musicals and opera in the Valley.
"I wouldn't change any places with a king," he said, as he owned the stage set up in the Pine Community Center.
Then he revealed the gift of his year in bed healing.
"If anything bad happens, maybe something good will come of it," he said.
Angus MacFarlane's eighth-grade students also found a blessing in the evening. They performed beautifully, serving those who came for the dinner prepared by Chef George.
"It's a mini-fundraising event for us," said Macfarlane. "It helps us get to the Sea World Adventure for the eighth-grade trip."
The trip is one last time the students will have together before they move up to the big leagues at Payson High School.
They also got to hear the storytellers, including Marilee Lasch's, hilarious soliloquy on Neil Diamond, whose songs comforted her through her adventures through puberty, marriage, motherhood, divorce and now reinventing herself as a storyteller at South Mountain Community College.
"I was the seventh of eight kids. I was told I was rather emotionally unstable," she said. "Then one day I heard, 'I am! I said and no one heard at all, not even the chair.' I had found a soul mate."
Neil Diamond got Lasch through high school. His songs empowered her in college and gave her courage to get married and have children.
Neil Diamond inspired her to power through the drudgery of housework and then comforted her when it all came apart.
Now in Arizona exploring her artistic side, Lasch attended one last concert.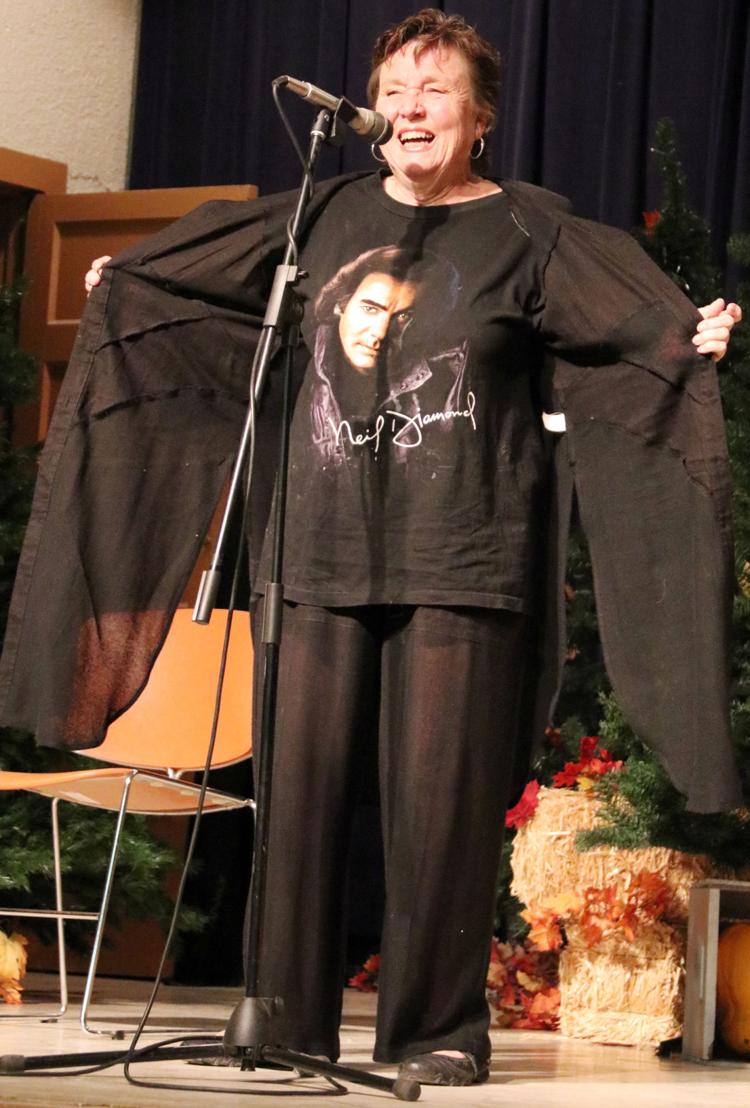 "Unfortunately, the last concert has more wheelchairs and walkers," she said, "but for those who remembered to wear our Depends, we were able to stand up and cheer!"
Then she bravely faced everyone's inevitable future — death.
"I want a bunch of ashes spread in Wyoming and the rest in Arizona," she said. "And I want the rest turned into a scratch and sniff to send to Neil Diamond so a part of me will be with Neil Diamond forever."
And so, with the support of the community, the Pine Tellabration also hopes to remain a part of this place — forever.