A bitter council debate erupted on June 27 over appointments to several Payson advisory committees.
Town statute gives the mayor the right to recommend appointments to commissions that advise the council on a host of topics, including planning and zoning and recreation.
Normally, the appointments are routine with more concern over finding volunteers rather than who gets appointed. Past councils have accepted nominations from any council member, then reviewed resumés and applications to make a decision.
However, last week the issue prompted a split vote, with the minority complaining Mayor Tom Morrissey threw out incumbents in favor of his friends and volunteers from his campaign.
The topic not only split the council, it provoked a warning from Town Prosecutor Mary Bystricky about potential legal conflicts and/or violations of the town code.
The issue broke open when Councilor Barbara Underwood objected to approving a slew of appointments as part of the consent agenda. Morrissey had reportedly recommended replacing some committee members in favor of new appointees. He had also recruited volunteers for positions that had long remained vacant.
"I do have questions about people who have asked to be re-appointed," Underwood said. "As a board, it takes awhile to get used to all the things you do ... it is really hard for me to support a nomination when someone who was willing to serve has been ousted."
Underwood said she didn't like losing the knowledge of experienced board members.
The members of the town's advisory committees have to abide by all the same public meeting laws as council members, including the open meeting law.
"To turn (the committees) over with all new (volunteers), what's the rationale behind it all?" she asked.
"Fresh eyes. Fresh energy," said Morrissey. "Other people want to serve and they should have the right to serve."
He then used the anecdote of a candidate losing an election.
"You gain a certain amount of expertise and then you don't get elected again," said Morrissey. "What I'm trying to do is to bring something new, some out of the box thinking ... is there anything wrong with that?"
Councilor Jim Ferris agreed with Morrissey.
"I guess elections have consequences, don't they?" said Ferris.
Councilor Suzy Tubbs-Avakian reminded the council it's hard to find volunteers.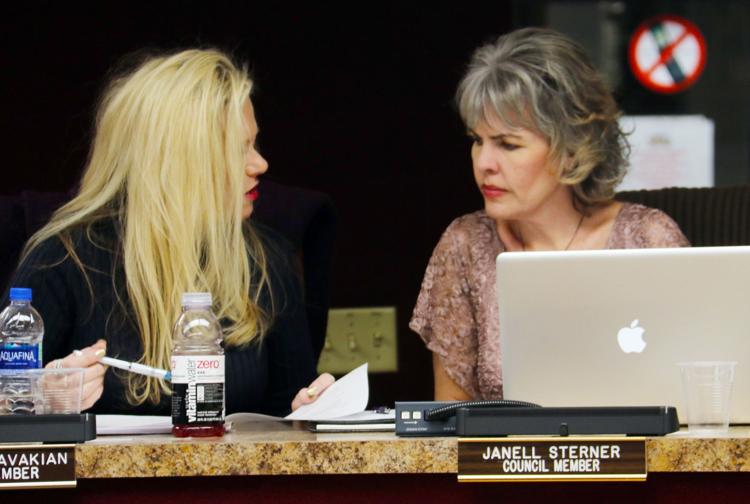 "I can tell you it is difficult to find people that volunteer," she said. "Anyone that takes the time to fill out a packet, I respect."
Councilor Steve Smith said, "It is difficult to fill positions. We've had some of these vacancies for quite some time ... what I just wanted to know, were all the other citizens that put in applications considered?"
Morrissey assured Smith they were.
"I did consider those applications," he said, but added, "I have the power and the authority and I have the responsibility to fill those positions."
One of Morrissey's recommendations was Barbara Buntin, who served as Morrissey's and Suzy Tubbs' campaign manager. Darlene Younker was also nominated, she served as Ferris' campaign manager.
Smith said he would like to make an informed decision, but at least one application didn't provide enough information.
"There was one application that had nothing filled out ... I would just like to know about that applicant," he said.
"That person submitted a resumé," said Morrissey.
After the meeting, Councilor Chris Higgins shared the packet of applications with the Roundup. Another applicant had submitted a resumé, but not the applicant Smith wanted to know more about.
Underwood agreed that finding volunteers is difficult, but then asked specifically about Scott Helmer. This provoked a heated discussion.
Morrissey recommended Helmer for the Planning and Zoning Commission. Helmer is a business owner in Payson; although he has a home in Star Valley.
Underwood questioned whether Payson could legally appoint someone who lived in another community to a town committee.
"According to the county ... you pay taxes at 19 Moonlight Drive (in Star Valley)," she said.
Helmer said he used his business address for his voter registration — and also spends most of his nights at his fiancé's Payson home. "That is where I lay my head," he said.
Bystricky reminded the council she had given them a letter that "was covered by outside council when she wrote those documents," and "attorney-client privilege," relating to the issue of Helmer.
Bystricky continued, "If he is running against campaign laws that might be an issue submitted to the attorney general's office for investigation."
The mayor said, "I asked them to fill these positions and so they are not campaigning. I'm campaigning for them."
Higgins said his reading of the town code suggests the parks and recreation commission must recommend new appointees to the council.
"Isn't it in the code that ... the role of the parks and rec commission is to suggest to the mayor qualified and interested persons available for the parks and rec commission? If that is not done, that is a violation of the town code," he said.
Morrissey replied, "It is clear to me that I have the right to appoint to the parks and rec commission those that are qualified. I strongly oppose your recommendation."
A motion to ask for the recreation commission's recommendations failed on a 4-3 vote.
Higgins later said he would have liked to have seen Nancy Gartner and Todd Braeger, who served on the Parks and Recreation Commission re-appointed and John Swenson re-appointed to the Planning and Zoning Commission.
Another motion to hold off on approving Helmer's appointment also failed on a 4-3 vote, with Underwood, Higgins and Smith on one side and Tubbs, Janell Sterner and Ferris siding with the mayor.
The motion to approve the mayor's other recommendations passed with the same split vote.