He's 67 and hiked 800 miles.
Impressed? Wait. There's more.
He's 67 and he hiked 800 miles from Mexico to Utah. Then he turned around and hiked 800 miles back in the other direction.
So he's the oldest person to "yo-yo" the Arizona Trail.
Impressed? Wait. There's more.
He did the second half about eight weeks after having knee surgery.
Did we mention that he's 67?
Meet Art Huseonica — better known as Karts — a celebrity among Arizona Trail through-hikers and a lesson to us all.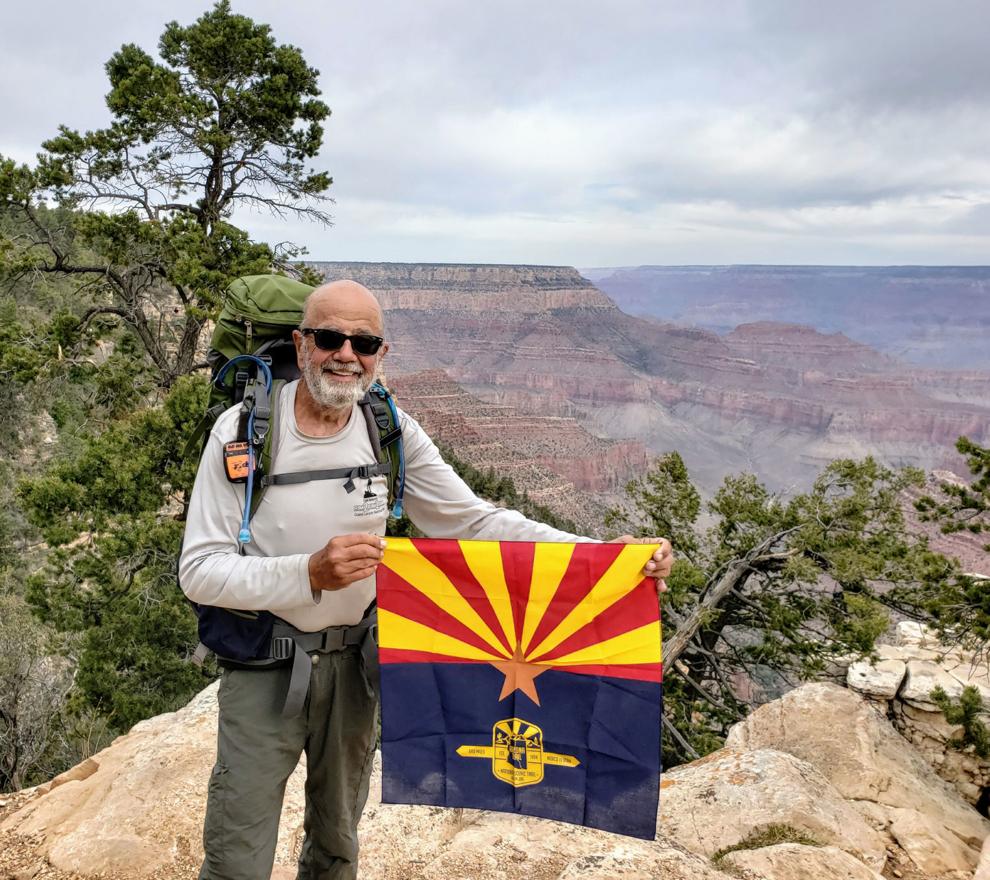 He said the trail taught him invaluable lessons — including the need to embrace the pain and follow his own path.
It also taught him to love trail angels — the good-hearted volunteers to help through-hikers, offering food, shelter, rides, rescue and encouragement. A handful of such volunteers help hikers through the approximately 200-mile section of the Arizona Trail in Rim Country between Roosevelt Lake and the Mogollon Rim.
Huseonica describes himself as a retired U.S. Navy, associate professor, high-altitude climber, Bear Grylls survivalist and record-setting adventurer.
"I've always done crazy things," said Huseonica. "When I was 10 years old I would stay out overnight in a cave near my house up in the Appalachian mountains in central Pennsylvania to explore other caves and quarry pits and rivers."
When asked why he decided to double what many can't imagine doing once, Huseonica said a fellow hiker "put the bug in his ear" to yo-yo the AZT.
"I heard a young couple had yo-yo'd the year before," he said. "Then I got to the Utah border and because I'm a mountain climber by training, I thought, 'Something is missing. I have to come back down off this mountain.'"
So in the fall, Huseonica returned to the Utah border to head south toward the Mexico border after starting at the Mexico border in the spring.
"(With) the AZT you got desert, mountains and wildlife (and) the mental aspect of the through hike," he said. "You have to keep going day after day. When we start doing a physical challenge and the mentality says ... 'unrelenting' — that is why a lot of people stop and pull off."
Because Huseonica hiked through Rim Country twice, he experienced the improvements made on the trail as well as the trail angels who supported him with food and water.
"Some of the trail was in excellent condition due to the ace Conservation Corps volunteers," he said.
The Conservation Corps hires youth between the ages of 18 and 25 to work in environmental, conservation, fire protection, land maintenance and emergency response to natural disasters.
The AZT and other trails hire the corps to hike deep into the wilderness to repair trail weekend volunteers do not have the time to accomplish.
Huseonica said the trail still needs work from the East Verde River to the Pine trailhead.
"They were some of the worst sections of the trail," he said.
He encountered lots of wildlife.
"There were lots of snakes, especially on the spring hike. They were hungry and grouchy. They wanted to bite me," he said.
Other times, he felt something tracking him.
"A couple of times I stopped and backtracked on the trail with the sand and there were big mountain lion tracks on my boot tracks," he said.
He said coyotes proved a surprise.
"In the spring, when they have pups, they will surround your tent and stick their snouts in the tent," he said.
With his forever-wide grin and eyes half mooned with joy, Huseonica has an infectious zest for life. As a master of social media (he's on Facebook, Instagram and Twitter), he makes relationships with trail angels and businesses that support him.
"I cultivated these relationships, when I did get there they ... came to the trail and picked me up. The north rim store came out three miles to get me," he said.
His open cheery personality attracted many on the trail, but since he used the trail as a chance to unplug from the chatter of humanity he had to excuse himself to return to the solitude of his hike.
"A lot of people they want to be a Klingon. They come up to you, or behind you — they want to hike with you ... they chat incessantly — be it guys or gals," he said. "I've had to tell a few of them ... this is a solo hike I'm trying to set a record."
Many didn't take that well, but trail angels understood Huseonica and supported his efforts.
"Most of the trail angels are people who hike or can't hike anymore (but) they love going out there," he said. "They go out of their way to pick up food or take you into town."
Huseonica remembers fondly one particular trail angel.
"Bruce Ledbetter. He's a super trail angel. Sets up his camper at Mormon Lake or Freeman Road, just south of Kearney. He will fix food and make drinks," he said.
Pine sticks out in Huseonica's mind.
"Once I hit the Pine trailhead, my wife picked me up and we stayed there," he said. "Everybody in Pine is nice."
The Roosevelt Lake store impressed him with their commitment to AZT hikers.
"They are trying to get a good set of supplies for hikers," he said.
Huseonica has words of wisdom for AZT hikers.
"I have a couple of themes — embrace the suck and hike your own hike," he said.
Huseonica takes his own advice seriously. He didn't let a knee surgery keep him from completing his yo-yo hike.
"Nine weeks prior to my fall hike, I had a partial knee replacement," he said. "My doctor said, 'Let's get this done. This gives you eight and a half weeks to train for the trail.'"
He said it was all worth it.
"Sometimes I just stop and listen to nothing and look at the great scenery (or) I watch some animal or a couple of snakes interacting."
All the time, he gives thanks to the trail stewards who keep the AZT in good condition and the trail angels who support hikers on their path.
Inspired to volunteer as an Arizona trail angel or trail steward?
So what is a trail angel?
Trail angels are volunteers who help with shuttles, lodging, showers and laundry.
The AZT organization has a list of trail angels, per section with contact information on its website.
Trail stewards maintain the entire length of the Arizona Trail.
Each section of the trail has a steward. The AZT association's website has a list of stewards — and their contact information — for each section.
To reach the Arizona Trail Association, call 602-252-4794.