William Rockford 'Rock' Newcomb paints highly realistic, complex, acrylic paintings of Native American pottery, and other still life depicting ancient Southwestern and Plains Indian artifacts, moccasins, fishing flies, portraits and wildlife. He grew up on a farm in Idaho, developing a love of nature and the environment. He and his wife, Cody, have been Payson residents for more than 20 years.
Many of Newcomb's paintings are of actual pots from the prehistoric period 900 to 1400 AD, and some exceptional pieces from 1400 to 1920 AD. "When the Spanish came in the 1600s they stopped the Pueblo Indians from using their traditional designs. Some of the best designs we see now are from 1880-1920, the heyday of the tourist trade out here," said Newcomb.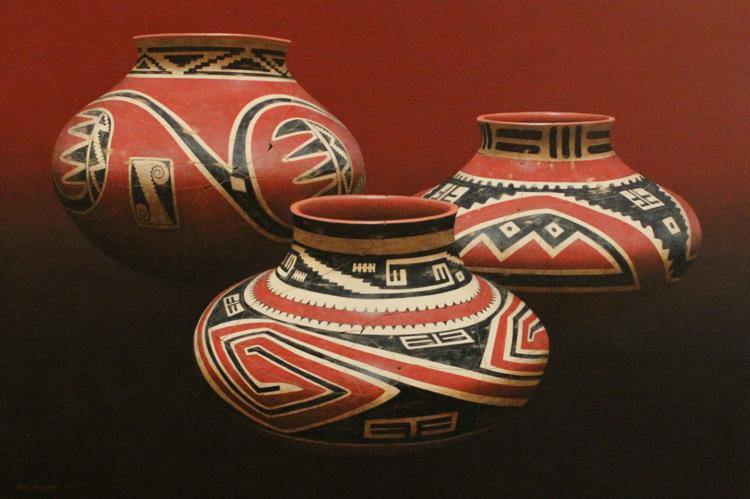 Two archeologists saw Rock Newcomb's paintings of pots in a Sedona gallery. One of the pots depicted was broken and the archeologists said they knew exactly the area from where the clay had come — such is the devotion to detail and accurate representation in Newcomb's work. "One hundred years from now, when we're gone, these pots are accurate down to the scratch and ding and I want people to see them," said Newcomb.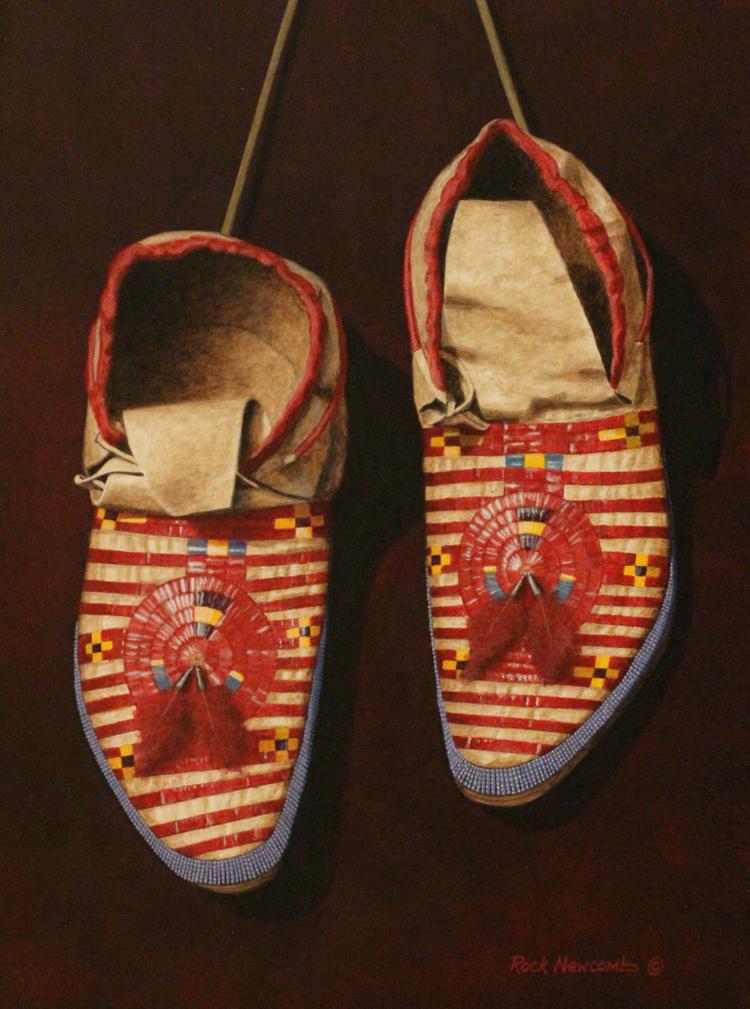 Rock and his wife Cody travel extensively to study artifacts preserved in many various collections. His love of and respect for the pieces he paints is evidenced in the extraordinary quality of his work. "One reason I want to do what I am doing is because a curator of one of the collections told me they have over 60,000 pots/items and on average they show only 40 to 60 a year due to lack of manpower, time and money. The majority of some of the major collections we've had the privilege of seeing will never be seen by the public."
A renowned artist, Newcomb discovered his talent as a young boy. "I started drawing at age six. My grandmother was a librarian at Cambridge, Nebraska, and after school I would go to the library and draw pictures featured in books. By age nine, I could do portraits that looked like the people. I'd draw them then tear them out of my notebook and give them to the people."

In high school, Newcomb didn't take any art classes, choosing sports as electives. He entered undergraduate school as an architecture major, but a drawing class drew him back into art and he changed his major to advertising and illustration. He earned his BA and master's degree in Fine Art.
"My master's work was all super realistic graphite drawings. In those days graphite wasn't the seller it is today, so I did a lot of colored scratchboard. A gallery in Covina, Calif. was selling them faster than I could create them. I had a great agent, who belonged to every organization in the world. He was smart, since he wanted everything I did to be odd sizes, because he hired two full-time framers at his gallery."
Upon graduation, Newcomb achieved his teaching credentials and taught art and English at Fullerton Union High School District, Fullerton Junior College Adult Education in Fullerton, Calif.; then taught in Idaho; then back to Carlsbad High School District in Carlsbad, Calif. He retired from teaching after 26 years at the age of 52. During the time he was teaching, Newcomb continued to participate in art shows, supplying galleries with artwork and conducting workshops.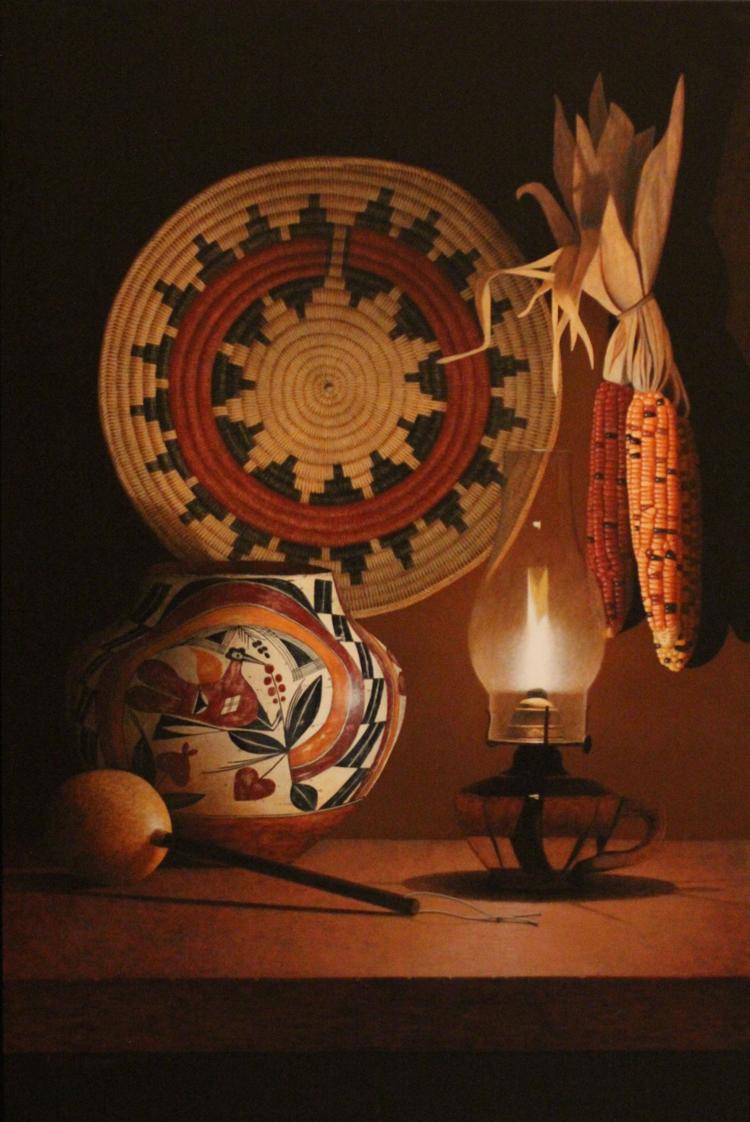 "The Carlsbad district was super. Upon my request they provided my classes with 18 airbrushes and almost everything I wanted. When I went to the principal's office and told him I was quitting teaching, he looked at me and said 'What took you so long?' Several months later, he came to an art show in San Bernardino to see my work," said Newcomb.
"I've had quite a few students call and thank me for teaching them. For the first five or six years I taught English: the novel and short story, Latin and Greek roots prefixes and suffixes; for example 'polymorphous' (meaning many form shapes)." When the students were older they appreciated what they had learned in Newcomb's classes. Newcomb said, "I loved my English classes, but wanted to teach art full time, so when there was a full-time opening I took it." Many of Newcomb's art students entered the art arena for their employment — artists, architects and designers.
Newcomb still instructs as he participates in art shows across the country, sharing his wealth of knowledge about the subject matter he represents in his paintings. His work is in galleries in Scottsdale, Santa Fe, N.M. and Jackson Hole, Wyo.
In 1997, he went to Jackson Hole and did a gallery artist in residence program for the summer. Don Harmon, a fellow artist and sculptor, living in Payson, encouraged Cody and Rock to consider relocating to Payson.
En route to Calif. from Jackson Hole, Newcomb and Cody drove through Payson and bought a house two days later.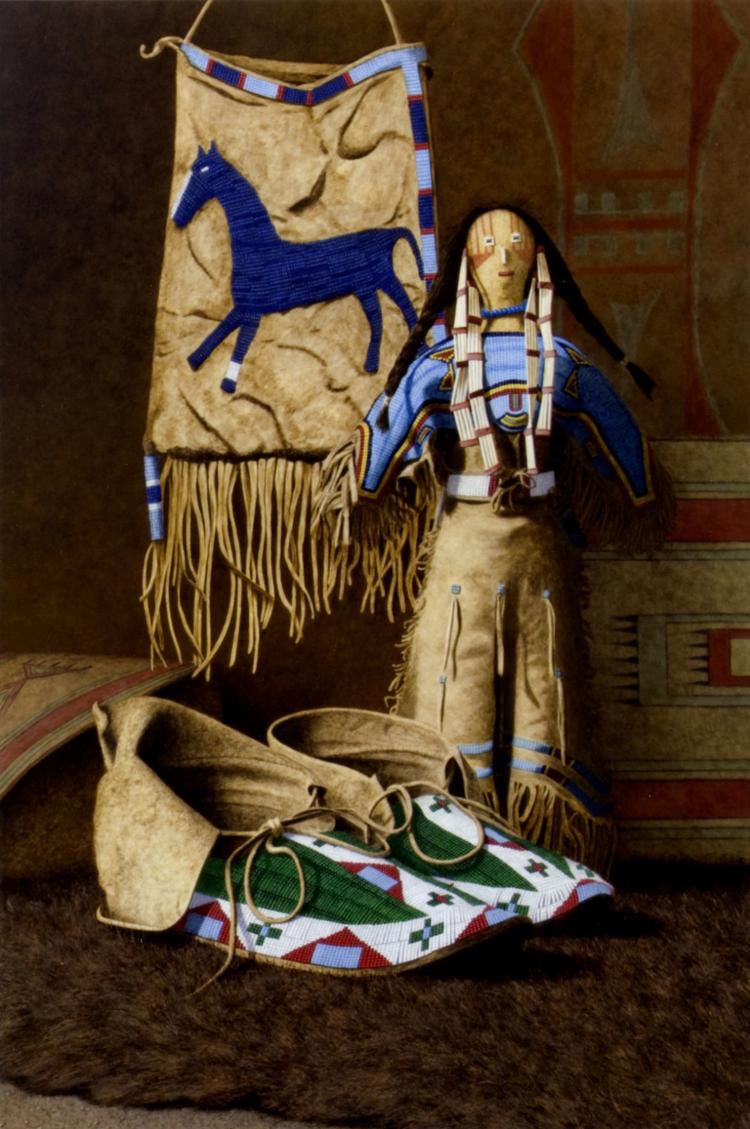 "A year before we moved, Cody, whose background is in marketing and finance, began preparing for our full-time career as artist/agent. We decided to give it a shot. Two years later Cody said we'd better get our resumes put together to plan to return to previous employment; however, after the third year, things fell into place and we exceeded our previous income by three times, due to Cody's tenacity. She's the one who busted her butt, made all the contacts, and pursued good shows. All the hard work of making reservations, show applications, gallery contacts, ordering supplies, paints, supports, inventory, bookkeeping, etc., Cody does all that so I am able to spend 12-15 hours a day in the studio," he said.
Cody and Rock met in high school and then each married someone else. He moved to California and she remained in Idaho. Both got a divorce after 16 years. Newcomb said, "I was home for a class reunion and she came walking in and we became involved in a relationship. At first we thought it might be a rebound relationship for both of us, but now we've been together for 36 years. She's the best thing that ever happened to me."
Newcomb spoke of a serendipitous event that influenced his technique. "I was painting late one night on a beautiful Indian lady and her regalia. I had painted her face and hands in gouache and the rest of her regalia was done in watercolor. When I got up I spilled my mug and the tea washed from the top to the bottom of the painting. When it finally dried it looked as though she were emanating up from the earth. Her face and hands were unaffected. The painting sold to a preacher's wife the first time it was shown.
"The next day I went down to the local art store and bought the three primaries plus black and white in acrylics and, using techniques learned with watercolors and oils, started painting totally in acrylics and have done so ever since," he said.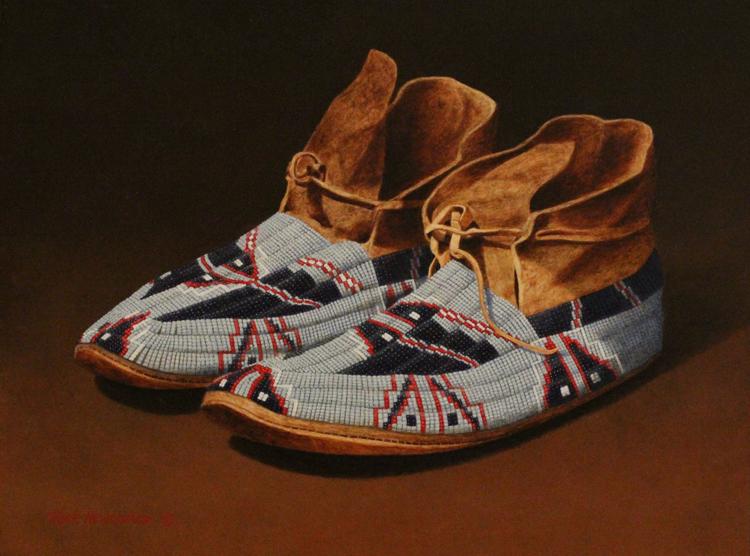 Newcomb is a master of the Italian technique using sgraffito, typically used on pottery. He begins each piece with a drawing on the Claybord surface and does many progressive layers of acrylic glazes, then using various tools may sand or etch (scratch) the paint away in certain areas before re-painting some areas.
"I paint on Claybord by Ampersand, a substrate of sealed, acid-proof Masonite, coated with pulverized kaolin clay mixed with a binder, dried and sanded to a fine texture. Unlike canvas, Claybord is not affected by heat or humidity and does not puncture. One day Ampersand called and asked me to be on their research and development team," he said.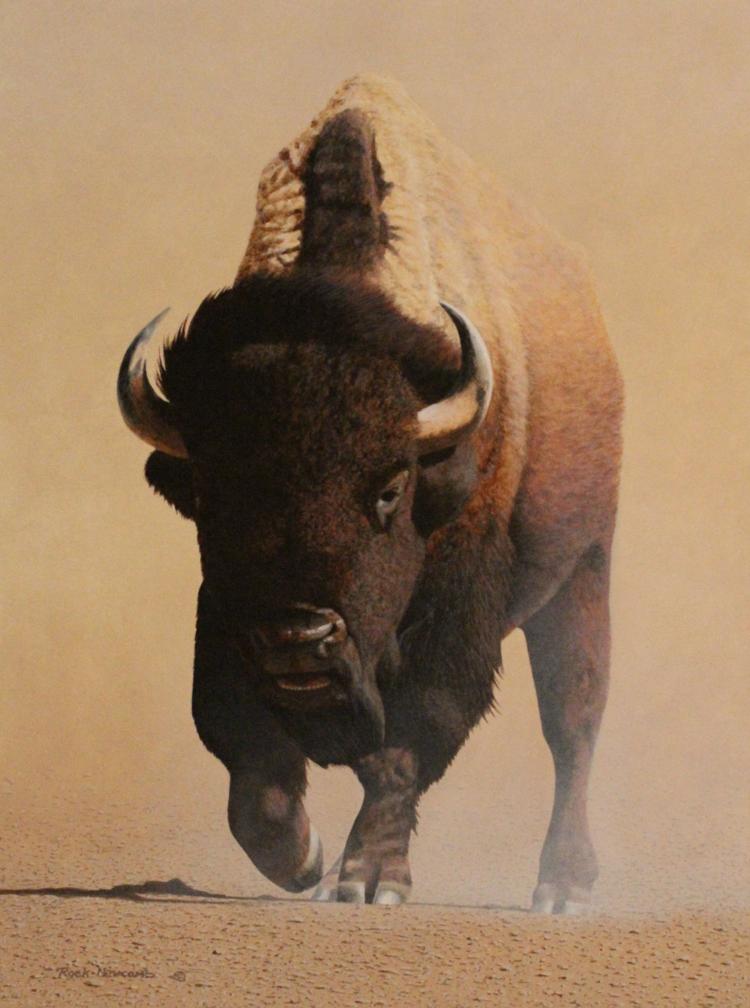 Newcomb has been an active supporter of the Payson Art League since moving to the area, and is generous with his time and knowledge (as much as art show deadlines allow), helping other artists grow in their work.
Newcomb concluded, "I plan on retiring when I die. I find that I can only fish a few days of the month before becoming bored, and I love fishing. I inform people at the shows — I get paid to play. My wife is the one who does all the hard work.
"Some artists are very talented, but have difficulty dealing with the public. They may be better off seeking only gallery representation. You can be the best artist in the world, but if you live in a closet, you are going to die in a closet," he said.
Newcomb's work can be viewed in the following galleries: Legacy Gallery in Scottsdale, and Bozeman, Mont., Hueys Fine Art Gallery in Santa Fe, N.M., and Astoria Fine Art in Jackson Hole, Wyo.
A selection of Rock Newcomb's fine artwork