The lightning-sparked Polles Fire has grown to 530 acres with 0% containment as of Sunday, July 5.
The fire is burning in the Mazatzal Wilderness on the Polles Mesa, approximately 11 miles west of Payson and six miles south of Pine-Strawberry.
A Type 3 Incident Management Team is assisting the local unit with logistics and planning support with a Type 1 Incident Management Team taking over Sunday at 6 p.m.
The fire started on July 3 during an isolated thunderstorm.
The fire is only accessible by helicopter. Helicopters have shuttled in two hotshot crews with other crews on the way.
"Tonight, Payson and Big Bear Hotshots will work overnight, and take advantage of significantly decreased fire activity to build containment lines and extinguish hot spots," wrote the Tonto National Forest in a Facebook post Saturday evening. "The Mesa Hotshots will begin work on the fire in the morning. Multiple Hotshot Crews are on order."
While crews initially had some success containing the fire, high sustained winds out of the southwest and low humidity caused increased fire behavior on Saturday afternoon, pushing the fire north and northeast. Airtankers and helicopters supported the hotshot crews on the fireline through July 4.
Residents of Pine-Strawberry, Payson and possibly as far west as Camp Verde may smell and see smoke.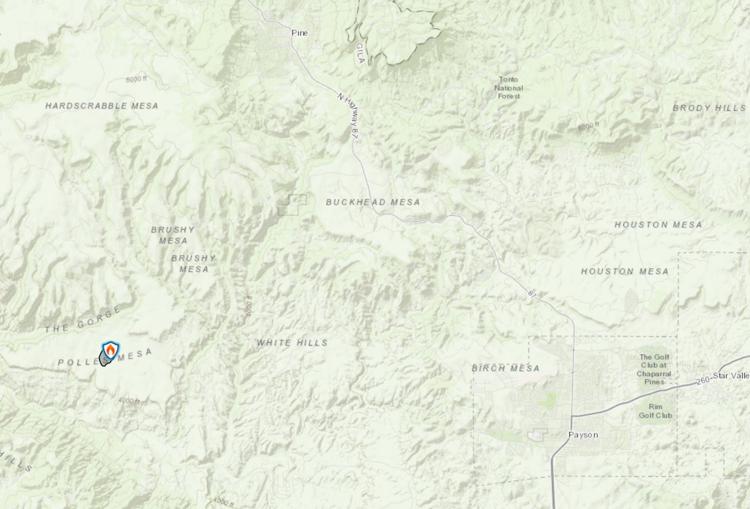 There are no structures or communities threatened. Officials encourage area residents to become familiar with Arizona's Ready-Set-Go program and sign up with their county emergency notification systems. Visit https://ein.az.gov/ready-set-go for more information.
Pine-Strawberry Fire Chief Gary Morris said in a Facebook post that the communities of P-S are not in immediate danger, but the threat is there and residents should take steps to be ready, including signing up for emergency alerts at ReadyGila.com.
"As of right now, Payson is the lesser concern and not in the path of the fire," wrote Stacy Figueroa with the PSFD. "The Natural Bridge, Arrowhead Estates, and Pine & Strawberry are the concerns at this time. Right now, a team is either down there or headed to the Natural Bridge area to assess tactical measures and devise a plan. So you will be seeing forest/fire service vehicles in and out of there tonight, tomorrow, and so on. Please stay out of the way of these vehicles."
She said dozers will be in the Pine area working on cutting a line around the southern end of town.
"Remember we live in Rim Country and it is early July with no measurable rainfall yet this year. We should always be at the READY stage," wrote the Payson Fire Department on their Facebook page.
For more information, visit