I spent my Tuesday eavesdropping on a most raucous bunch of folks. The senior dining hall is one of the funniest as well as tasty places to spend your lunch time.
Sit at any table and you will likely find a devoted group of friends, all talking at once.
"What's the difference between unlawful and illegal?" hollered Don McCallum to the group. "One's a sick bird." Some groaned, and I settled in for more silliness. McCallum pointed at me and shouted — "Get her a funny bone!" It took me back a bit, but then his wife Joyce explained Funny Bone is a paper.
Printed and distributed in Prescott monthly, the McCallum's bring 75 copies to Rim Country each month and distribute them at local convalescent homes, the Meals on Wheels program and the senior dining hall. Jokes, stories and lots of pet pictures begging for a good caption provide these seniors with loads of laughs (online at www.funnybone.net).
"They have a grand time," said Joyce. She takes them into the nurses while Don waits in the car.
I quickly figured out I was seated at the "trouble table" as the banter among dear friends continued. Each giving the other a hard time. I fit right in.
I learned about Tory, a German shepherd who sleeps next to Alice Felden. Tory is trained as a physical mobility assistance dog.
"She proved her worth yesterday," said Felden.
Felden, who has a severe medical condition, picked Tory out of a litter from Heritage Breeding in Strawberry at 6.5 weeks old. Tory's training began at eight weeks.
Proud and excited to share, Felden told her friends that Tory pulled her standard wheelchair, with Felden in it, through a department store in Prescott just the day before. While she has been trained for this, this was a first for the 5-year-old service dog. Tory is always in training, or tuning up what she already knows, Felden explained.
"She did great," Felden said with genuine pride.
Sitting next to me was 94-year-old Verne Battin, a World War II Navy man, who left the service as a third class water tender.
"Yes, it was fun. After a while you get used to it," he said smiling.
He found a wife and the two lived what he called a fantastic marriage for 62 years. He lost her nine years ago, and this family of friends has been welcoming him ever since.
Prone to smiles and tears of remembrance, Battin was born in 1936 and weighed only 4 pounds, or so he was told. He was kept in the hospital for six months.
I felt a bit in awe of the group, their closeness and how quick they welcomed me in. Once they picked on me, I knew I was in.
I found two other veterans in our lunch group.
Dick Venable, an Army specialist 3rd during the Korean War, and Lee Evans, an Army sergeant major during the Vietnam War.
Aside from the yummy potato salad, homemade chili and cornbread and scratch bread pudding, the jovial camaraderie brings these folks together.
"Without the volunteers we couldn't be here," Don said as our servers Sharon Weir and Lynne Coykendall brought food and drink. These dedicated ladies kept the rowdies in line, while also knowing any unique needs or wants and catering to them.
"This is the reason, all these wonderful people," said Don about why he and his wife are here daily. He has been coming for seven years.
"Just tell her you were hungry, that's why you came in here," quipped Evans.
"It's where the elite meet to eat," said Battin. I agree.
If you are hungry, stop in at 11:30 a.m. at the senior dining center in the community center in Pine. Lunch is $5 with a $10 annual membership fee. The smiles are free.
Got pumpkins?Pine-Strawberry Elementary is asking for community donations of pumpkins. On Tuesday, Oct. 27, students will be treated to a hayride and a walk through the pumpkin patch. The staff would like for every student to pick out a pumpkin to take home from the pumpkin patch. If you can donate a pumpkin or help, call the office at 928-476-3284.
On Wednesday, Oct. 28 at about 8 a.m. students will do a short parade from the P-S Elementary School to Highway 87. This is the annual Red Ribbon Walk during Red Ribbon Week, a national drug abuse prevention program. The kids will stop and wave. Again, if you are out and about wave back.
Library author lectureAuthor Connie Cockrell will be the guest speaker, hosted by the Friends of the Pine Library, on Monday, Oct. 26, at 1 p.m. in the ramada (outdoors) at the Community Center in Pine.
Happy Halloween
Old County Inn, 3502 S. Highway 87, is hosting a Halloween Party for the kids from 2 p.m. to 4 p.m. on Saturday, Oct. 31. Costumed kiddos are invited for a costume contest, pony rides, and other fun activities.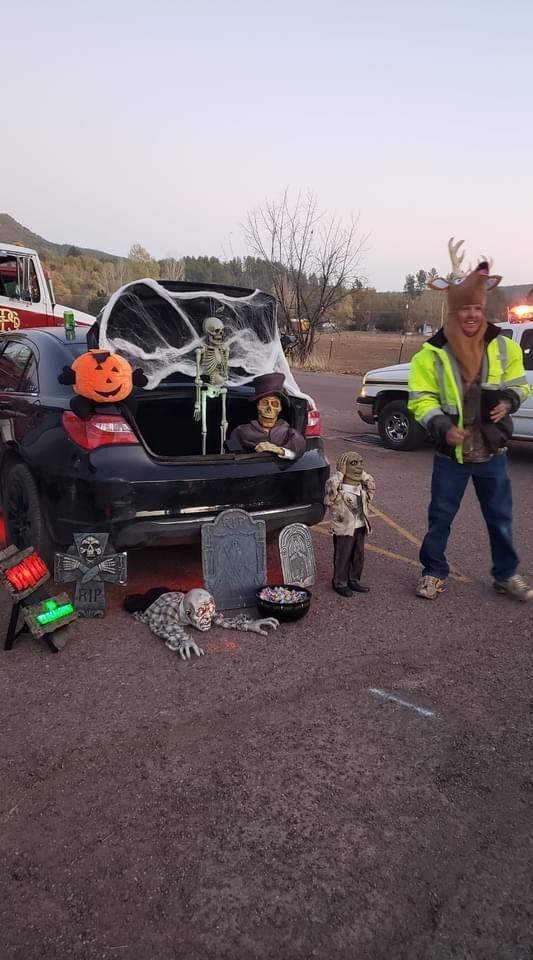 On Saturday, Oct. 31 from 4 p.m. to 6 p.m. at the Pine Fire Station on Hardscrabble Road, kids of all ages are invited to Trunk-or-Treat.
Bring a decorated truck, canopy or trunk and have a good time. I've seen ghosts, goblins and minions giving candy out of the back of an SUV, and a spooky set of drawers that talked, The ideas are endless and the creativity is to be marveled at.
Spots are still available. To sign up, text Stacy Figueroa at 928-970-1863.
Motorcycle fatalityOn Monday, Oct. 19, a 57-year-old man died when he crashed his motorcycle on Highway 87, about 1.5 miles south of the Highway 260 junction north of Strawberry. The accident occurred in a turn, said Pine-Strawberry Fire District (PSFD) Chief Gary Morris. The man was pronounced dead at the scene. He was not wearing a helmet.