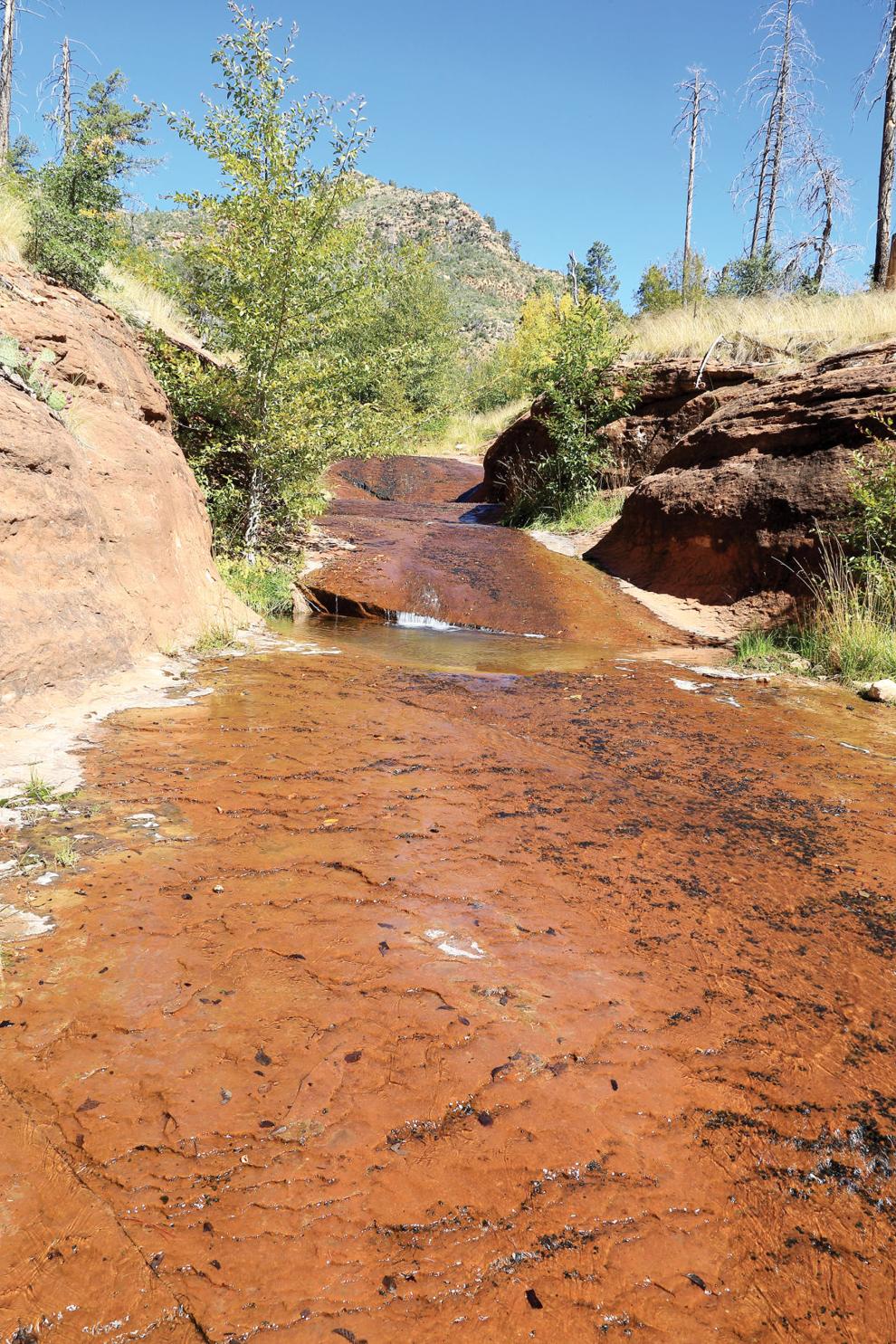 The Highline Trail #31 is one of those trails that should be on an Arizona backpacker's bucket list. It is the essence of hiking and backpacking in Rim Country. It is rugged, spectacular, wild, beautiful, peaceful, hot and cold. It comprises every element you would hope to find in a memorable backpack trip. There are deep canyons you have to descend into, many with beautiful streams or springs and riparian areas, and then stark high ridges you must climb, to be rewarded with spectacular views.
The Highline Trail follows the base of the Mogollon Rim and so travels through every single canyon or drainage that comes off of the Rim — and there are many. When you understand that, then you know you have to perhaps modify your standard backpacking mileage estimates. You will be covering a lot of vertical distance, both up and down. Depending on your map or GPS, you will cover close to 10,000 feet of cumulative vertical distance.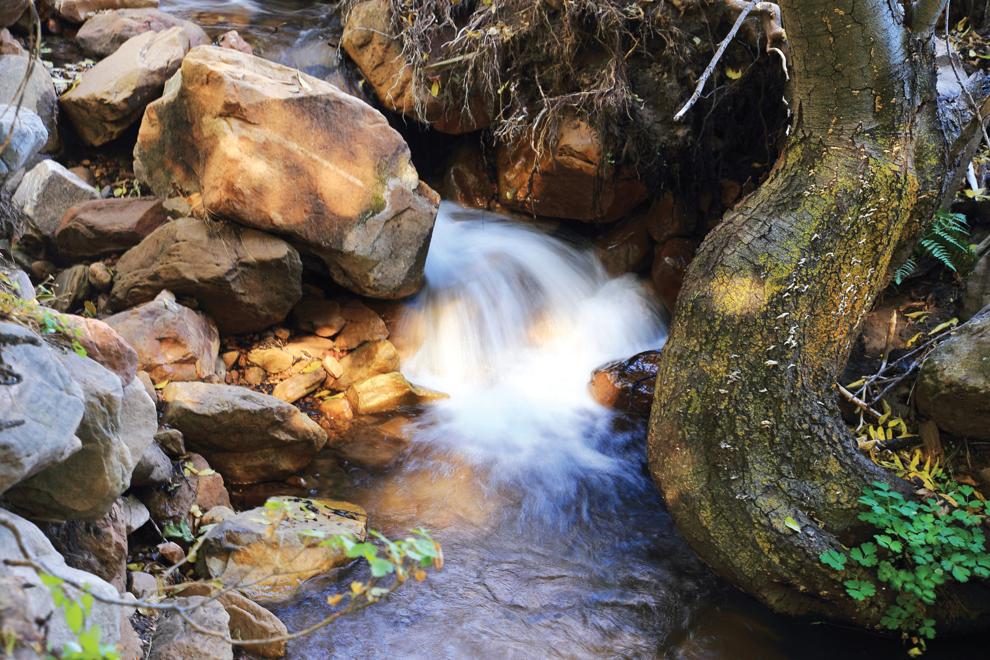 Some parts of the trail have been re-worked in the last few years from what the original settlers traveled. Some of the steeper grades have been reworked to extend out along a ridgeline and follow a milder grade, trading distance for steepness. Some of this has been done because heavy monsoon rain erosion on very steep sections of the original trail created hazardous conditions.
The west end of the trail from Pine Trailhead to Washington Park is now the 17-mile-long Highline Passage (#26) of the Arizona Trail. The Arizona Trail Association funded significant improvements to this shared section of the Highline Trail, including some trail grade modification. Note that these trail modifications have increased mileage of sections of this trail, and work is still underway — so distances that are typically published are likely inaccurate.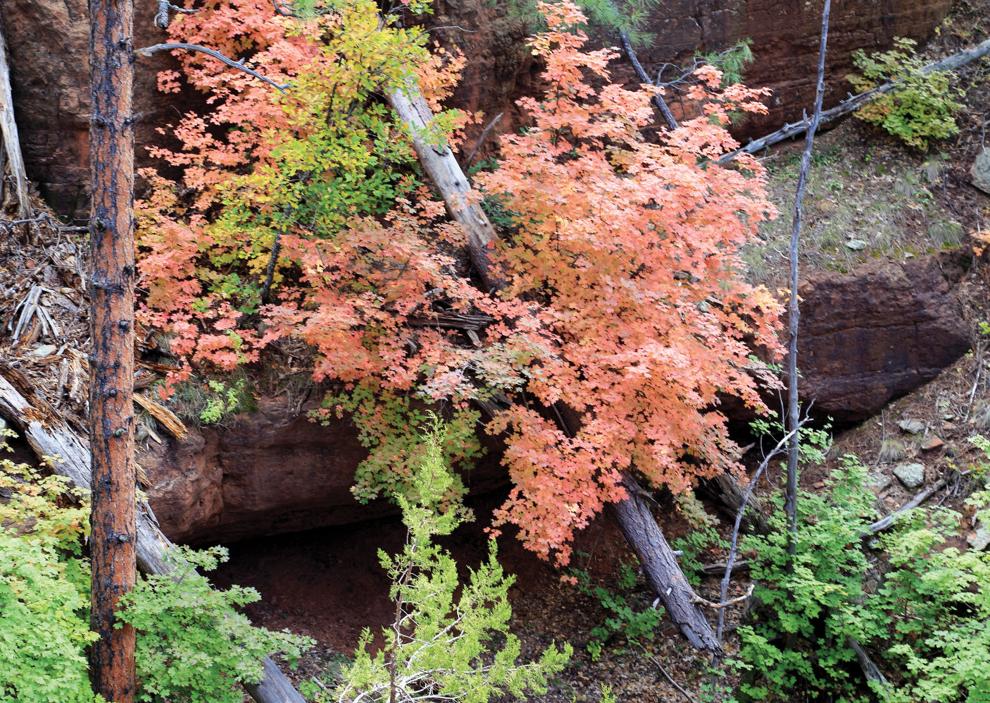 When you start this trail, either from the 260 Trailhead or from the Pine Trailhead, you can get an idea of the vastness of this undertaking. After leaving the Pine Trailhead heading east, in a few miles you will reach an area on the shoulder of Milk Ranch Point where you can see all the way to Promontory Point, a prominent peninsula of the Mogollon Rim — and you then realize the other end of this trail is another 12 miles or so beyond that! The same is true heading west from the 260 Trailhead. From a high vantage point you can see all the way to Milk Ranch Point, a similar prominent peninsula, and the Pine Trailhead is several miles beyond that. The vastness and beauty of this land begins to sink in. Once you get used to the idea that you will be covering that vast distance on your two feet, immerse yourself in the beauty of the canyons and streams, tiny rivulets of small springs with life-giving water, high ridges that offer magnificent views of valleys and mountain ranges, blue and purple in the distance.
Wildlife abounds. Some you may never see, but the signs are there. Along with elk, deer, coyote, and javelina tracks, you will find numerous bear tracks, some mountain lion and bobcat tracks, and turkey tracks. Western bluebirds are common throughout Rim Country with their iridescent blue sheen. Once in a while, they will chirp their encouragement along the trail. When close to cliffs near the Rim you might be lucky enough to hear the laughing song of the canyon wren.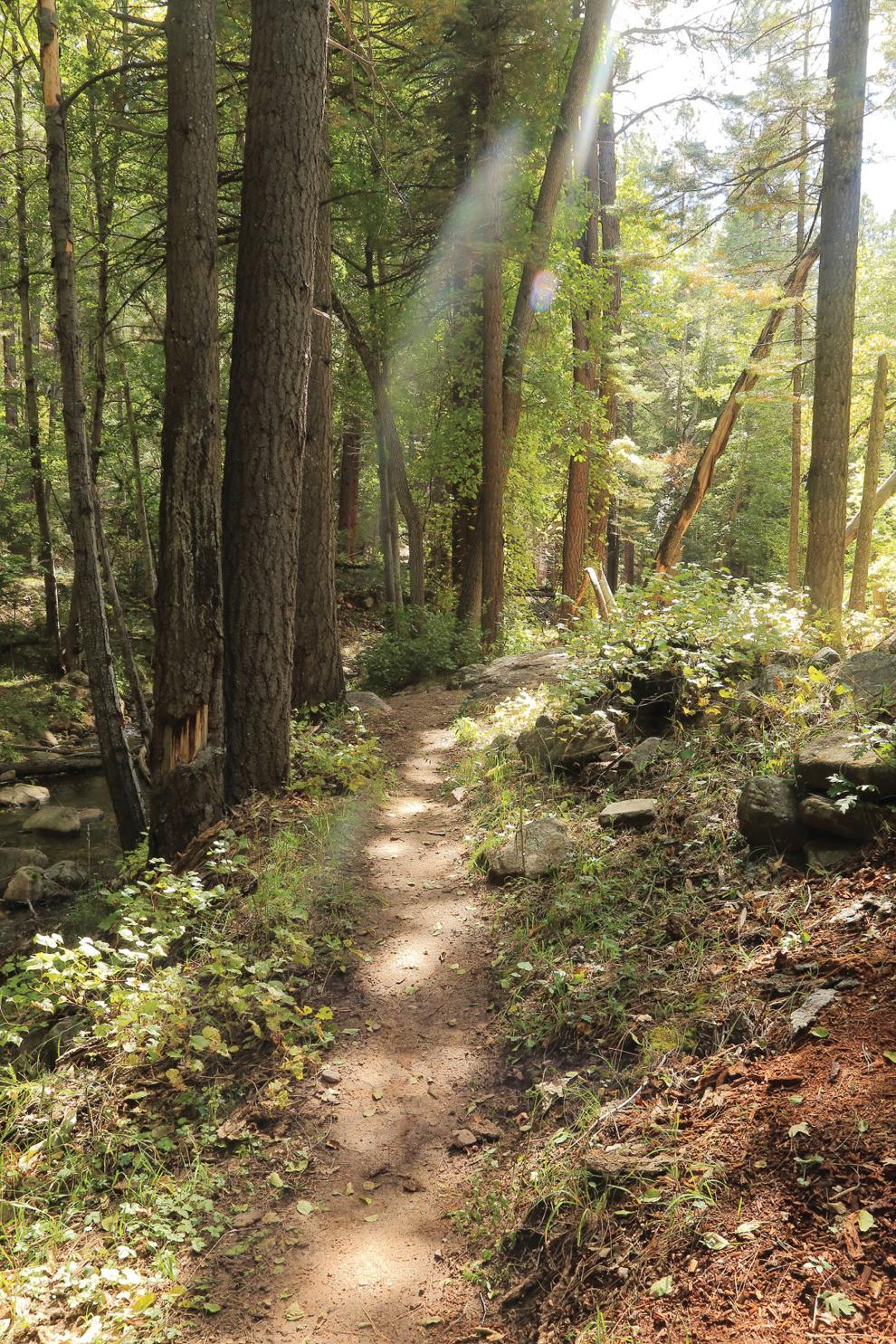 Water is available, but you do have to plan for it, and filter plenty for sections where it may not be present. Sources on the Internet have reasonably current reports of water availability. Study these and mark them on your maps so that if the numerous ups and downs of the trail slow your progress, you will know whether you can make the next good water source, or maybe load up on water for a possible dry camp.
You can work this trail from either direction. Some go from east to west with the idea that the net 1200-foot elevation drop will help.
Traveling from the west you first hike around the end of Milk Ranch Point and get a feel for hiking into and out of every drainage coming off the Rim. From the shoulder of Milk Ranch Point you get your first glimpse of Promontory Point, an impossibly distant landmark along the trail. Red Rock Spring is along this section, sometimes with a good flow of water, sometimes not so much. In the right time of year along this open ridge, prickly pear makes a wonderful little snack. The trail continues on around Milk Ranch Point and then into Webber Creek, a reliable stream with good camping locations.
From Webber Creek going east, there are a number of reasonably good water sources, along with some beautiful riparian areas, meadows, ridges, dense forests, and burn areas that remind us that fire is part of the cycle of life in the forest. There are good camping locations at a number of these water sources. The next vehicle access is Washington Park Trailhead, roughly 10 miles east of Webber Creek.
At the Washington Park Trailhead, the Arizona Trail leaves the Highline Trail and follows the Col. Devin Trail to the top of the Rim. The East Verde River flows through this canyon and is a good water source. Heading east from Washington Park is a continuation of spectacular views from high ridges, wonderful riparian areas in the canyons, and some good water sources.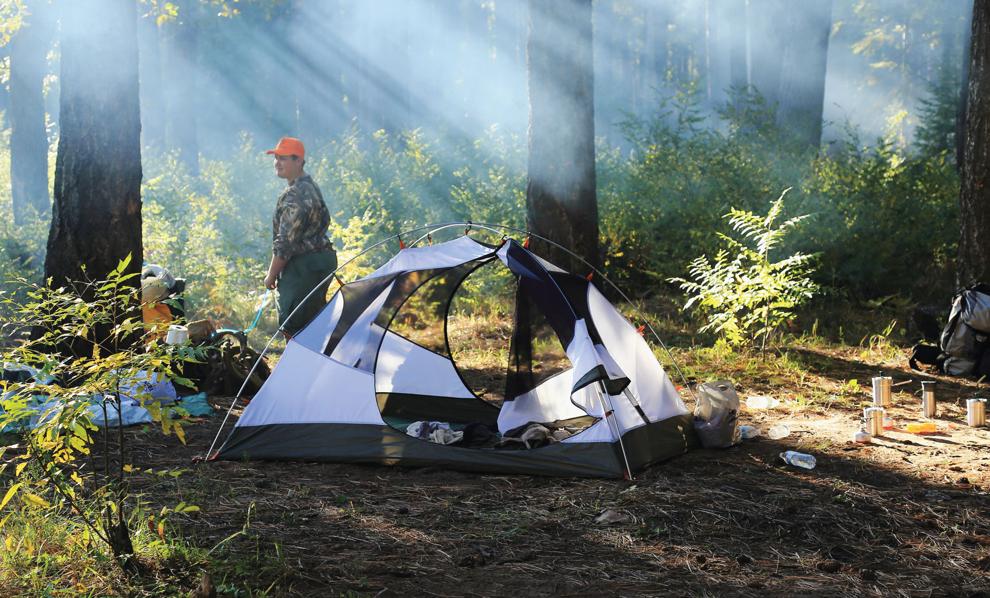 Dude Creek flows over a wide red granite bed, and is spectacular in its contrasts of reds and greens. Continuing east you will eventually reach the location of the 2017 Highline Fire which merged into the Dude Fire burn area of many years ago. While scarred now, it will soon show the natural signs of fire recovery, part of the forest cycle. Water sources can be sketchy for a while here, so keep a supply on hand in case you have to dry camp and can't make the next good water source. Ellison Creek is the next reliable water source, though Bonita, Perley and Hells Gate Canyon may have water. The flash flood of 2017 started in this area, particularly in Moore Canyon, and some steep parts of the trail are heavily eroded. This flood was very severe due to fire burning much of the natural water retention.
After Ellison Creek the trail winds around Myrtle Point, and this section is notable for high mesas, red rock canyons, and some slick-rock sections of red sandstone and granite. It passes the "spaceship" near Roberts Mesa, and eventually winds down past the original site of Zane Grey's cabin to Tonto Creek. Tonto Creek is another beautiful stream with dense, lush vegetation and many wildflowers in season. The Tonto Fish Hatchery is just up the road and makes a nice side excursion.
Tonto Creek to Horton Spring is a short, punishing 3.5 miles, but the reward is worth it. Horton Spring flows ice cold out of granite at the base of the Rim, and is one of the most beautiful springs along the Highline Trail. It creates Horton Creek and in season is lush with golden columbines and many other wildflowers. In the fall, reds and golds contrast with lush greens and the amber of the streambed to create beautiful photo opportunities. Stately spruce and ponderosa guard the spring, and if you are watchful, you can see small trout in the pools below the spring.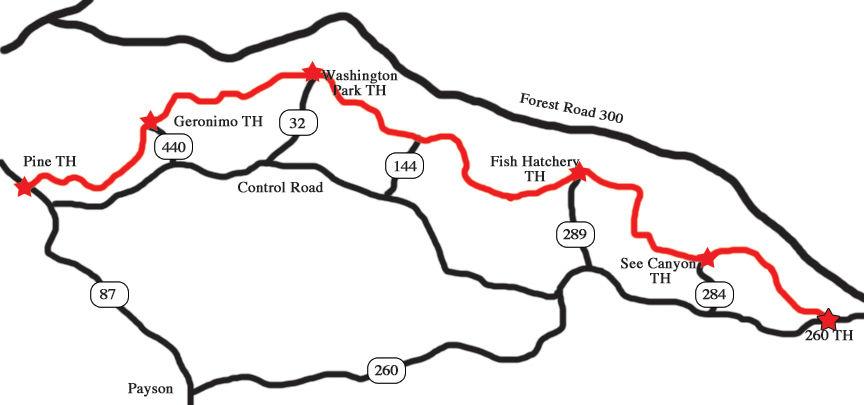 Heading east from Horton Spring you climb to the highest point on the Highline Trail as you make your way around Promontory Point. Dense forest and spectacular views from the high points are the features of this section, along with some beautiful red sandstone outcroppings. There is no water along this 8-mile stretch of trail. The trail eventually descends into See Canyon, yet another lush stream with countless wildflowers in season.
From See Canyon, it is around 8 miles to the 260 Trailhead and the end of the Highline Trail. This is a densely forested section of trail, and after some steep climbs out of some beautiful canyons it seems almost level by comparison to much of the Highline as you wind through the last few miles of your trip through a forest of tall ponderosas.