Months of hard work paid off for four Payson High wrestlers at Wilson Dome on Saturday.
Seniors Ely Keeney and Alex Leos, junior Soto Sellis and sophomore Travis Christianson qualified for this weekend's Division 3 state tournament with strong performances in the Section 4 tournament in Payson.
Sellis (195) and Christianson (182) both won section championships to qualify for the second time.
Keeney finished third at 126 pounds to qualify for the Feb. 14-15 state tournament at Findlay Toyota Center in Prescott Valley for a third time.
Leos finished third at 120 to qualify for the first time.
The four state qualifiers are the most the Longhorns have produced since pushing six through in 2017. Payson had three qualifiers each of the past two seasons.
All three of last year's qualifiers are heading back to state.
They helped the Longhorns finish sixth among 13 teams with 102.5 points, Payson's highest section tournament finish since it placed third in 2017.
Chino Valley won with 157, followed by Flagstaff Coconino (146), Cottonwood Mingus (145), Show Low (119) and Bradshaw Mountain (113).
First-year Payson head coach Mito Mendivil was hoping for more qualifiers, but said he was proud of how those who kept their seasons alive wrestled with hearts of champions.
"We had an opportunity for eight (qualifiers) but we just didn't come through in the blood round," Mendivil said. "But we have a good group going."
Mendivil said he wants the Longhorns to set lofty goals each season.
"We finished sixth, which I'm OK with," he said. "I wish it was a little bit higher. We've got really high standards for ourselves."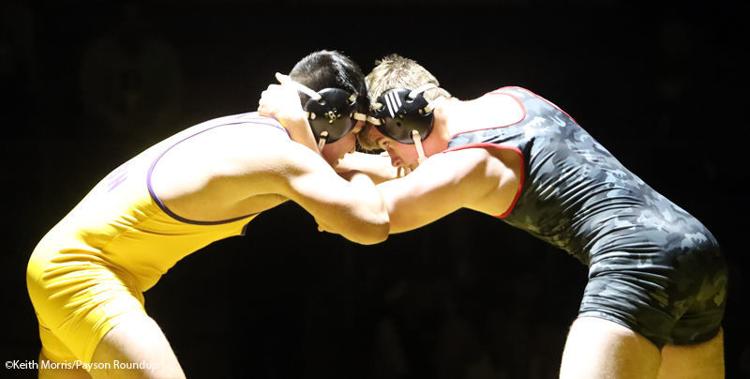 Sellis escapes with title
Sellis (20-3) went 3-0 to win his first tournament championship as a varsity wrestler.
He pinned Snowflake junior Nick McVicker (18-20) in his first match and won by technical fall over Prescott junior Christian Luptowski (13-21) in the semifinals.
Sellis' championship came in dramatic fashion against Bradshaw Mountain sophomore Mike Kelley (50-11) as he scored an escape with just one second left in regulation to tie the score 4-4 and got a takedown in the one-minute sudden-victory overtime to win 6-4.
It was an encouraging performance in an injury-plagued season for Sellis. He improved to 3-0 against Kelley in his career and 2-0 this season. He pinned him in last year's sectional tournament at Winslow then beat him 7-4 at Coconino this season.
Sellis finished fourth in last year's section tournament at 195 and placed fifth in the state tournament.
"It feels good but not great," Sellis said of his performance on Saturday. "I feel like I could wrestle better."
He's still trying to get back to 100% in an injury-plagued season that sidelined him until the middle of January.
"I messed up my elbow in practice before our first match," Sellis said. "It's tough but it makes it easier that I'm improving after every match. At the start I was very rusty. But improving every week makes it good."
A first for Christianson
Christianson (42-10) went 2-0 with two pins. He pinned Bradshaw Mountain sophomore George Scriven (23-22) in 50 seconds to reach the title match, where he pinned Snowflake junior Payson Cardon (29-12) in 3:07 to claim his first tournament championship as a varsity wrestler.
He wrestles Sellis in practice, which he said has been a big help this season.
"He's been pushing me a lot in the wrestling room and making me work harder and get better," Christianson said. "He's been pretty important building me up and getting me stronger for wrestling these guys. He's a big guy and an elite athlete."
Christianson hopes to win a medal after missing the podium as a freshman. He wrestled at 160 last season but just missed making weight for the sectional and bumped all the way up to 182, skipping 170. Despite that, he still qualified for state.
"It was tough," he said. "There were some big guys up there.
Now, it's the weight he's wrestled at all season. And he appears ready to challenge anyone.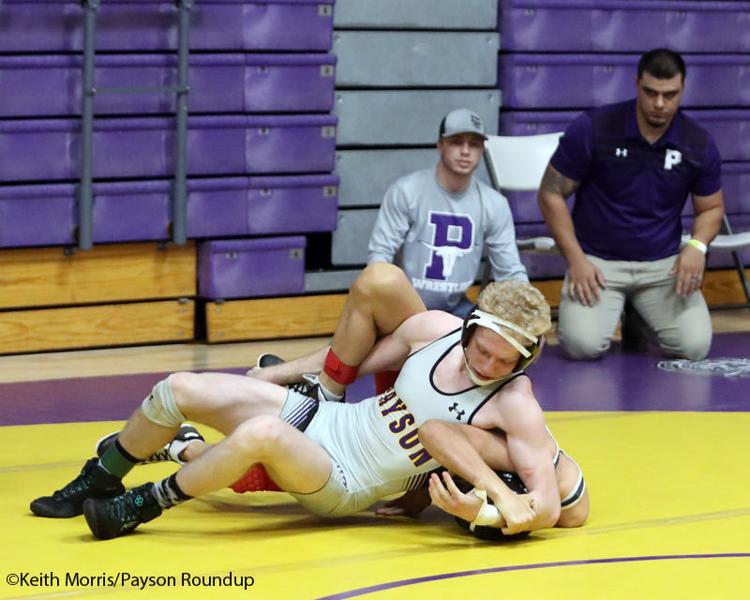 Keeney a three-timer
Keeney went 3-1 to improve to 42-15. He opened with an 11-4 decision over Bradshaw Mountain junior Blake Huenemeyer (47-15) in the quarterfinals following a first-round bye before eventual champion Conner Schweigert (28-3) pinned him in the semifinals.
Wrestling in what is considered perhaps the toughest weight class in both the section and state, Keeney bounced back to pin Mingus freshman Kai Miller (30-10) and qualify for state before claiming third place with a 7-0 win in a rematch with Huenemeyer.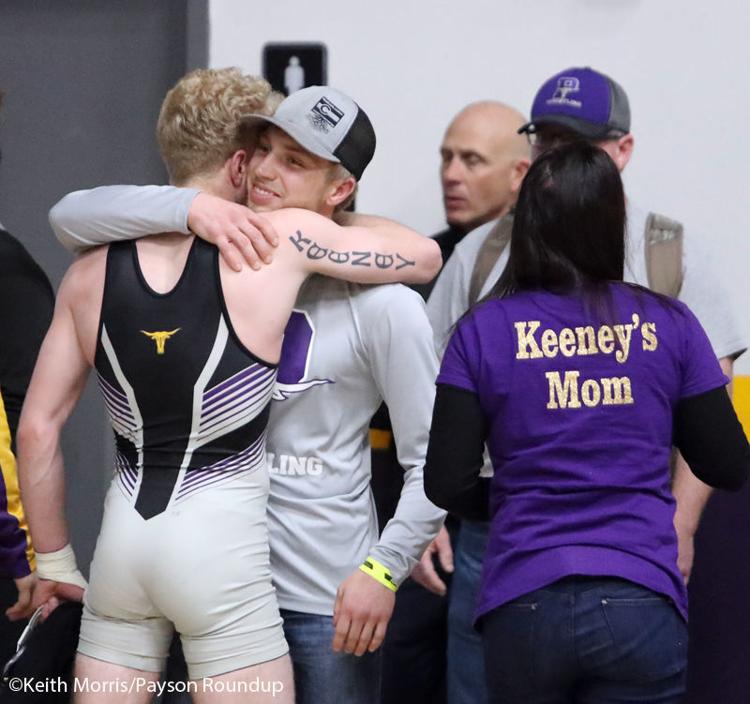 "Ely, we knew he was going to qualify, we just didn't know where," Mendivil said. "Next week it's going to be tough. This is the toughest weight class in the state, I think. It just depends on who's ready to rock & roll because anybody can win it."
Sellis and Christianson will rank among the favorites to stand atop the medal stand this weekend after their impressive performances on Saturday.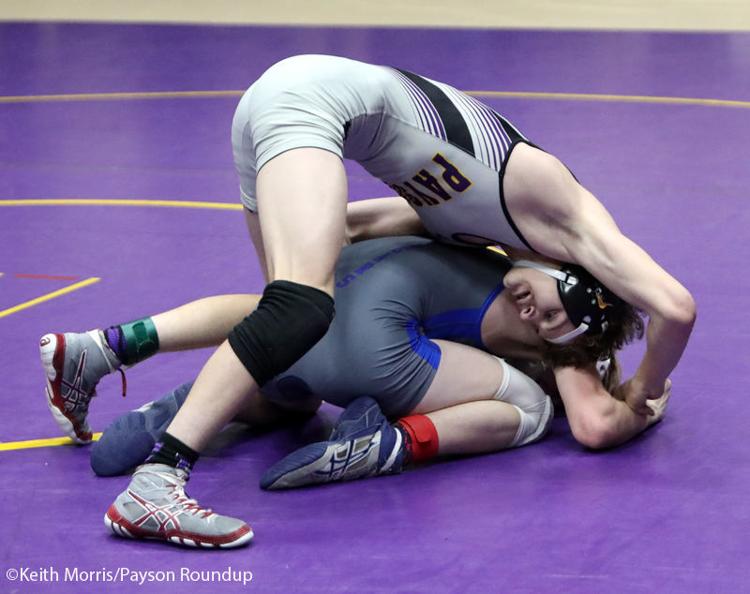 Leos the lion
Leos carries a 27-21 record to Prescott Valley after winning by forfeit in the third-place match. The real drama for Leos, who went 3-1 on the day, came the match before when edged Chino Valley junior Craig Stephenson (13-7) 8-7 to guarantee a state berth. His coaches jumped in the air, pumped their fists and shouted at the top of their lungs as the final second ticked off the clock.
"I'm really proud because Alex just came through adversity all year," Mendivil said. "He was losing a match in the first round back and came back and won the match. And he was losing in the blood round right before qualifying and came back.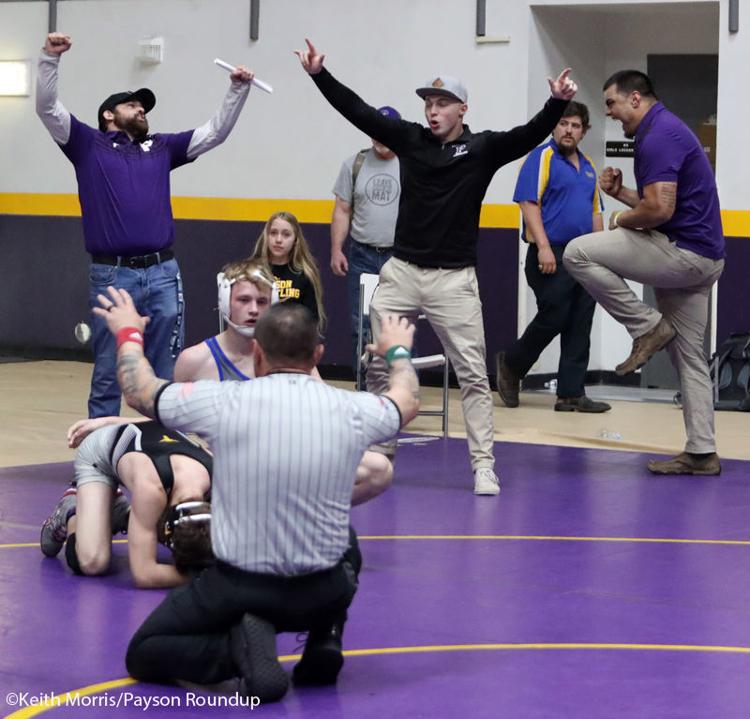 "It's a good thing to watch him grow as a person and as a wrestler. He's busted his butt all year. He's a great leader."
A similar celebration played out for the other three.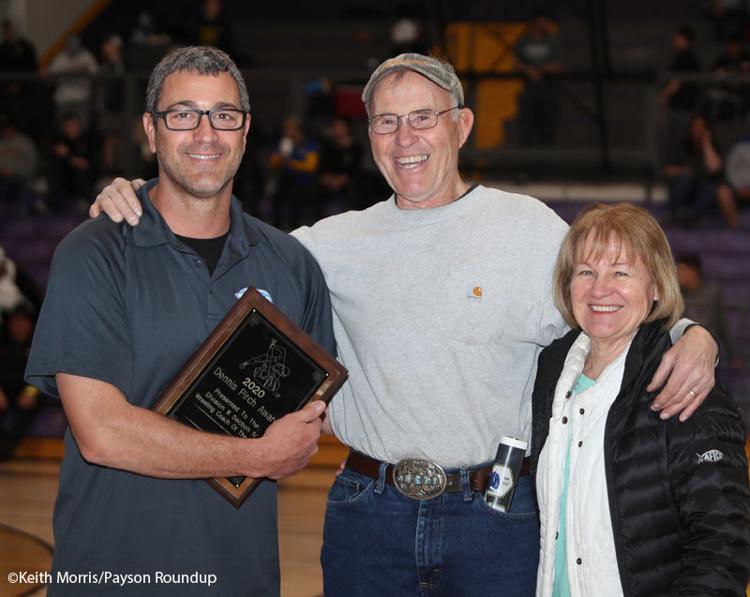 Dennis Pirch Award
Payson assistant coach David Daniels announced a new Dennis Pirch Award that will annually go to the top coach in Section 4.
Pirch, the Hall of Fame coach who guided the Longhorns to 10 team state championships before retiring, was on hand with his wife, Kathy, to present the first award to Chino Valley coach Kevin Giese.