Thirteen Longhorns raced onto the football field waving American flags on Friday night.
They were honoring the military and held a moment of silence for the 13 American service members killed in a terrorist attack in Afghanistan during the U.S. withdrawal to end the longest war in this country's history.
It was something coach Bryan Burke and his team wanted to do.
And when the game started, the Longhorns didn't just want a really good football game, they really needed one after a fourth-quarter collapse at Mesa Eastmark the previous week.
Payson put that heartbreaker behind it with a dominating performance in a 47-6 victory over previously unbeaten Tuba City at Longhorn Stadium on Friday night.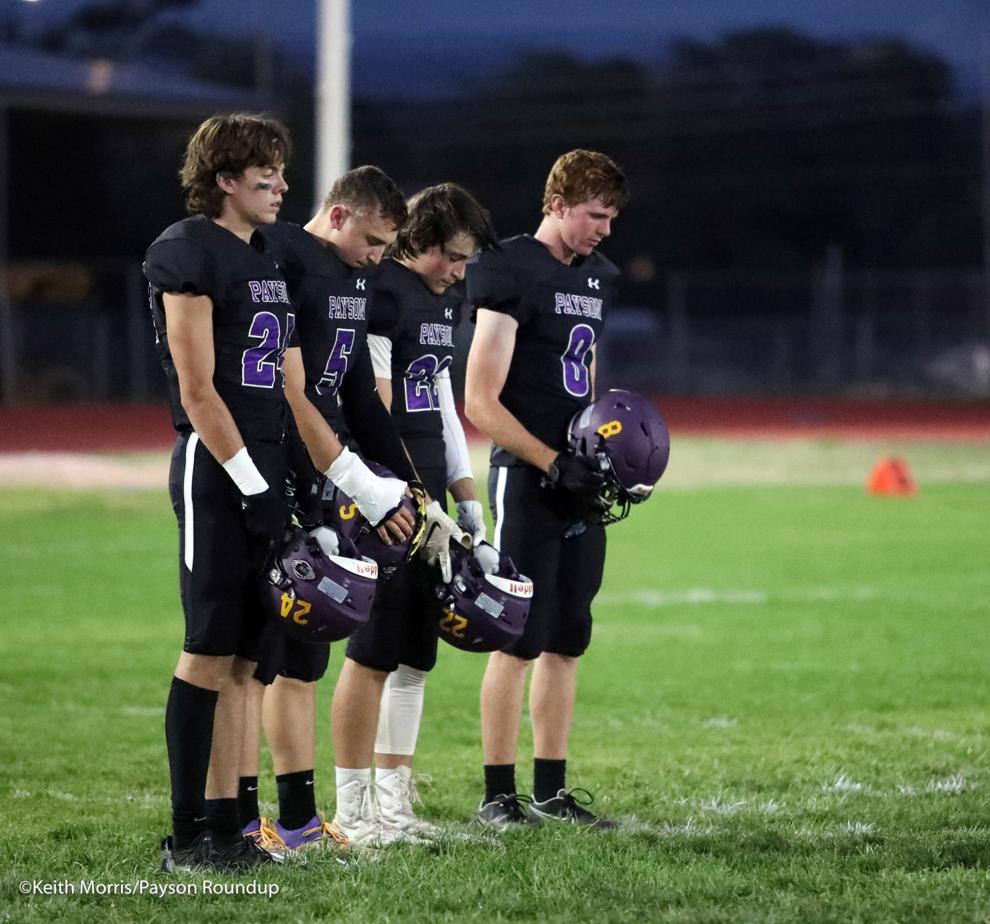 The Longhorns (2-1) scored on their first five possessions before ending the first half by taking a knee. The offense struck quickly and often and the defense allowed only a second-quarter touchdown. The two-point pass failed.
So did every other Warrior (2-1) possession.
Caleb Marinelli enjoyed a big night, rushing for 103 yards and a pair of touchdowns (6, 5) on 16 carries. He scored his second touchdown 1:40 into the second half to put the Horns ahead 21-0.
Travis Christianson ran for 53 yards on just two third-quarter carries. The two-way star played only linebacker in the first half and saw limited action in the second half. After the ball wound up on the ground and in a TC defender's control on the exchange with quarterback Dexter Waterman on his first carry, Christianson raced 55 yards down the left sideline on Payson's next play to close the scoring with 4:45 left in the third quarter.
Marinelli scored on 6- and 5-yard runs.
TC (2-1) trailed 21-0 after his second TD but answered on a Maric Bilagody 4-yard touchdown run with 7:21 to play in the first half.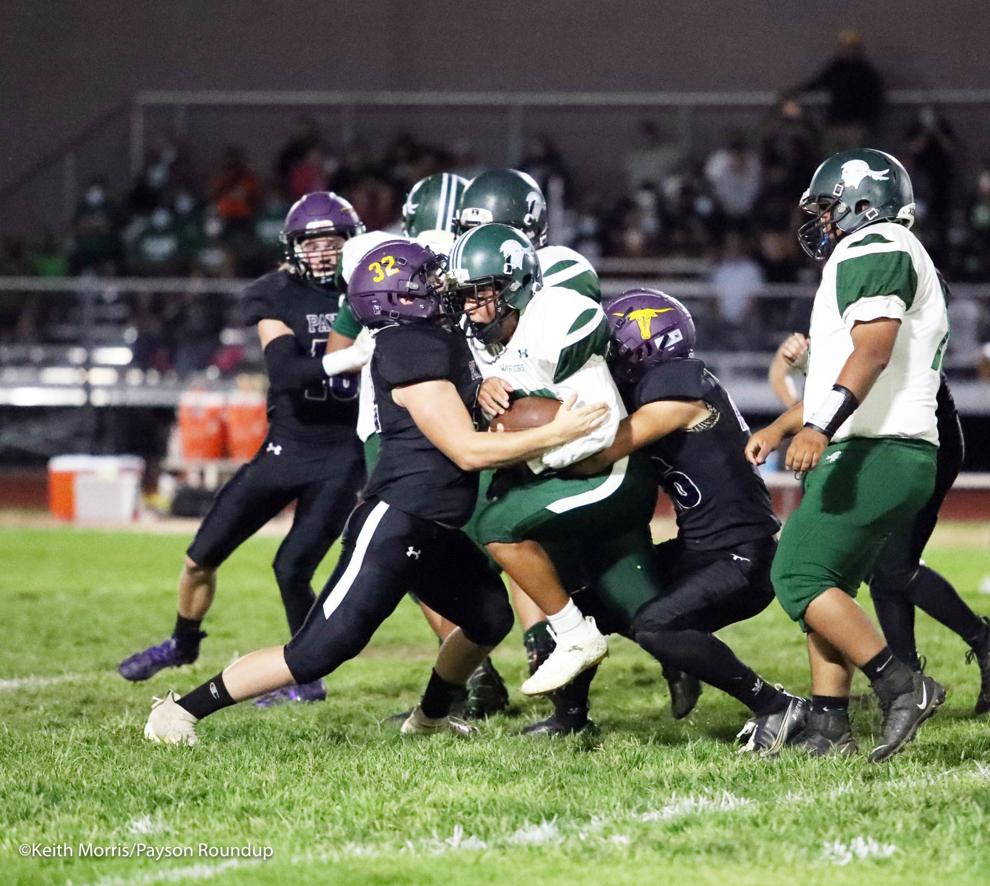 But that was all the visitors would get as Payson dominated the line of scrimmage and made life difficult for both TC quarterbacks, Bilagody and Papsiya Lomayestewa. The two combined to rush for zero yards on 15 carries. Payson limited the Warriors to 64 yards on 45 rushes.
Payson rushed 27 times for 160 yards behind Martinelli and Christianson.
TC was penalized 10 times for 68 yards and the Longhorns drew 11 flags for 110 yards. Several Payson penalties kept the Warriors' nine-play scoring drive alive.
Payson lost one of its three fumbles.
Payson's Hunter Stanfield blocked a punt to set the Longhorns up at the Warriors' 7-yard line with 9.7 seconds left in the first half but Waterman took a knee to run out the second-quarter clock with Payson up 35-6.
Coach Bryan Burke played lots of reserves in the second half.
"We played great tonight," Burke said. "We got a lot of kids in, which is always nice to do."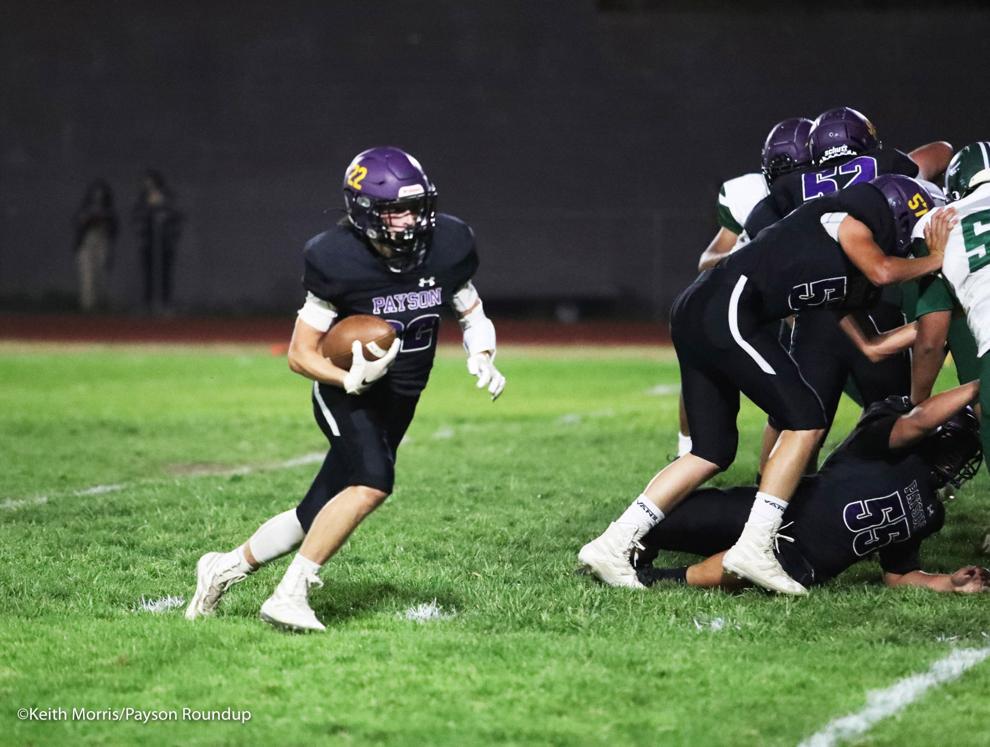 Connor Hatch caught five passes for 49 yards and two touchdowns. Starter Daiton LeBlanc capped a 12-play 80-yard opening possession that lasted 5:05 with a 6-yard TD pass to Hatch. Waterman, the normal starter, then took over on the second possession. He connected with Hatch on a 12-yard second-quarter TD.
Gabe Hilgendorf returned a punt for a touchdown.
Waterman hit Wyatt Ashton with a 26-yard TD pass to make it 41-6 10:25 into the second half two plays after an 18-yard punt by the Warriors from their own 15.
Waterman finished 5-for-8 passing for 84 yards and two TDs and LeBlanc completed 4 of 6 passes for 23 yards and one TD.
Hatch ran two times for 11 yards to go with his five catches for 49 yards and two TDs.
He said the Longhorns wanted to put last week's disappointing loss behind them.
"It felt pretty bad," Hatch said of the Eastmark game. "It was kind of heartbreaking. But we bounced back this week and got a good win. It was just fun.
"Everyone wanted to win this game."
Also a starting corner back, Hatch was proud of the way the Longhorns played on defense, as well.
"We were flying around," he said. "We did really good tonight. We had a few penalties but it's nothing we can't fix. It felt really good," Hatch said. "It sets us up good for next week."
The Longhorns travel to play at Fountain Hills (2-1) on Thursday. The Falcons lost 46-6 at Snowflake on Friday. Snowflake (2-1), the defending state champion, lost it's opener at Valley Christian 38-24. Snowflake plays at Blue Ridge (2-1) in an early 3A East showdown on Friday. The Yellow Jackets lost 20-19 in overtime at home against Safford in their opener.