The strictest drill sergeant would have been proud.
Twenty-two Payson High cheerleaders turned in a flawless performance during the State Cheerleading/Pom Tournament at Arizona Veterans Memorial Coliseum in Phoenix on Feb. 7.
The five judges rewarded them with first-place scores, as they claimed the first cheerleading state championship in school history.
Payson won the Division 3 varsity show cheer state championship for large teams. Thatcher finished second and American Leadership Academy third.
Payson competed in the large division (based on number of girls on the team) instead of the small division it was in last year.
Second-year coach Chelsea Hathaway couldn't be more proud.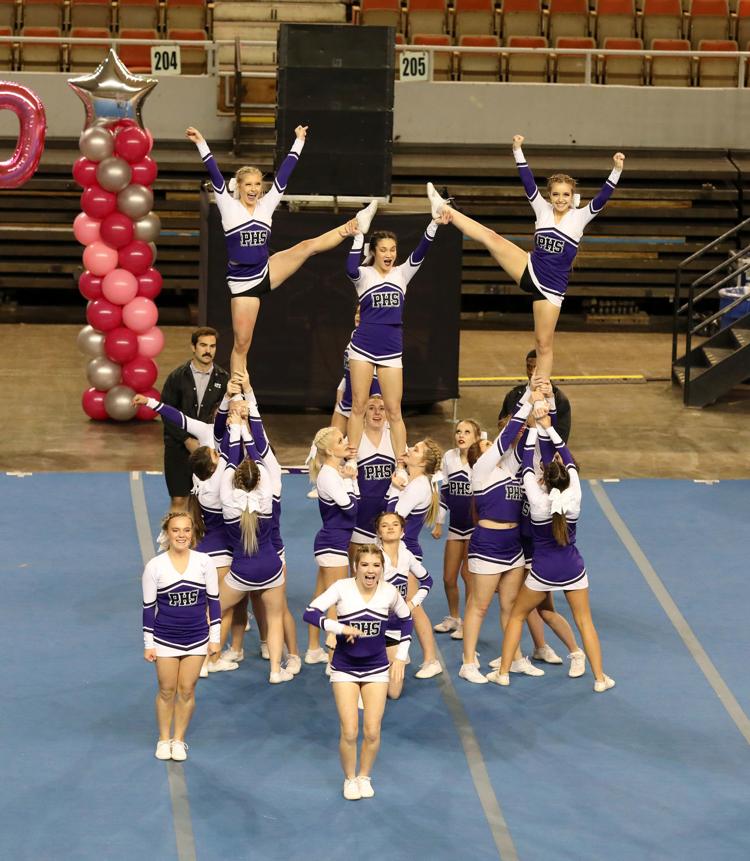 "It's huge," Hathaway said. "They never took first place for state in the large rather than small division. Last year we only had 16 or 17 girls. This year we have 22.
"I am like shocked and so impressed. I wasn't expecting it. So for them to take first was amazing."
The roster includes seniors America Benitez, Hailey Hall, Justyce Parker, Hannah Selig, Gloria Shannon, Hanna Tomerlin and Grace Waters; juniors Stephanie Felix, Neveah Nichols, Emma Parker and Kyler Smith; sophomores Caroline Dedmon, Madison Harris-Henry, Kirsten McNeeley, Mickenzii Stoll and Maya Wilson; and freshmen Hope Fialkosky, Alex Gordon, Samantha Lehman, NaLeah Rhoda, Whitney Roberson and Tyler Toone.
Lacey Shannon is the manager.
Justyce Parker and Grace Waters are the co-captains.
Brittany Connolly is the JV coach. She was Hathaway's assistant coach at the state tournament.
"It was super surprising," Parker said. "We didn't think we were going to place. A lot of us didn't have faith even though we did really good because we always seem to get the short end of the stick whenever it comes to competing against the Valley schools. But all our hard work was rewarded."
She said they were busy working on the routine up until they were called to go out and perform. And they turned in the best performance they could have hoped for.
"It was definitely our best," Parker said. "Between competitions we altered it a lot and figured out what works best with different people.
"I think we were all hoping. You had to be confident in what you did because there was nothing you could change afterwards."
They performed a two-and-a-half-minute routine.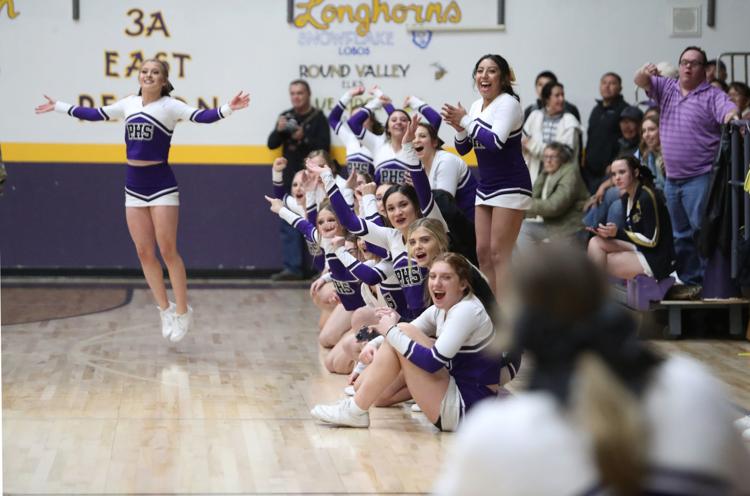 "They came out and hit everything," Hathaway said. "They could not have done better.
"The night before we weren't hitting everything. So, for them to come out and hit everything was just amazing."
Last year they didn't place.
"We've always talked about winning this," Hathaway said. "So, for them to come out and to take first is like crazy."
There's no doubt they put in the work necessary to win a championship.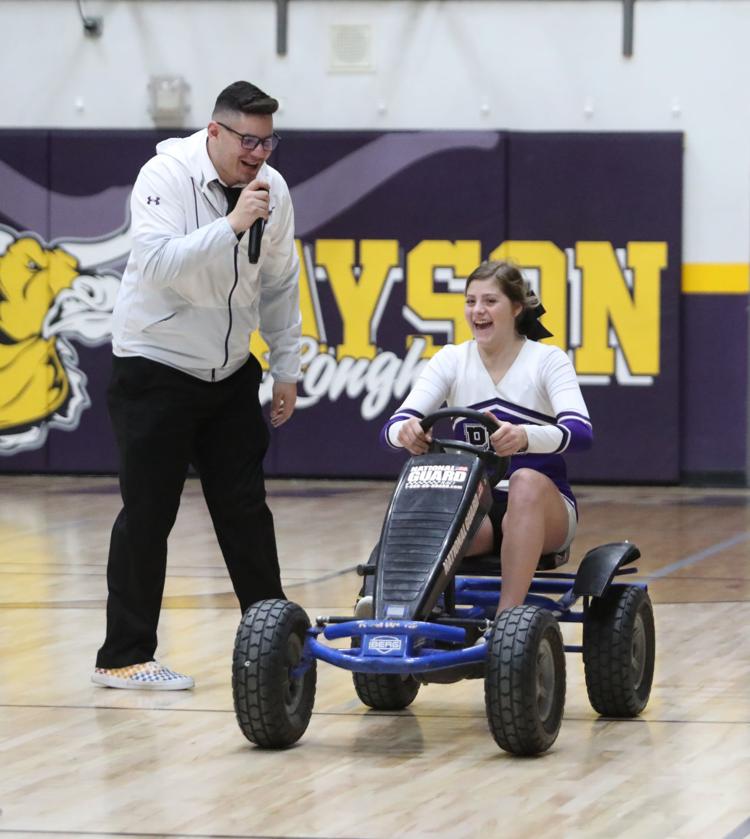 "They've been working mornings from 5:30 until 7 and then at night from 6 to 8 in practices for the past month," Hathaway said. "They were practicing two hours a day before that. So, they've been working their butts off."
The coach said the girls are close to each other, and that's another important factor in their success.
"They're like family," Hathaway said. "If we're not at practice, we're at Pizza Factory or Starbucks, we're just always together."
Waters said that family aspect helped.
"Our team is pretty close and I feel like a lot of trust goes into it," she said. "We spend so much time with each other with two practices a day. Having that family bond really helps a lot. We couldn't do this if we all didn't work together."
Waters said a top-three finish is really all they were hoping for.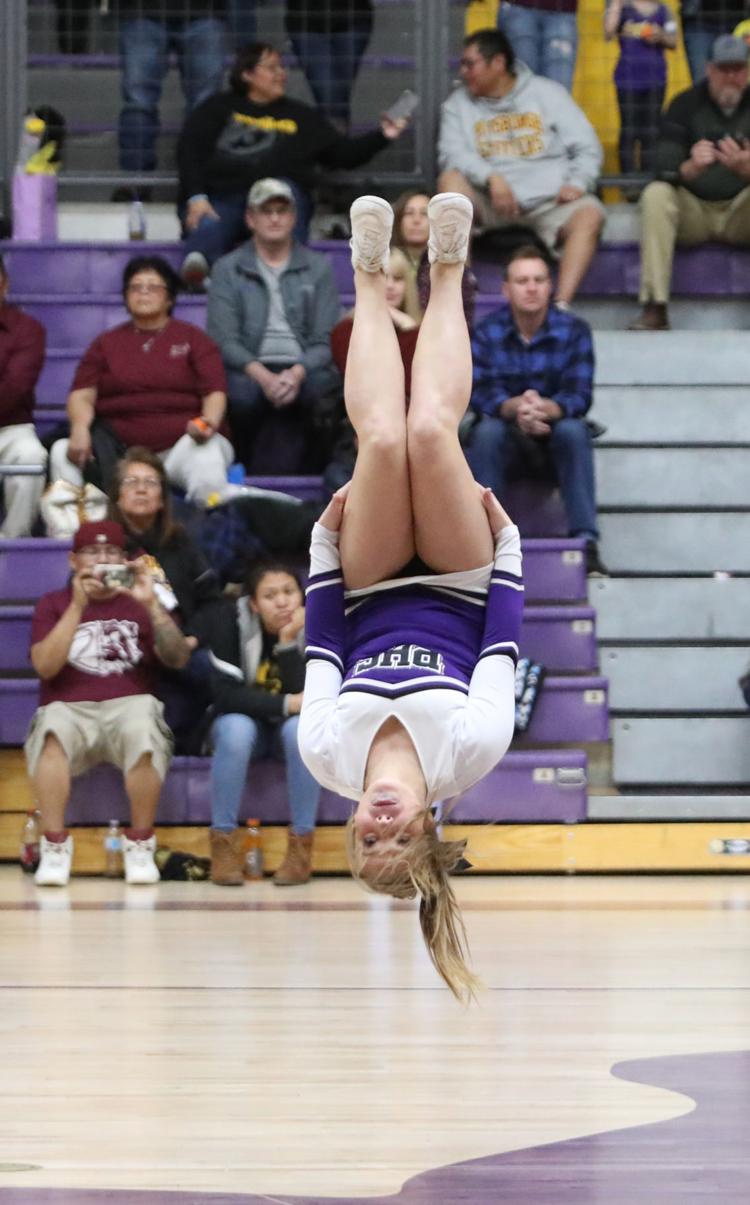 "At all of our competitions, we never placed at all," she said. "So we were sitting there like, 'Just place, just place, that's all we want.' Then when we got first, it was really amazing."
She's so happy for all the girls, especially for the seniors.
"It means so much," Waters said. "This is our last year."
Waters said they continued to tweak the routine leading up to their performance.
"We had just put together this new cheer like a week before, so we were working really hard on it," she said. "So, when we were going into it we felt confident because we did it multiple times before we actually competed. But there's just no telling because you only get one chance. We really were hoping."
They felt great after finishing the performance.
"We were pretty confident when we finished because we hit all the stunts," Waters said. "But we weren't sure where we'd place. When we heard we got first it was crazy, the best feeling in the world."