Every year they watch other teams enjoy state tournament success.
Payson's volleyball players would love to join in the fun.
And a former Longhorn standout wants to see that happen.
On the eve of her first season as the PHS varsity head coach, 1998 PHS graduate Kamae Carnes hopes to help Payson become one of the teams others measure themselves against.
That's not the case now as the Longhorns have gone 3-9 in the state tournament Round of 16 (most years only 16 qualify) over the last 17 years, reaching the quarterfinals just three times — 2008, 2010 and 2016 — since 2004. They've failed to reach the semifinals in any of those seasons.
Carnes was a two-time all-region honoree who also made the all-state team as a senior. But she didn't get to celebrate a state championship or even reach the title match.
And she's watched daughters Kailey (2019 graduate) and Kylee (2020) go through similar state tournament frustration.
She's got another daughter on this year's team and hopes she and her teammates experience a deep postseason run.
"Payson has struggled getting past the second round of state, so we have set that as a team goal this season," she said. "We expect to have a solid team and are very excited to see what we can accomplish this season."
Getting past the second round means reaching at least the semifinals.
It's just one of the goals.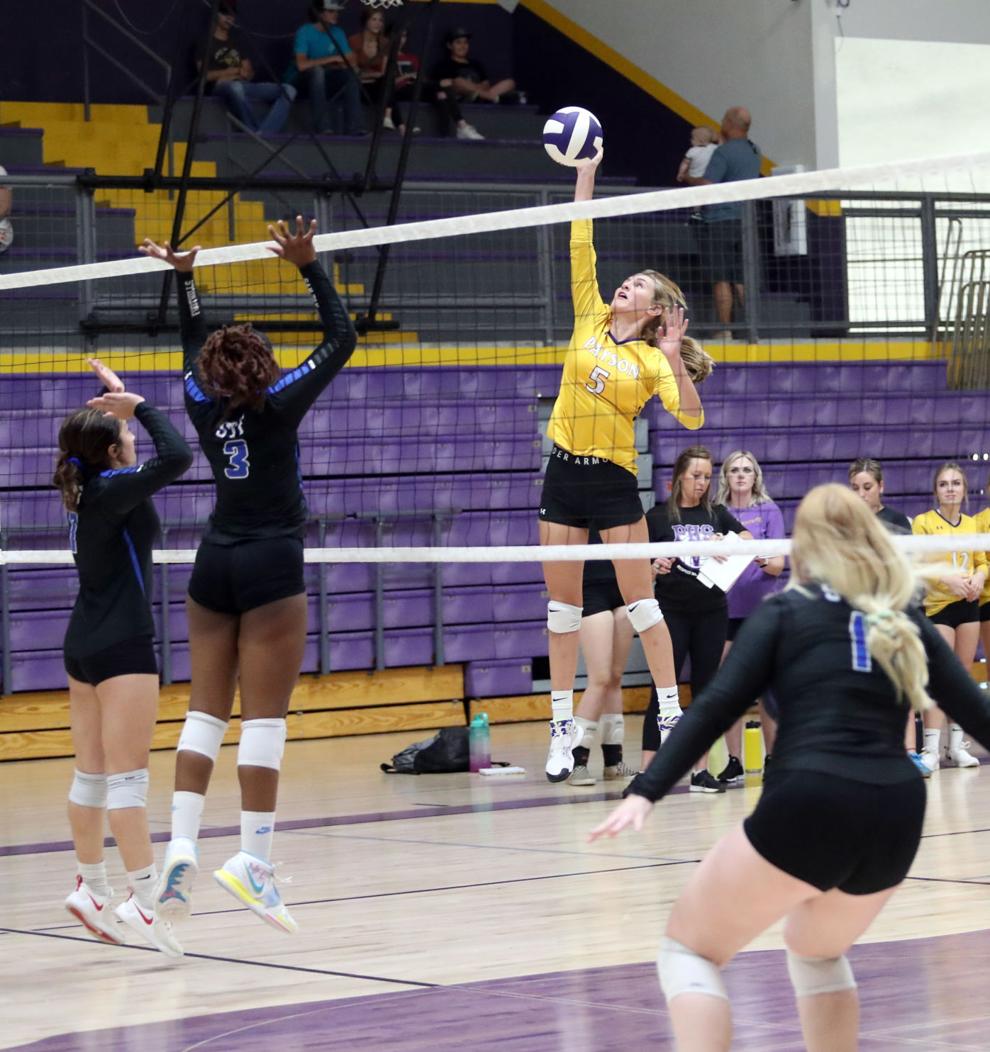 "Our goals include to create and carry on a culture of sisterhood unity, accountability, commitment, confidence, mental toughness and gratitude," she said. "We hope to develop self-motivated high character women in a competitive volleyball atmosphere."
She's got reason for excitement.
"We have a lot of height this year with some powerful hitters that connect well with their setter, and three phenomenal defensive specialists," the coach said. "Our biggest challenge we face this season may be patience, knowing we have a lot of talent but knowing its all a process."
Just five letter-winners return, but that hasn't dampened Carnes' optimism.
"This team has come together and shown tremendous growth through their summer training," the coach said.
Returning are 5-foot-8 senior middle blocker and co-captain Cadence White and juniors Rylee Carnes (setter), Chancie Deaton (5-8, middle blocker/opposite), Robyn Wilson (5-10 outside hitter) and Whitney Roberson (defensive specialist).
Senior Emma Macnab (defensive specialist) is the other co-captain and is new to the varsity along with classmates Trinity Glasscock (5-9 middle blocker), Isabella Spear (5-6 middle blocker/opposite) and Joey Ramirez (def. specialist); and juniors Naleah Rhoda (def. specialist), Teagan Hiatt (outside hitter) and Kassidy Pirch (outside hitter/opposite).
Athletic familyRylee Carnes is Kamae and Brett Carnes' third daughter to play PHS volleyball along with Kailey and Kylee, who is a freshman on the South Mountain CC volleyball team. Their brother, Dailey, played baseball at PHS before graduating in 2014 and playing CAC then Tennessee Wesleyan.
Kamae, a multisport PHS athlete, manages Sharper Image Glass Werks in Payson, a business the couple has owned for 22 years.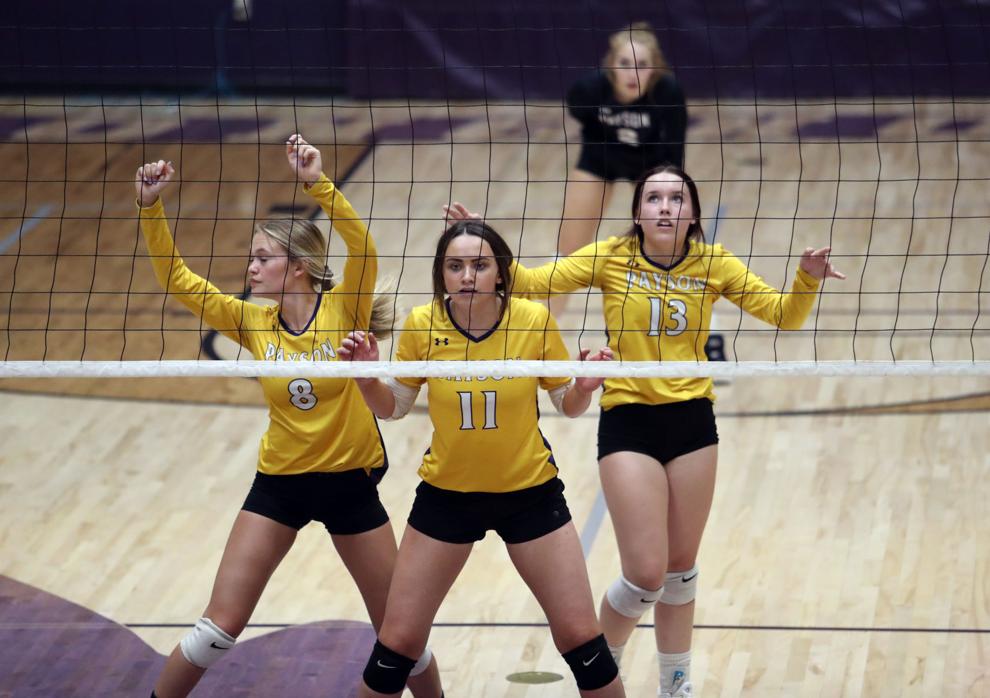 Key veterans
Rylee's return at setter and White, Deaton and Wilson at hitters fuel the coach's optimism.
"Rylee connects with and knows her hitters well," coach Carnes said. "And Cadence, Chancie and Robyn have grown into very smart and strong offensive players."
But there's more to volleyball than offense. You won't win without a strong defense, as well. And that looks like another strength for these Longhorns.
"Our defense is kept calm and shows exemplary heart and passion with three solid defensive specialists, including Whitney, Emma, Joey and Naleah," the coach said.
Purple and gold staff
Coach Carnes started her volleyball coaching career as an assistant for Pine Strawberry Middle School before spending 11 years coaching with Club Payson and seven years at the PHS freshman and JV levels.
"I have coached all of these girls in the past either as freshman or JV players and have built great relationships with them as they know my coaching philosophies and what I expect from them while in the gym," she said. "It has been a smooth transition with the help of my mentors and past coaching staff being very supportive and helpful."
Carnes' coaching staff includes two more PHS alumni in JV coach Kyleah Sayer (class of 2012) and freshman coach Desirae Huff (class of 2010). The trio boasts more than 27 years of combined coaching experience.
The schedule
The Longhorns open the season at Camp Verde on Aug. 31. They open the home schedule against Fountain Hills on Sept. 2.
The Payson Invitational is set for Sept. 17-18. Payson begins 3A East play at home against Holbrook on Sept. 22.
Other highlights on the schedule include rivals Blue Ridge at home on Sept. 30 and away on Oct. 19 and Snowflake away on Oct. 5 and at home on Oct. 21.
Snowflake is the measuring stick for all 3A East teams and stands at a level of consistent excellence the Longhorns hope to reach.
The Longhorns also compete in the Florence Gopher Get Down on Oct. 15-16 and close the season at home against Winslow on Oct. 28.